Enzyme catalytic processes
Enzyme catalytic processes are extensively used in food industries for centuries such as in production of bread, beverages, yoghurt, cheese, vinegar etc. Enzymes have properties similar to homogeneous catalysts. New enzymes are continuously being discovered. At present, more than 3000 enzymes are reported.
Enzyme catalyst
Enzymes are large macromolecular polypeptide (polymers of amino acid monomers) proteins. Molecular weight is in the range of 104-106 . Each enzyme has unique three-dimensional structure with a binding site or active site that is chemically and geometrically compatible with particular reactant molecule and thereby can give upto 100 % selectivity.
Enzymes are formed in living systems by condensations and/or dehydrations of amino acids that have the composition of H2N-CHR-COOH, to form peptide C-N bonds. Large structure contains hundreds of amino acids and there is enormous number of possible structure. Only few are characterized and well known. Naturally occurring metal ions in enzymes reported are Mg, Zn, Ca, Ni, Fe, Co, Mo.
Example :
Lysozyme enzyme
Catalyze splitting of poly saccharide chains
129 amino acids residues joined by peptide linkage
Glutamic acid and aspartic acid are important functional groups at the active sites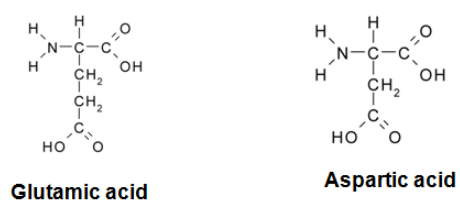 Enzymes are synthesized by living organisms and can be extracted from their biological source, purified and used in laboratory and industrial processes. Enzymes can also be synthesized in vitro that is in artificial environment outside the living organism. Enzymes are only active within a limited range of pH and temperature.
Enzyme catalysis
Enzyme catalyze variety of biological reactions such as:
Breakdown of proteins and sugars
Photosynthesis
Oxidation –reduction that convert food to CO2 , water and energy
Production of hormones
Enzymes are classified into six different groups based on the type of reactions catalyzed:
Oxidoreductases : oxidation-reduction
Transferases : functional group transfer
Hydrolases : hydrolysis
Lyases : addition or formation of double bonds
Isomerases : isomerization
Ligases : bond formations
Activity
Enzymes generally function only under mild condition of temperature and pH. Activity of a typical enzyme increases with temperature upto 50-60°C passes through a maximum and then declines. Enzymes catalyze biochemical reactions with very high rates, 10-10000 molecules /enzyme/second compared to one or less for conventional catalysts. High activity of enzyme is illustrated in Table 1.
Table 1. Comparison of activation energies and relative rates of acid catalyzed and enzyme catalyzed hydrolysis reactions

Selectivity of enzyme
Major advantage of enzymes is their selectivity. Enzymes are characterized by their ability to catalyze biochemical reactions with high selectivity (essentially 100 %). Most enzymes are only active for single reaction i.e. stereo chemical specificity of enzymes is absolute. Three types of selectivity are exerted by enzymes
a. Chemoselectivity
b. RegioselectivityStereo selectivity

1. Chemoselectivity
Enzyme can catalyze transformation of one type of functional group in the presence of other sensitive groups in the substrate molecule. This reduces undesired reactions to great extent. The lipase of Burkholderia cepacia catalyzes acylation of 1-phenylethanol hundred times faster than of the corresponding amine using methyl butyrate as acyl donor.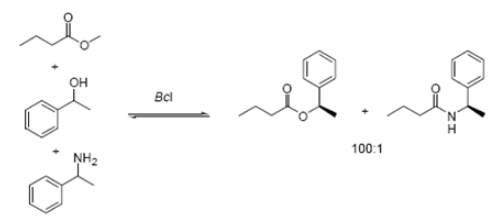 As shown in the figure, in a transacylation reaction Burkholderia cepacia lipase ( Bcl) prefer the alcohol over the amine as acyl acceptor by a factor of 100.
2. Regioselectivity
Enzymatic catalytic center has a complicated 3D structure that can distinguish between two or more identical functional groups located in different sites of the substrate molecule. As a result only one group participates in the reaction resulting in selective products.
Example :
During deacylation of polyacylated sugar, high yield (80-90 %) of the product as shown in following reaction is obtained. The other minor derivatives are products of deacylation at other positions.

3. Stereo selectivity
Stereoisomers are defined as isomers of a substrate whose chemical compositions are same but their structure differ such that their mirror images are non-superimposable. Each one of the two stereoisomers is known as optical isomer or enantiomer. Production of only one enantiomer with 100 % selectivity is important as activity depends on stereochemistry. For the same substrate, one stereoisomer may be active while the other stereoisomer may be inactive or active for an undesirable reaction. This enantioselectivity is the most important feature of enzymes. Enzymes are capable of recognizing any type of chirality of substrate and synthesizing one particular enatiomers. There are three approaches to synthesis of enantiomerically enriched compounds using enzymes
1.Kinetic resolution
2. Desymmetrization
3. Deracemization

Kinetic resolution of a racemic mixture rests upon chiral discrimination of enantiomers. Each enantiomer is transformed into a product at a different rate. The theoretical yield is then 50% of the product (P) and the unreacted substrate (S).
Desymmetrization

In desymmetrization process , a prochiral mesosubstrate is preferentially transformed into one enantiomers of the product. In the ideal case the yield of the product may be 100 %.

2. Deracemization

Racemic mixture is defined as equal amounts of enantiomers of a chiral molecule. In this process racemic substrate is transformed into one enantiomer of the product.

Kinetics
Some functional groups on enzymes such as carboxylic COO- group can act as Bronsted base. Some acidic functional groups are also proton donors. Proton bounded to one of the functional groups result in most active enzyme form. The addition or removal of proton to a critical functional group redistributes the charge on the active site and affects its binding with the substrate. Accordingly the rate of enzymatic reaction is strong function of pH.
Most enzymes follow the kinetics proposed by Michaelis and Menten. Enzyme (E) and substrate (S) first form an enzyme-substrate complex (ES), called the Michaelis-Menten complex. The complex can then either dissociate back to substrate or cross the reaction energy barrier to form enzyme and product (P).

The Michaelis-Menten equation gives the rate of formation of products as :

Where CS is the concentration of substrate and CEO is the initial concentration of enzyme.
Km is known as Michaelis constant. The rate law is derived from following basic assumptions:
The first step of binding of substrate to enzyme is faster compared to second step of dissociation of enzyme-substrate complex [ES] to products. Hence 2nd step is the rate determining step.

At initial stages of reaction, concentration of product is assumed to be zero.

At steady state, the concentration of the intermediate ES is constant.
Rate of formation of product P is given as

At initial stage of reaction, concentration of product,

Hence,

Now at steady state condition,
Rate of formation of [ES] = Rate of breakdown of [ES]

Substituting


The ratio of rate constants, Km is known as Michaelis constant.
Substituting concentration CES from equation (3) in equation (2), rate expression is obtained as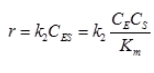 The total concentration of enzyme is summation of concentration of free enzyme CE and concentration of enzyme bound to substrate CES. Hence total concentration of enzyme CE0 is given as

Substituting value of CES from equation (3) we obtain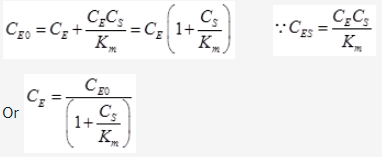 Substituting CE in equation (4)

The rate expression is often referred as Michaelis-Menten rate law. This is valid for many enzyme reactions at constant pH.
Stability & deactivation
If exposed to severe conditions of temperature and pH enzyme catalysts can undergo
Loss or modification of functional groups or amino acid residues
Change in conformations which alter and deactivate the site
The deactivation rate is extremely high with slight increases in temperature for e.g 50% loss of activity in 5 min at 65-70°C. Because of their high deactivation, enzymes are shipped and stored under refrigeration (0-4°C). Some enzymes are active and stable at higher temperature. The α-amylase catalyzes starch liquefaction at 105-115°C. Catalysts stability can be improved by the following methods:
Immobilizing enzymes on inert support

Covalent binding to a support
Adsorption on solid surface
Entrapment in gel
Immobilization of enzymes also facilitates recovery of the catalysts.
Enzyme catalysts : limitations
Major limitations for industrial applications are :
Expense of isolating and purifying the catalysts
Lack of stability when removed from cell or living extra-cellular environments
Difficulty and expense of separation in batch operations
Second and third difficulties can be reduced by immobilized enzyme technology mentioned above. Separation of enzymes from the product is difficult, expensive and cause deactivation.
Industrial bio-catalytic process
Over 300 enzymes are available commercially. About 20 of these enzymes are used in large and moderately large scale production of chemicals, food products and pharmaceuticals. Enzymes used in largest quantities include amylase, glucoamylase, glucose isomerase, lipase, prolease and rennet. Applications of these include starch processing, production of detergents, beverage, milk products and medicine.
Table 2 : Examples of different types of enzymes used in industry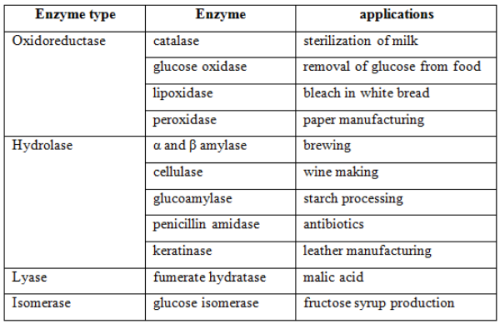 Example of industrial processes
1. Glucose isomerization
Glucose is produced from starch using glucoamylase catalyst. The conversion of glucose to its sweeter form fructose is an important enzymatic process. For this reaction conventional acid –base catalysis is ineffective. This can be done using glucose isomerase catalysts. It is the largest commercial application of immobilized enzymes.

Commercial glucose isomerase catalysts are produced from : Actinoplanes missouriensis, Bacillus coagulans, Flavobacterium aborescens
Commercial immobilized form of these catalysts are relatively insensitive to temperature and are effective at high substrate concentration. They require Co2+, Mn2+ or Mg2+ cofactors and are inhibited by Ca2+, Cu2+, Zn2+, and Hg2+ as well as sugar alcohols such as sorbitol and xylitor.
Reported immobilization methods include :
Occlusion in gelatin followed by crosslinking with glutaraldehyde

Adsorption of purified enzyme on silica followed by crosslinking with glutaraldehyde

Binding with polystyrene or resin
However the third method has been less successful as they are distorted during processing . Immobilized catalyst forms are granulated to particle size of 0.1 -1.5 mm.
Process
The process is carried out in continuous flow fixed bed reactors at 55-60°C temperature. The pH is maintained at 7.5 to 8 by adding Na2CO3. MgSO4 is added as catalysts activator and also help to adjust the pH. Multiple reactors are used to control the product quality. The catalysts have half-life of 50-175 years at 55°C. The schematics in Fig. 1 shows the major steps involved in glucose isomerise process. Filter removes the materials that can plug the catalysts pores. Carbon adsorbent bed is used to remove the impurities that can poison the catalysts. The feed evaporator concentrate the feed to 35-45 % .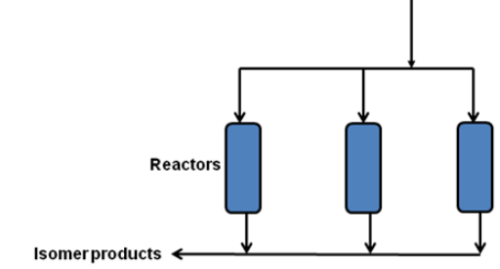 Fig.1. Schematics showing major steps in glucose isomerise process
2. Chiral synthesis of L-aspartic acid
L-aspartic acid is widely used in food and pharmaceutical industries for example in production of low calorific sweetener aspartame and in treatment of leukemia respectively. It is produced by the reaction of fumaric acid with ammonia over L-aspartase

Isolated enzymes are highly unstable. It is prepared by trapping E.colli cell in matrix of polyacryl amide or poly urethane. The immobilized cells are very active at 35-40°C achieving 95% conversion. The half-life of these immobilized cells is 120-680 days. Reaction is conducted at column reactor at 37°C at pH 8.5 using a feed of ammonium fumarate. MgCl2 is added for catalyst stability.
3. Enzymatic hydrolysis : production of 6 aminopenicillanic acid (6-APA)
The 6 aminopenicillanic acid is produced by penicillin-acylase catalyzed acetal hydrolysis of penicillins G and U. It is used to produce a large family of highly effective antibiotics such as ampicillin and amoxicillin. Acylase catalyzed hydrolysis of penicillin G involves the removal of the phenyacetyl side chain to produce phenylacetic acid and 6-APA as shown below .

Reaction occurs at 35°C at pH 7-8. The pencillin acylase can be obtained from bacterial and fungal organisms. Bacterial acylase are best for penicillin G and fungal acylase most active for penicillin U.
Production of 6-APA is conducted in a stirred batch reactor or continuous stirred tank reactor (CSTR) at 35-40 0 C and 7-8 pH using a feed of 4-15 wt% penicillin G. The pH of the reactor is controlled at 7-8 by continuous addition of alkali to compensate for production of phenylacetic acid.