Introduction
Earlier people used to go to distant markets to buy necessary things. There was no other available option for shopping. But now with the changing time, we have changed our method of buying things. Nowadays, people have the option to choose whether they want to go to the market or the product will get delivered to their doorstep. Yes, this can be possible when you shop online.
Making use of the internet to buy products is called online shopping. In online shopping, we can shop anything by picking them from the virtual online stores and ordering them at our address. It is a simple and convenient mode of shopping.
Online Shopping: Brief History
After the emergence of smartphones and internet technology, online shopping came into existence. Initially, it was designed to promote and advertise the products of the companies. Later, it was made possible to exchange goods using the internet. In 1994, the first secure shopping channel was established. Flowers, wines, and chocolates were the initial products that were sold online. Later the online market flourished and wide varieties of products were made available.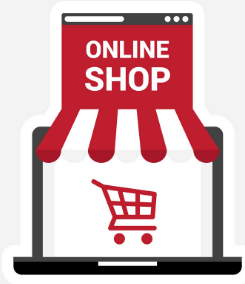 In 1995, Amazon and eBay established its site for online shopping followed by Alibaba in 2003. Soon after, many other online shopping sites have made their place in the market.
Advantages/ Benefits of Online Shopping
Online shopping offers huge advantages to their customers. The dependency of people on online shopping is increasing day by day. During the days of the pandemic, online shopping was the savior of the time. Some of the major advantages of online shopping are as follows:
Flexibility: Online shopping is a flexible way of purchasing products. There is no time bound in an online market. Whenever you are free, you can scroll down for your favorite items and order them.
Big savings: You can save your fuel, energy, as well as the time when opting to online shopping. No need to move anywhere, just move your fingers.
Comparison: During online shopping, you can easily compare the prices of different products from different sites. While offline shopping, going to various shops to compare prices will be a hectic job.
Huge options: Unlike limited items in the physical shops, online stores are flooded with a wide variety of items. They offer a huge option to choose from.
Good deals: Online shopping sites throw various good deals to their customers. During any occasion or festive season, they offer discounts and low prices.
Disadvantages/ Cons of Online Shopping
No method can fully satisfy customers, and so the online method of shopping. For some people, it is a boon while some still fear shopping online. Some of the disadvantages of online shopping are listed below:
Security: The main fear people experience while shopping online is security. If not taken proper precautions, you can easily be the victim of online fraud. Payment and privacy are other concerns associated with the online market.
Satisfaction: Online shopping does not provide full customer satisfaction as you are not allowed to check the product physically. There are many chances of wrong product delivery.
Difficult to return: If you are not satisfied with the product, you can return them but the process is not that simple. Some sites do not even offer an exchange or return policy.
Delivery: While ordering anything online, it takes time to reach your destination. Therefore, you need to wait for some days to receive the product.
Bargaining: Offline markets are a good place for people who are experts in bargaining. In online stores, prices are fixed and you cannot deny them.
Conclusion
Today the number of people who shop online is comparatively high. The growing trend of online shopping has turned many people towards purchasing things online. However, many still prefer to go to physical shops to buy things. Among online shopping and offline shopping, people can choose the way that suits them better.