The things that enable the survival of an organism in the natural surroundings of the earth are called the environment. The living-beings such as humans, plants, and animals are the main constituents of the environment.
The air, water, and land are known as non-living entities. Their functioning is outlined by nature in such a way that everything is sustained on one another. Of all the beings, the human being is the most dominant creature who can depend on all the natural resources of the earth.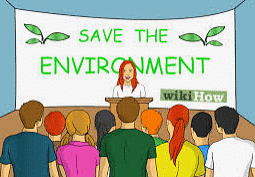 Along with human, animals, and plants also need air to breathe. There will be no life on earth without air. It is only the human being who is responsible for the destruction of the environment. The existence of all these organisms is dependent on their constant interaction with each other. Their functioning is organized by nature and can be destroyed once being squandered. Today, the degradation of the environment has become a significant issue to be tackled by human beings.