I am a class five student, and a lot of important things have not happened to me. But there are days when I was happier out of the other days. One of those days can be called the happiest day of my life.
Our school hosts an annual fest every year. All kinds of events and competitions take place during that time. More than twenty other schools from all over the city join us in this fest. Dance, music, painting, poetry and many more competitions take place.
I write poetry since Class one, but no one knows about it except some close friends. They always listen to my poems and review them. So, when the day came of the annual fest, they forced me to participate.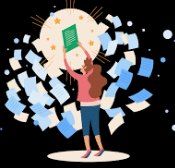 I submitted my poem on the topic 'Friends. I was not expecting anything but surprisingly gained the first position. I was called on the stage, and my poetry was read out aloud. I got a Gold Medal, a certificate and a gift hamper.My parents didn't know that I write and they were shocked. That made the day happier. This was the first-time others appreciated my poem.