My country, India, is the seventh-largest country in terms of area. By population, India ranks second, just after China. My country is located in the southern part of Asia and is considered to be a peninsula.
India has eight neighboring countries, and it shares the most extensive border with Bangladesh. My country is bounded by three water bodies in the east, south, and west and land in the north.
My country was enslaved till 1947. There were much freedom struggles to free our motherland. Many eminent leaders gave their lives, who are remembered to date.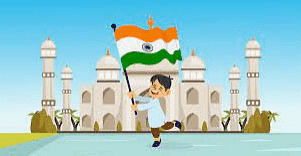 The topography of my country is unique. It has the icy-cold Himalayas to the north and the hot Thar desert to the west. The fertile plains lie in the Himalayan foothills. The north-eastern part of India is endowed with dense rain forests. In terms of language, officially, there are 22. But there are over 1900 dialects that are spoken in my country.