Introduction
Technological advancements are changing our standards and lifestyle. One of the fascinating aspects of technology has favored is Online shopping that is the best way to business and safe transactions over the internet. It provides us broader way to search, choose and delivered the desired products and services at our specified addresses.
People these days are tugged up with several work pressures. They are spending much of their time intervals in offices or other important works. Traditional ways of shopping require a larger time to be consumed by visiting different stores for different products. Therefore online shopping provides a way to tackle the same by saving time and effort.
Advantages and Disadvantages of Online Shopping
Everything in this world is connected with both positive and negative aspects. The same is with online shopping too. On one hand, it is benefitting, and on the other hand, it has disadvantages too.
Advantages of Online Shopping:
It provides us with a convenient way of shopping.
We can see different products and services just by one click. Different variants are available in the required size and shapes.
It saves us from the rush and crowd of the markets. Also, saves our time wasted in roaming from one shop to another and standing in queues for hours for billing purposes.
We get products in our price ranges and also at a lower price.
We can order dresses according to our choice and occasion requirements. As most of the time, we are unable to get the dress we want, in offline shopping.
Disadvantages of Online Shopping:
The products we buy, generally when delivered, do not match with one we have ordered.
If we require the product immediately, then we cannot have that option or we will have to pay extra charges.
Offline shopping has a benefit to buy the product and use it immediately, but when we opt for online shopping the same benefit is not granted.
Many of the times we save our card details for the transaction purpose, hackers use the same card details for the cybercrime.
The returning of any product may be chargeable and time taking too.
Most of the time, damaged goods are received.
Online Shopping - Best Option during Pandemic (Covid-19)
The outbreak of COVID-19, throughout the world was most devastating for us. During those times, moving outside was banned and different countries were under lockdown for several months. People, all over the world, preferred online mediums to get their products and services ordered and delivered.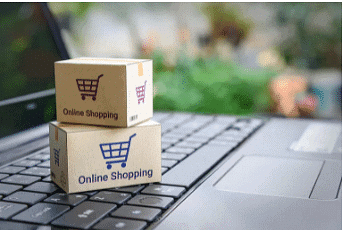 Therefore it can be stated that online shopping has been the best choice or alternative. People have been provided with the option of getting delivered every product at their doorstep.
Conclusion
Online shopping is the love of youngsters of today's generation. It is an interesting way of exploring several products with variety and different prices at the same portal or place. Online shopping has blessed us with emerging ideas to give surprises to our closed ones on their special days. But on other accounts, it has some of the impacts too.