Variations in the country's irrigation demands
It may be appreciated that in India there is a large variation of rainfall, which is the primary source of irrigation in most parts of the country. In fact, the crops grown in various regions have been adapted according to the local rainfall availability. Water resources engineers are therefore concerned with arranging supplementary water to support the crops for seasonal variations of rainfall in order to ensure an assured crop harvest.
Further, due to variation in the type of soil over different regions of the country, the types of crop grown also varies- thus dictating the water requirement at different regions during different times. Hence, the country has been broadly classified into eight agro climatic zones, a list of which is given.
Cropping patterns
Planning of an irrigation project requires estimation of water demand of a cultivated area. Naturally, this would depend upon the type of crop grown. Since irrigation water may have to be supplied to one field growing a combination of crops or to many fields growing different crops, it is important to understand certain cropping practices which would be helpful in estimating the irrigation demand. Some of the prevalent practices are as follows:
Crops grown solely or mixed: Mixed cropping
Crops grown in a definite sequence: Rotational cropping
Land occupied by one crop during one season: Mono cropping
Land occupied by two crops: double cropping
Land sowed with more than one crop in a year: multiple cropping
Irrigation water need
For raising a field crop effectively, it is essential to supply water through artificial irrigation supplementing the rain falling over the plot of land and raising the soil moisture. Irrigation requirement for a typical crop and an assumed rainfall pattern may be illustrated as in Figure 5.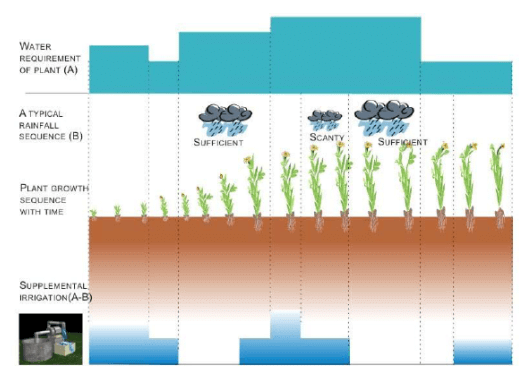 FIGURE 5 . Typical irrigation requirement of a crop and water provided naturally by rain or artificially by pumping
Hence, it may be seen that irrigation water requirement is rather a dynamic one. Also, the crop water requirement is shown with slight variation, it actually shows more variation, depending on the type of crop and the prevalent climate. Though farmers may be tempted to allow more water to the plants through supplemental irrigation, it must be remembered that there is an optimum water requirement schedule of each crop depending upon its stage of growth. It has been proved that at times application of more water may cause reduction in yield.
Variation of crop water requirement
The total water need for various plants, known as delta, has been discussed earlier. However, in planning the supply of irrigation water to a field crop, it is essential to estimate the water requirement of each plot of land growing a crop or crops at any point of time. This may be done by studying the dynamic interaction between a crop and the prevalent climate and the consequent water requirement. The demand would, naturally be also dependant on the type of crop and its stage of growth.
Plant roots extract water from the soil. Most of this water doesn't remain in the plant, but escapes to the atmosphere as vapour through the plants leaves and stems, a process which is called transpiration and occurs mostly during daytime. The water on the soil surface as well as the water attaching to the leaves and stem of a plant during a rainfall also is lost to the atmosphere by evaporation. Hence, the water need of a crop consists of transpiration plus evaporation, together called evapotranspiration.
The effect of the major climatic factors on crop water needs may be summarized as follows:
Sunshine
Temperature
Humidity
Wind s peed
The variation of evapotranspiration upon these factors is illustrated in Figure 6.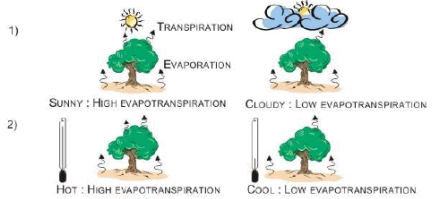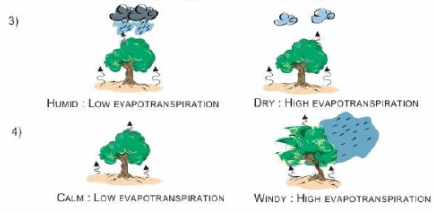 FIGURE 6. Dependence of evapotranspiration upon different climatological factors
Since the same crop grown in different climatic variations have different water needs, it has been accepted to evaluate the evapotranspiration rate for a standard or reference crop and find out that of all other crops in terms of this reference. Grass has been chosen as standard reference for this purpose. The evapotranspiration rate of this standard grass is, therefore, called the reference crop evapotranspiration and is denoted as ETO, which is of course, the function of the climatic variables. Training Manual 3: Irrigation Water Needs published by the Food and Agricultural Organisation,
Table showing the daily variation of water needs of standard grass (in mm) under different climatic patterns (ETO)
Climatic Zone

Mean daily Temperature

Low (<150C)

Medium (150- 250C)

High (>250C)

Desert/Arid

4-6

7-8

9-10

Semi-arid

4-5

6-7

8-9

Sub-humid

3-4

5-6

7-8

humid

1-2

3-4

5-6
Other methods have been devised to calculate ETO for given values of climatic parameters. These are discussed in the next section. In this section, we proceed on to discuss, how to find crop water need, if ETO is known.
Agricultural scientists have evaluated a factor called crop factor and denoted it by KC, to evaluate specific crop water needs. Naturally, Kc would be different for different crops and would not be the same throughout the growth season of one type of crop. Thus, the crop evapotranspiration, denoted by ETC is to be evaluated as under:
ETO = KC * ETC (1)
Both ETO and ETC should be in the same units and generally, mm/day is used as a standard all over the world.
In order to simply the calculations, the factor KC has been evaluated for 4 stages of a crop growth usually denoted as
Initial s tage
Crop development stage
Mid-season s tage
Late season stage
The FAO Training Manual 3 gives the growth stage periods and the corresponding KC values for some typical crops. In the table below, that for rice is presented.
Rice

Climate

Little wind

Strong wind

Growth stage

Dry

Humid

Dry

Humid

0-60 days

1.1

1.1

1.1

1.1

Mid season

1.2

1.05

1.35

1.3

Last 30 days before harvest

1.0

1.0

1.0

1.0
It may be mentioned that any crop doesn't have a fixed total growth period, which is the summation of growth stage periods given above. There is usually a range, depending upon the variety of the crop and the condition in which it is cultivated.
The values of KC also depend upon the climate and particularly on humidity and wind speed, as shown for rice in the above table. In general, the values of KC should be reduced by 0.05 if the relative humidity is high (>80%) and the wind speed is low (<2m/s). Likewise, the values should be increased by 0.05 if the relative humidity is low (<50%) and the wind speed is high (>5m/s).
For full details, the FAO training manual 3 may be consulted as KC values for other crops are evaluated in different manners. For some of the crops, the following table provides information:
Crop

Variety

Crop growth stage

Total growth period

Cabbage/Carrot

Short duration

20 days

25 days

60 days

15 days

120 days

Long duration

25 days

30 days

65 days

20 days

140 days

Kc

0.45

0.75

1.05

0.9

Cotton/Fiax

Short duration

30 days

50 days

55 days

45 days

180

Long duration

30 days

50 days

65 days

50 days

195

Kc

0.45

0.75

1.15

0.75

Lentil/Pulses

Short duration

20 days

30 days

60 days

40 days

150

Long duration

25 days

35 days

70 days

40 days

170

Kc

0.45

0.75

1.1

0.5

Short

20

25

25

10

80

Maize

duration

Long duration

20

30

50

10

110

Kc

0.4

0.8

1.15

1.0

Onion (dry)

Short duration

15

25

70

40

150

Long duration

20

35

110

45

210

Kc

0.5

0.75

1.05

0.85

Potato

Short duration

25

30

30

20

105

Long duration

30

35

50

30

145

Kc

0.45

0.75

1.15

0.85
Estimation of reference crop ETO
Of the many methods available, the commonly used ones are two:
i. Experimental methods, using the experimentation data from evaporation pan.
ii. Theoretical methods using empirical formulae, that take into account, climatic parameters.
Experimental method
Estimation of ET0 can be made using the formula
ETO = Kpan x Epan (2)
Where ETO is the reference crop evapotranspiration in mm/day, Kpan is a coefficient called pan coefficient and Epan is the evaporation in mm/day from the pan.
The factor Kpan varies with the position of the equipment (say, whether placed in a fallow area or a cropped area), humidity and wind speed. Generally, the details are supplied by the manufacturers of the pan. For the US Class A evaporation pan, which is also used in India, Kpan varies between 0.35 and 0.85, with an average value of 0.7.
It may be noticed that finding out ETC would involve the following expression
ETC = Kcrop x ETO = Kc x Epan x Kpan (3)
KC has been discussed in the previous section. If instead, Kcrop x Kpan is taken as a single factor, say K, then ETC may directly be found from Epan as under:
ETC =K x Epan, where K may be called the crop factor (4)
The water management division of the Department of Agriculture, Government of India has published a list of factors for common crops and depending upon the stage of growth, which have to be multiplied with the evaporation values of the USWB Class A evaporation pan.
Theoretical methods
The important methods that have been proposed over the years take into account, various climatic parameters. Of these, only the following would be discussed, as they are the most commonly used.
Blanney-Criddle formula:
This formula gives an estimate of the mean monthly values of ETO, which is stated as
ETO = p ( 0.46 Tmean + 8.13) (5)
Where p is the mean daily percentage of annual day time hours and has been estimated according to latitude; Tmean is the mean monthly temperature in degrees Centigrade and may be taken as ½ x (Tmax + Tmin) for a particular month. Thus using the Equation (1), one may evaluate ETC for each month of the growing season, from which the total water need for the full growing season of the crop may be found out
Penman-Monteith method:
This method suggests that the value of ETO may be evaluated by the following formula:

(6)
Where the variables have the following meanings:
ETo reference evapotranspiration [mm day-1],
Rn net radiation at the crop surface [MJ m-2 day-1],
G soil heat flux density [MJ m-2 day-1],
T mean daily air temperature at 2 m height [°C],
u2 wind speed at 2 m height [m s-1],
es saturation vapour pressure [kPa],
ea actual vapour pressure [kPa],
es - ea saturation vapour pressure deficit [kPa],
Δ slope vapour pressure curve [kPa °C-1],
g psychrometric constant [kPa °C-1].