Ethanol as Biofuel And Chemical Feed Stock
Introduction
Alcohol is a key feedstock for the manufacture of basic chemicals. Alcohol based chemical industry occupies an important place in the Indian chemical industry and is a key contributor to the growth of the sector. The current size of alcohol based chemical industry is $1.1 billion (Rs.4850 crores).
Indian Alcohol Industry
There are 340 distilleries in the country with a capacity of 3,500 million litres. However, the capacity utilization is low mainly due to non-availability of sufficient molasses. The past production of alcohol from the ten major producing states viz. Andra Pradesh, Gujarat, Karnataka, Maharashtra, Tamil Nadu, Uttar Pradesh , Uttaranchal, Bihar, Haryana, and Punjab as shown in chart. Production has been steadily decreasing from 2,500 million litres in FY07 to 1830 million litres in FY10 registering a negative growth of 10percent PA. Demand and production of alcohol in India is shown in Figure M-V 2.1 and Figure M-V 2.2.
In India alcohol is mainly produced by the sugar and distillery industries as a byproduct of molasses fermentation Technologies for producing ethanol from cellulosic biomass through fermentation and chemical hydrolysis have been developed from lab to commercial scale. Ethanol thus produced can be a promising chemical feedstock as well as biofuel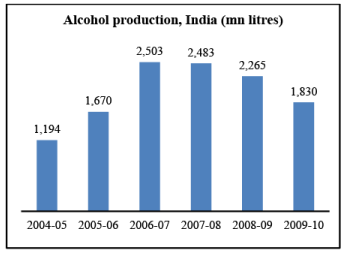 Figure M-V 2.1: Alcohol Production in India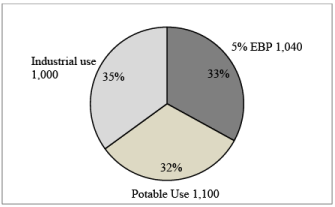 Figure M-V 2.2: Alcohol Demand in India
Ethanol as Biofuel
India is now going an unprecedented energy crisis due to dwindling energy resources. The present import of crudes which is around 180 million tones per annum, is expected to exceed 240 million tones per annum in the next 5 years, if the GDP growth of around 6 to 7percent were to be sustained. India is also importing 80 million tones per annum of coal.
Global crude oil prices are also surging unbated as global crude oil is finite and depleting, there is continuously searching all over the world to go for alternative energy sources. World demand for energy is expected to double by 2050 and this demand cannot be satisfied with conventional fuel resources like, crude oil, natural gas and coal. In order to meet the rising demand of energy and increasing population, alternate energy resources will play a important role and biofuels based on ethanol are expected to grow rapidly. Biofuels developments are primarily driven by three fundamental policy considerations: rural development, energy independence, reduced carbon footprint.
Alcohol has been globally accepted as an alternative to gasoline and alcohol blend gasoline are being used in many countries in varying proportion ranging from 5-20 percent as ethanol. Brazil which is one of the major sugar producing industry introduced commercial gasoline with ethanol content of about 25percent. Even ethanol is being sold in Brazil pure ethanol as E-100 fuel. Ethanol accounts for about 40percent of the fuel consumed by passenger vehicles. Brazil and U.S. together account for about 70 percent of world's ethanol production. Blending characteristics of fuel oxygenates are presented in Table M-V 2.1. US the largest user of gasoline introduced gasoline with 10 percent ethanol content. Similar trend has been observed in several countries.
Table M-V 2.1: Blending Characteristics of Fuel Oxygenates
Boiling

Point

(oC)

Blending

RVP

(Kg/cm2)

Average

Octane

(R+M)/2

Oxygen

content

(wt.%)

Blending limits

(Percentage)

O2

(vol.%)

O2

(wt. %)

Ethers

MTBE

131

8

110

18

15

2.7

ETBE

161

4

111

16

16

2.0

TAME

187

1

106

16

17

2.0

Alcohols

Methanol

148

60

120

50

-

-

Ethanol

173

18

115

35

10

3.7

MeOH

145/180

31

108

35

9.5

3.7

Blend

GTBA

181

12

100

21

16

3.7
India is currently has a mandate for 5% blending of ethanol in petrol and is being implemented Through the nationwide Ethanol Blending Program (EBP). About 3.5 billion liters of ethanol are being produced in about 320 distilleries in India which is enough to cater to the 800 million liters requirement for 5% blending. However, the national average blending in 2008-09 was only about 2%.
Gashol is new ecofriendly fuel containing blend of gasoline with 5-10% ethanol from molasses. Gashol can be also made by blending gasoline and methanol. gashol has higher octaneor antiknock properties than gasoline and burns more slwly, cooly and completely resulting in reduced emission [Lawson, 2004]. The octane number of gasoline increases with blending of 5% ethanol by 1.3-3.4 times. blending of ethanol increases the reid vapour pressure and vapour lock index. ethanol increases the oxygen content of the blend [Raje et al. 2002]
Ethanol as Chemical Feed Stock
Chemical industry utilizes a wide variety of raw materials like petroleum product derived from crude oil and natural gas, ethanol, coke oven by products like coal tar and other inorganic constituent. However, ethanol and coal play important role during developing stage of petrochemical industry by providing feedstock for manufacture of large number of organic chemical which is now being produced by petroleum route.
India is amongst the top sugar producing industry in the world and produces ethanol from the byproduct molasses. Between 1960s and 1980s numerous alcohol based plants came in different part of country manufacturing organic chemicals like ethanol, ethylene, ethylene oxide and MEG, acetaldehyde acetic acid, acetic anhydride, butanol, ethoxylate, pyridine , picolin butadiene, synthetic rubber, polymers like polyethylene, PVC etc. Indian glycol, VAM organics now Jubilant Organosys, Synthetic chemicals and rubber barely, Somaiya chemicals, SD chemicals, Kanoria chemicals and larger number of plants based on ethanol were started in India. Selected downstream products of molasses and alcohol is given in Table M-V 2.2. India first stated ethylene through ethanol route by ICI in Rishra W.B. Product profile of ethanol is given in Figure M-V 2.3. Bioetahnol based plants has been also started in other part of the world. In Brazil ethylene derived from ethanol is being used production of polyethylenes.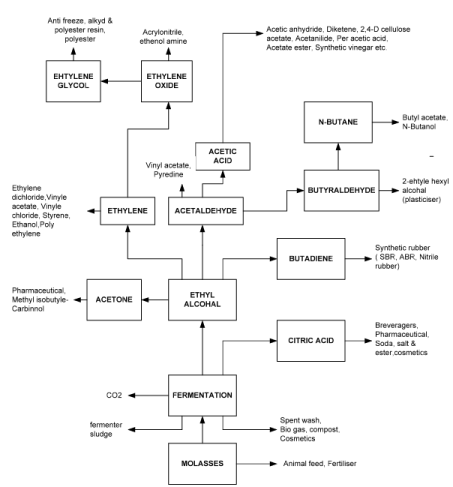 Figure M-V 2.3: Product Profile of Ethanol
Table M-V 2.2: Selected Downstream Products of Alco-Chemicals
Sr.

No.

Alco-chemical

Downstream Product

Major application of

downstream product

A. Plastics, Resins, Elastomers

1

Styrene

ABS Resins

ABS Products

2

Styrene

SAN Resins

SAN Products

3

Styrene

Ion-Exchange Resins

Water Treatment, Effluent

Treatment.

4

Ethylene

LDPE

LDPE Products

5

MEG

Polyester Films

Packaging

6

Vinyl Acetate

EVA/VAE Polymer

7

Styrene

SBR

Tyres, Footwear, Belts and

Rubber Goods

8

Acetic Anhydride/Acid

Cellulose Acetate

Bangles, Films, Spectacle

Frames

9

Styrene

Poly-Styrene

PS Products

10

Styrene

PS Foam

Packaging

11

Vinyl Acetate

Emulsions

Adhesives

B. Chemicals

12

Styrene

Styrenated Phenol

Rubber Chemical

13

Acetic Acid

PTA

Polyester Feedstock

14

Acetic Acid

Di -methyl - Acetami de

Solvent for Acrylic Fibre

Industry

15

Acetic Acid

Aceto Acetates

Pharmaceutical & Pesticide

Intermediate

16

Acetic Acid

Aceto Acetanilide

Dyestuff Intermediate

17

Acetic Acid

AcetoAcetanides

18

Acetic Anhydride

Paracetamol

Pharmaceuticals

19

Acetic Anhydride

Aspirin

- do -

20

Acetaldehyde

Vinyl Sulphone

Dyestuff Intermediate
21

Acetic Anhydride

Acetanilide

Dyestuff Intermediate

22

Pentaerithritol

Emulsions/Dispersions

Paint Industry

23

Pentaerithritol

PETN

Explosives Industry

24

Glyoxal

Pharma

Drugs & Pharmaceutical

25

Glyoxal

Textiles

26

Ethyl Acrylate

Emulsions/Dispersions

Paint Industry

27

Ethyl Vanillin

Flavouring- Formulations

Food Processing Industry

28

DDT

Formulations

Pesticide

29

2,4-D

Formulations

Pesticide

30

Ethylene Oxide

Condensates

Various Industries

C. Synthetic Fibres

31

MEG

Polyester Fibres

Textiles, Tyre Cord/ Yarn,

Industrial Yarn

32

Chloro Acetic Acid

CMC

33

Acetic Acid/ Anhydride

Vinyl Acetate

Adhesives/Polymers

34

Acetanilide

Sulpha Drugs

Drugs & Pharmaceuticals

35

Acetanilide

Intermediate

Dyestuffs
Integration of Sugar, Paper, Distillery and Chemical Plant
Integration of paper-sugar-distillery-Chemical industries with introduction of minor process modification/intensification could revitalize these interdependent industries. Integration of sugar, distillery and paper manufacturing, chemical manufacture and waste utilization is given in Figure M-V 2.4.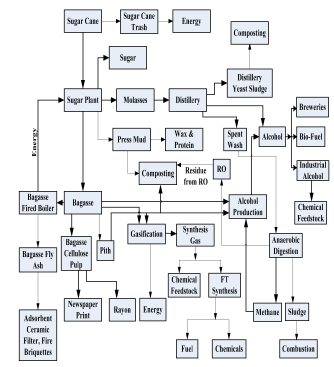 Figure M-V 2.4: Integration of Sugar, Distillery and paper Manufacturing and Waste Utilization