EVIDENCES OF ORGANIC EVOLUTION
Morphological and Anatomical Evidences
– Different animals and plants show dissimilarities in their structure but in some characters they show similarities.
These similarities provide one of the most concluding evidence of organic evolution similarities are of two types.
1. Homology
2. Analogy
1. Homology – The similarity based on common origin, similar basic plan of organization and embryonic development is called homology.
Similarity in appearance and function is not necessary.
The organs which have common origin, embryonic development and same basic structure but perform different functions are called Homologous organ. Homologous term given by Richard Owen.
Examples of Homologous organs –
(i) Forelimbs of mammals – Horse Bat Whale Seal Man Appearence Foot Wings Paddle Flipper Hand Function Running Flying Swimming Swimming Holding In their fore limbs similar bones are present like – humerus, radius, ulna, carpals, metacarpals and phalanges.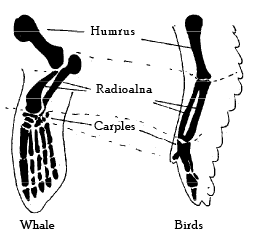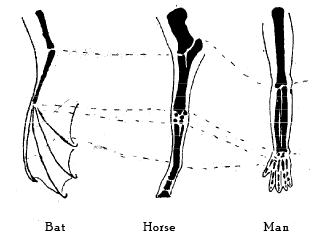 (ii) Legs of invertebrates – Cockroach Honey bee Walking Collecting of pollens But in both segmented legs are present and segments are same like coxa, Trochanter, Femur, tibia, 1-5 jointed tarsus.
(iii) Mouth parts of insects Cockroach Honey Bee Mosquito Biting and chewing Chewing and lapping Piercing and sucking In each of these insects the mouth parts comprise labrum, mandibles and maxillae.
(iv) Homology is also seen in the skeleton, heart, blood vessles and excretory system of different vertebrates.
(v) Thorn of bougainvillea and tendril of cucurbita(Modification of axillary bud).
(vi) Wings of sparrow and pectoral fins of fish.
(vii) Hind limb of mammals.
(viii) Potato & ginger.
(ix) Radish & Carrot
(x) Homology is also seen amongst the molecule. This is called molecular homology. For example the proteins found in the blood of man and apes are similar.
(xi) Testes in male and Ovaries in female develop from same embryonic tissue.
(xii) Pectoral fin of fish and flipper of seal.
Divergent evolution (adaptive divergence/adaptive radiation) Homology found in different animals indicate their evolution from common ancestors. Species which have diverged after origin from common ancestor giving rise to new species adapted to new habitats and ways of life is called adaptive radiation, exhibit large number of homologous organs. Homology shows divergent evolution.
For Example : Adaptive radiation gave rise to a varity of marsupials in Australia.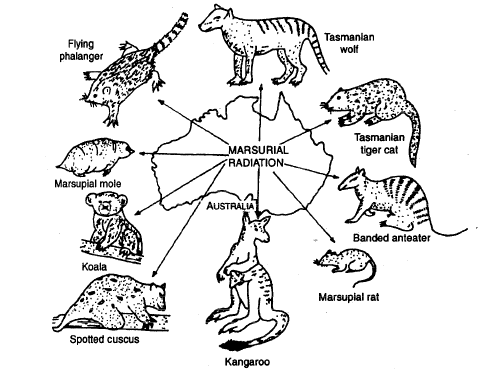 2. Analogy – It is similarity in organs based on similar function. Organs which have different origin and dissimilar fundamental structure but have similar functions are called Analogous organs.
Examples of Analogous organs –
(i) Wings of bat & birds are analogous to wings of insects.
(ii) Pelvic fins of fish, flipper of seal
(iii) Sting of bee and scorpion.
(iv) Phylloclade of Ruscus and leaf
(v) Chloragogen cell of pheretima and liver of vertebrate.
(vi) Hands of man and trunk of elephant.
(vii) Potato and sweet potato.
(viii) Eyes of Octopus and eyes of mammals (different in their retinal position).
(ix) Dog fish and whale.
(x) Flippers of penguin (bird) and dolphin (mammals).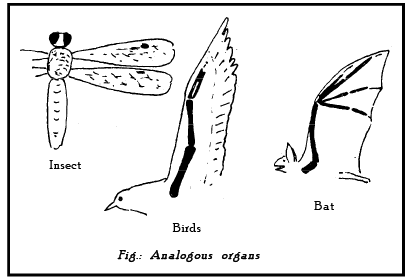 Convergent evolution (adaptive convergence/parallel evolution) Development of similar adaptive functional structures in unrelated groups of organisms is called convergent evolution. For Example : Some of the marsupials of Australia resemble equivalent placental mammals that live in similar habitats of other continents.
When adaptive convergence is found in closely related species, it is calledparallel evolution.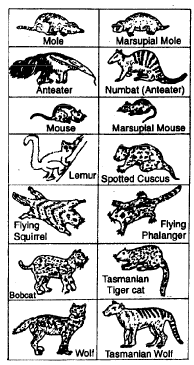 Analogous organs do not show common ancestory but they shows evolution.
3. Evidences from vestigial organs – The organs which are present in reduced form and donot perform any function in the body but correspond to the fully developed functional organs of related animals are called vestigial organs.
They are remainants of organs which were complete and functional in their ancestors.
Vestigial organs in Human body – Human body possess about 180 vestigial organs eg.
a. Nictitating membrane
b. Muscles of pinna (auricular muscles)
c. Vermiform appendix
d. Coccyx
e. Canine teeth
f. Third molars (wisdom teeth)
g. Segmental muscles of abdomen
h. Caecum
i. Body hairs
j. Nipples in male
k. Ear pinna
Vestigial organs in other animals – – Hind limb and pelvic girdle of python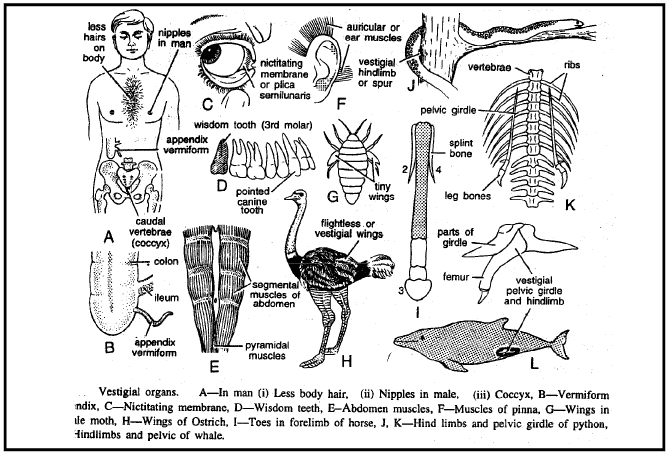 – Wings of flightless birds such as Ostrich, Emu, Kiwi, Dodo, Reha etc. (Dodo recentely extinct)
– Eyes of deep sea fishes – Splint bones in feet of horse [2nd and 4th finger] – External ear in whale
– Rudiment of reptilian jaw apparatus.
– Hindlimb and pelvic girdle of whale.
Vestigial organs in plants – Scale leaves of Ruscus and various underground stems.
Vestigial organs are example of lamrckism (Theory of inheritence of acquired charactar)
(4) Evidences from connecting links – Some animals and plants possess characters of two separate groups. One being primitive and the other is advanced group.
These species act as bridge between two taxonomic groups such organism are called connecting link.
They provide good example of organic evolution and common ancestory.
(i) Virus : Between living and non living
(ii) Euglena : Between plants and animals
(iii) Proterospongia : Between protozoa and porifera
(iv) Neopilina : Between mollusca and annelida
(v) Peripatus : Between annelida and arthropoda
(vi) Archaeopteryx : Between reptiles and birds
(vii) Balanoglossus : Between nonchordates
(viii) Chimera : Between cartilagenous fish and Boney fish
(ix) Lung fish (Protopterus) : Between fishes and amphibia
(x) Platypus : Between reptiles and mammals
(xi) Echidina : Between reptiles and mammals.
(5) Evidences from Atavism (Reversion) Sometimes in some individuals such characters suddenly appears which were supposed to be present in their ancestors but were lost during the course of development.
This phenomenon is known as atavism or reversion. Atavism proves that animals developing atavistic structure have evolved from such ancestors in which these structures were fully developed.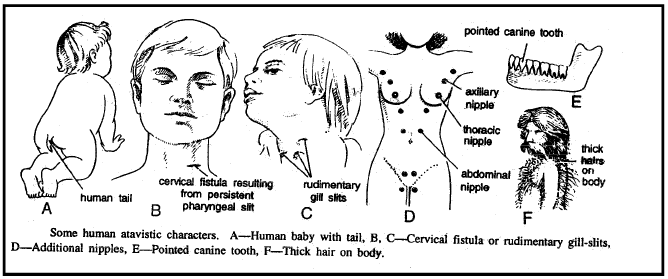 Examples :
1. Human baby with tail
2. Cervical fistula – in some human babies an aperture is present on neck behind the ear called as cervical fistula. It represents pharyngeal gill slits which were present in aquatic vertebrate ancestors.
3. Long and pointed canine teeth represents carnivorous ancestors.
4. Large and thick body hair reflect our relationship with apes.
5. Extra nipples (more than two)
(6) Evidence from physiology and biochemistry – Different organism show similarities in physiology and biochemistry. Some clear examples are –
1. Protoplasm : Structure and chemical composition of protoplasm is same from protozoa to mammalia.
2. Enzymes : Enzymes perform same function in all animals like Trypsin digest protein from amoeba to man. Amylase digest starch from porifera to mammalia.
3. Blood : Chordates show almost same composition of blood. .
4. ATP : This energy rich molecule is formed for biological oxidation in all animals.
5. Hormones : Secreted in different vertebrates performs same function.
6. Hereditary material : Hereditary material is DNA in all organism and its basic structure is same in all animals.
7. Cytochrome C is a respiratory protein situated in the mitochondria of all organism. In this protein from 78-88 A.A. are identical in all organism, which show common ancestory.
Physiology and biochemistry thus prove that all animals have evolved from some common ancestor.