EVIDENCES OF ORGANIC EVOLUTION
Evidences from bio geographical distribution
– The study of geographical distribution of animal and plant species in different parts of earth is called Biogeography.
Different animal species occuring in an area are called Fauna and those of plants are called Flora.
On the basis of fauna and floraAlfred Russel Wallace divided the whole world into six major biogeographical regions calledrealms.
Nearctic : North America from Mexican highlands to Arctic islands and Greenland.
Palaearctic : Europe, North Asia up to Himalayas and North Africa up to Sahara desert.
Neotropical : Central and South America, Mexican lowlands and West Indies.
Oriental : Asia, South of Himalayas; India, Ceylon, Malay, Peninsula, Sumatra, Borneo, Java Celebes and Philippines.
Ethiopian : South Africa from Sahara Desert, Madagascar and Adjacent islands.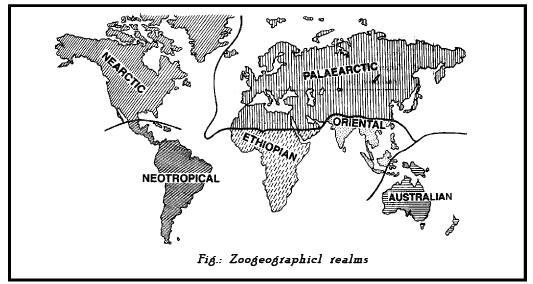 Australian :Australia, Tasmania, New Guinea, New Zealand and Oceanic islands of the pacific. It is believed that millions of years ago all the continents were present in the form of a single land mass called Pangaea.
Later on due to various geological changes, these continents drifted from one another. As these continents moved away, they got seperated from each other by the seas. As these continents had different environmental conditions so plants and animals evolved there were of different varieties. (New species). These facts of organic evolution can be explained by the following examples.
Palaearctic and oriental realms are separated by high Himalayan Mountains.
1. Prototheria – This is sub class of mammalia, which includes egg laying mammals like Platypus and Echidna found in Australia.
In prehistoric time Australia was a part of Asian continent. After the evolution of prototherians from reptiles Australia got seperated from mainland of Asia. Later on Eutherian mammals evolved in Asia. Due to their carnivorous nature they destroyed prototherians and metatherians from Asia. So these groups became extinct on the mainland but they survived in Australia due to absence of Eutherians.
Today eutherians are also found in Australia (they were later transported by man).
2. Marsupialia – The subclass of class mammalia includes kangaroos and opposum which are found only in Australia.
3. Darwin's finches – Darwin studied Fauna and Flora of Galapagos island situated near South America (consisted 22 islands). Here he saw nearly 20 types of finches (birds).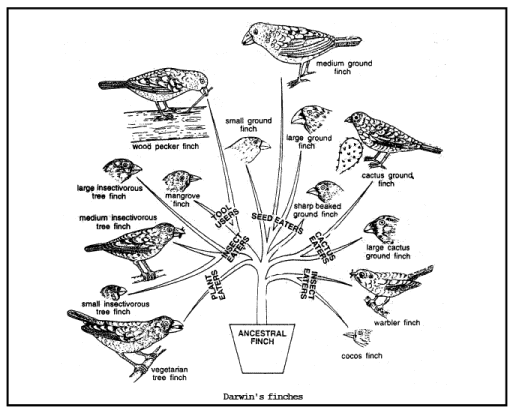 A related species of these birds were also present in South American continent. Probably some member of this species migrated to Galapagos island where these birds evolved into different species as a result of adaptation to environment. These birds are now known as Darwin's Finches.
Darwin described that a particular species is evolved in a particular area, progenies of this species migrate to different geographical areas and are gradually adapted to changing environmental conditions. These adaptations gradually give rise to new species as a result of isolation.
Special Point
Darwin's finches are also an example of adaptive radiation (different shape of beak and claws due to their habitat) Darwin's finches are example of allopatric speciation.
4. Elephants and lions are mainly found in Africa and India.
5. Giraffe, Zebra and hippopotamous are found only in Africa.
6. Main land of human evolution is Africa.
Imp. Point :
Palaeontological and Biogeographical evidences are considered as best evidences in support of organic evolution.
(8) Evidences from Embryology – Baer's Law :An organism show its ancestor stages in its embryonic development. In embryo stage general characters appear firstly then specialized characters appear.
Muller :Firstly proposed'Recapitulation theory'. – According to it 'ontogeny recapitulate phylogeny' it means any organism shows its ancestral adult stages during its embryonic development. It shows that all organism evolved from a common ancestor. – Arnest haeckel explaind it in detail and give the name 'Biogenetic law'.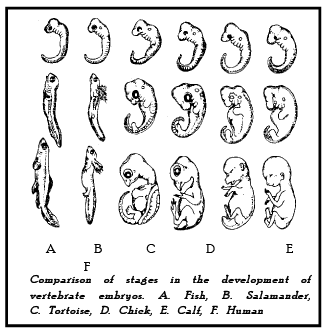 Examples :-
(i) The Zygotes from which the development of all metazoan bodies starts, are single-celled and quite comparable with the bodies of simple protozoans.
This indicates the origin ofMetazoans from Protozoan Ancestors.
(ii) The early stages of Embryonic development, Viz, Morula, Blastula and gastrula are basically similar in all metazoans, indicating a Monophyletic Origin of the latter.
(iii) The Phylogenetically earliest metazoans i.e., the sponges and cnidarians, have retained early gastrula like double - layered (Diploblastic) structure of body of Metazoans.
(iv) In fishes, the young individual, developing from gastrula, is almost-like the adult, but the tadpole larvae of amphibians bear more resemblance to the young once of fishes than to their own adults. This indicatesOrigin ofamphibians from fishes.
(v) Even after gastrulation in the vertebrates, the early postgastrula stages are quite similar in members of all the different classes, Viz, fishes, amphibians, reptiles, birds and mammals.
The differentiation of class characters appear in later stages, moreover, the embryo of phylogenetically higher vertebrates pass through the adult stages of lower vertebrates before attaining the characteristics of their own classes.
For example, in all birds and mammals including man, the embryos passes through stages resembling adult's stage of fishes, amphibians and reptiles before finally attaining the characters of their respective classes.
This proves thatAll Vertebrates have evolved from common fish like ancestors and also that both birds and mammals have evolved from reptiles.
(vi) When the heart first develops in the embryos of amphibians, reptiles, birds and mammals, it is 2-chambered same as in the embryos and adults of fishes. In later stages of embryonic development in amphibians, reptiles, birds and mammals the heart become, 3-chambered. This condition is retained in adults of amphibians and most reptiles. In birds and mammals the heart becomes 4-chambered in the last embryonic stages to continue as such in the Adults.
(vii) Modern Scientists have discovered "Biochemical recapitulation" also, for example, fishes mainly excrete ammonia. Adult amphibians excrete urea, but their tadpoles excrete ammonia like the fishes. birds excrete uric acid, but their embryos excrete first ammonia and then urea during earlier stages.
(viii) In embryonic stage birds showed tooth buds for some time, which became extinct later. It show that birds evolved from toothed reptile like ancestors.
(9) Evidences from Taxonomy – Plants and animals show a great diversity of form. They also show some similarities among themselves. It is on account of these differences and resemblances that the taxonomists have been able to arrange the living things in to smaller and larger groups. Thus the taxonomists have recognised that there are about 250,000 different kinds of plants. These different kinds are called species.
The members of each species are recognised by their close resemblance to one another, their differences being of a minor type. Amongst species also there are differences and resemblance of varying degree. some species resemble one another more closely than they resemble others and form a closely related group.
Similary, there are other groups of closely resembling species. The members of each group resemble each other more closely than they resemble the members of other groups. Each such group of species is called a genus.
Genera also show different degrees of resemblances amongst themselves. Those that resemble one another more closely than others are placed in a large group called a family.
Families are grouped in to larger units called orders, orders into classes and classes in to Phyla.
Evolution has a ready explanation for this system of grouping or classifying plants and animals in groups indicates relationship.
Special points :-1. The aquatic mammals [eg. Dolphins, Whales, Seals, Porpoises etc.] don't have gill slits-because their adaptation to aquatic life is secondary.
2. In Acacia tree well developed compound leaves are found. But seedling has simple leaves like those found in all stages of development of its ancesters. This provide a good example of -Ans. Recapitulation
3. Modern day Oaks of southern United State of America retain their foliage throughout the year where as the oaks of northern United States are deciduous and shed their leaves during winter. The southern species, on the basis of this character of leaves are considered to be more primitive than the northern oaks. However, the seedlings of northern species are generally seen to retain their leaves during winter. This provide a good example of -Ans. Recapitulation
4. EVOLUTIONARY TREND :
The continuous change of a character within an evolving lineage is termed as evolutionary trend.
BRIEF REVIEW
1. Palaeontological evidences :
Study of fossils – Palaeontology
Types of fossils – (i) Unaltered (ii) Petrified (iii) Mould (iv) Cast (v) Print (vi) Coprolite
Archaeopteryx : Transitional fossils between birds & reptiles.
Geological time scale divided into 6 eras : Azoic, Archaeozoic, Proterozoic, Palaeozoic, Mesozoic, Coenozoic.
2. Morphological and anatomical evidence :
Homologous organs : Similar in origin, embryonic development and same basic structure but performs different function.
Homologous organs show divergent evolution.
Analogous organs : Similar in function but dissimilar fundamental structure and different origin.
Analogous organs show convergent evolution.
3. Evidence from vestigial organs : Vestigial organs show common ancestory and evolution.
4. Evidence from Connecting links : Some organisms show character of two separate groups, known as connecting link.
5. Evidence from atavism : Reappearance of certain ancestral character is called atavism.
6. Evidence from physiology and biochemistry : Different organism show similarities in physiology and biochemistry thus proved that all animals have evolved from same common ancestor.
7. Evidence from bio geographical distribution : The study of geographical distribution of animals and plants in different part of earth is called Biogeography.
A.R. Wallace divided the whole world into six major realms.
8. Evidence from embryology : Ontogeny recapitulates phylogeny it means an organism show its ancestor stages in its embryo development.
9. Evidence from taxonomy : Sp. → Genus → family → order → class → phylum → kingdom → living organism.