Transport
A well-knit and coordinated system of transport plays an important part in the development of economic growth of a country. The present transport system of India comprises several modes of transport which includes
Rail
Roads
Inland waterways
coastal shipping and
Airways.
The Ministry of Transport is responsible for the formation and implementation of policies and programmes for the development of various modes of transport.

Indian Road network
India has a road network of over approx. 4,689,842 kilometers. It is 2nd largest in the world.
The central Government is responsible for the development and maintenance of the National Highways system.
Indian Railways
Indian Railways is a state-owned enterprise and one of the world's largest railway networks comprising 115,000 km of track over a route of 65,808 km and 7,112 stations. Indian Railways is the second most important means of communication in India contributing 1% to the gross domestic product from transportation point of view. It was founded on April 16, 1853 by Lord Dalhousie. It ran between Bombay and Thane.
Indian Railways is the world's 4th largest railways network; it is largest in Asia.
Highest railway track (in India) Bilaspur - Mandi → Leh (in world) Xining → Lhase
Longest railway track in India – Dibrugarh (Assam) to Kanyakumari
Metro Rail: Started in India in 1984 (Kolkata); other Metro lines are operating in Delhi, Mumbai, chennai, Bangalore, Jaipur and Hyderabad.
In World
Beijing to London (12000 km) Freight
Trans-Siberian Railway (St. Petersberg to Vladivostok)
Airways
Airways is the fastest means of transport. Important airports of India are given in the table below.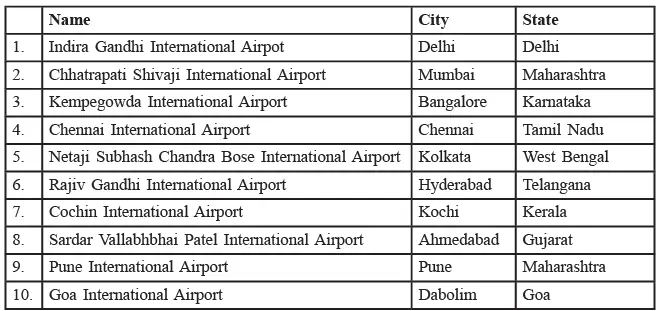 Classification of Road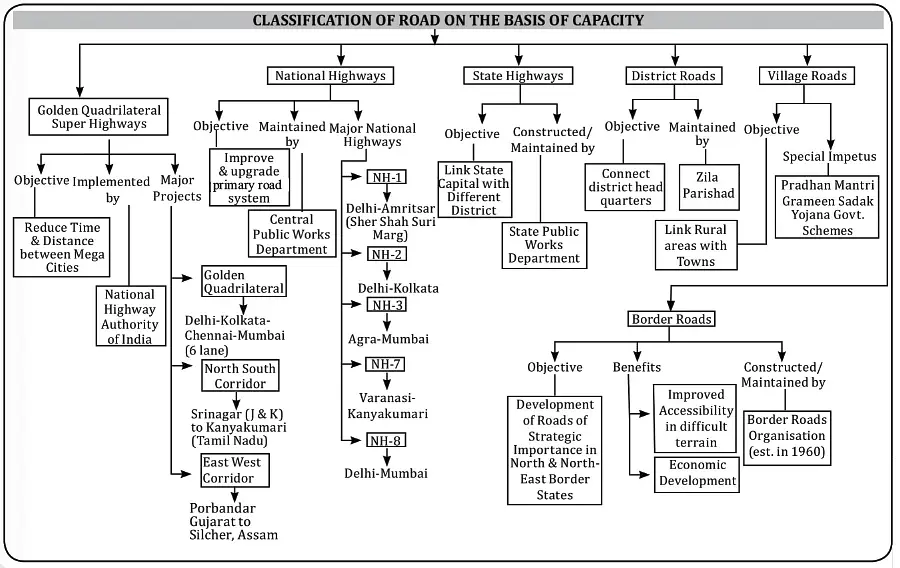 Ports
Indian coastline is about 7516.6 kilometers and it is one of the biggest peninsulas in the world.
The major ports are administered by the central government's shipping ministry.
The minor and intermediate ports are administered by the relevant departments or ministries in the nine coastal states.
Major ports of India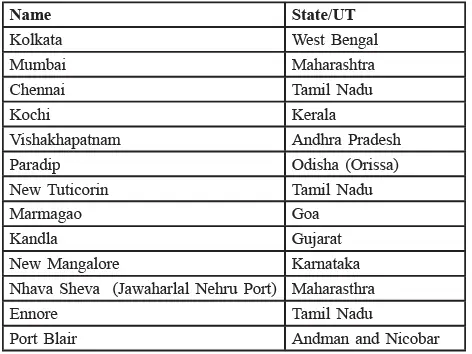 Facts about ports
Jawaharlal Nehru Port in Mumbai is the largest port in India.
Vishakhapatnam Port is the largest natural port.
Kandla is the tidal port in Gujarat. It has been made into a free trade zone.
Haldia Port (WB) is said to be developed as the first Green port of India.
Kochi port is a natural harbour on the west coast. It largely handles coal, petroleum products, fertilisers, raw materials and general cargo.
Paradip Port is an artificial and deep-water port.
Ennore Port, officially renamed Kamarajar Port Limited, is the only corporatised major port and is registered as a company.
Jawaharlal Nehru Port is the largest container port in India. It was formerly known as Nhava Sheva port.
Tuticorin Port is an artificial deep-sea harbour of India. Tuticorin Port is officially known as VO Chidambaram Port.
Chennai Port is the one of the oldest port of India and the second largest port in the country.