Jagannath Temple
The National Monuments Authority (NMA) draught heritage bylaws for Shree Jagannath Temple in Puri, Odisha, have been withdrawn by the Centre.
The Odisha Government is demanding the withdrawal of the bylaws for temples in Ekamra Kshetra area of Bhubaneswar.
Key Points
➤ Draft Heritage Bylaws:
Background: The government in 2010 formed the National Monuments Authority under the Ancient Monuments and Archaeological Sites and Remains (Amendment and Validation) Act, 2010.
NMA's primary role was to prepare heritage bylaws for India's Archaeological Survey (ASI) listed structures.
Meaning:

The Ancient Monuments and Archaeological Sites and Remains (Amendment and Validation) Act 2010 mandates that monument-specific heritage bylaws be prepared to regulate construction activity near ASI-protected monuments.
The draft heritage bylaws need to be approved by Parliament.
➤ The Case of Odisha:
The State government considered that the bylaws would have hampered the grand infrastructure development planned around 12th century Shree Jagannath Temple in Puri.
Similar heritage bylaws have been drafted for two temples in Bhubaneswar - the 13th century Vaishnava temple of Ananta Basudev and Shiva temple of Brahmeswar, both in the Ekamra Kshetra area.
In 2020, the state government planned a beautification project worldwide spread across 1,126 acre and developed it into a major tourist attraction.
➤ Jagannath Temple:
Construction:

It is believed to be constructed in the 12th century by King Anatavarman Chodaganga Deva of the Eastern Ganga Dynasty.


Mythology:

Jagannath Puri temple is called 'Yamanika Tirtha' where, according to the Hindu beliefs, the power of 'Yama', the god of death, has been nullified due to the presence of Lord Jagannath.

Architecture:

This temple was called the "White Pagoda" and is a part of Char Dham pilgrimages (Badrinath, Dwaraka, Puri, Rameswaram). There are four gates to the temple- Eastern 'Singhdwara' which is the main gate with two crouching lions, Southern 'Ashwadwara', Western 'Vyaghra Dwara and Northern 'Hastidwara'. There is a carving of each form at each gate.
In front of the entrance stands the Aruna stambha or sun pillar, which was originally at the Sun Temple in Konark.

Festival: The World famous Rath Yatra (Car Festival) & Bahuda Yatra.
➤ Other Important Monuments in Odisha:
Konark Sun Temple (UNESCO World Heritage Site).
Tara Tarini Temple.
Lingaraj Temple.
Udaygiri and Khandagiri Caves.
The Ancient Monuments and Archaeological Sites and Remains (Amendment and Validation) Act, 2010
➤ Objective:
To preserve, conserve, protect and maintain all ancient monuments and archaeological sites and remains declared of national importance and their surrounding areas up to a distance of 300 meters (or more as may be specified in certain cases) in all directions.
➤ Provisions:
No construction or reconstruction is permitted in the prohibited area (an area up to a distance of 100 meters in all directions from the nearest protected limit of nearby protected monument or protected area declared as of national importance), but repair or renovation is considered.
In the regulated area (an area up to a distance of 200 meters in all directions from the prohibited area of any protected monument and protected area declared as of national importance), repair/ renovation/construction/reconstruction are considered.
All applications for construction related work in the prohibited and regulated areas are to be submitted to the Competent Authorities (CA) and then to National Monuments Authority (NMA) for consideration.
NMA functions under the Ministry of Culture.
Tholpavakkoothu: Kerala
A robot recently animated a shadow leather puppet in Kerala's popular temple art Tholpavakkoothu.
Key Points
➤ About:
It is a traditional temple art in Kerala, having its roots in Palakkad and neighbouring regions.
This art is mainly confined to Pulavar families from the Shoranur region of Palakkad district.
Among the ancient artforms of Kerala, tholpavak­koothu or shadow puppet play occupies a prom­inent place. It is a fine example of the integration of Aryan and Dravidian cultures.
It is a ritual art performed during the annual festivals in the Kaali temples of Palakkad district.
It is also known as Nizhalkkoothu and Olakkoothu.
The theme of the play is based on the Kamba Ramayana (the Tamil version of the epic).

➤ Origin:
In Malayalam, Thol means leather, pava means doll and koothu the play. Though the origin of this ritualistic art form is not known exactly, some believe it to be as old as 1200 years.
It used to be performed in the Bhadrakali temples of Palakkad, telling tales from the Ramayana.
➤ The Show:
This entertainment art is performed on a special stage called koothumadam in the temple courtyard.
It is performed using the mythological figures along with the use of fire and lighting of lamps behind the screen.
The chief puppeteer is known as 'Pulavan'.
➤ Musical Instruments Used:
Ezhupara, Chenda and Maddalam etc.
Regional Names of Shadow Puppetry in India
State - Name
Andhra Pradesh - Tholu bommalata
Karnataka - Togalu gombeyaata
Maharashtra - Charma bahuli natya
Odisha - Ravanachhaya
Kerala - Tholapavakkoothu
Tamil Nadu - Thol bommalata
Pandit Bhimsen Joshi Jayanti
On the centenary of his birth, Prime Minister Narendra Modi paid tribute to classical music vocalist Pandit Bhimsen Joshi.
Key Points
➤ About:
Pandit Bhimsen Joshi was born on February 4, 1922.
Important Recognition: He received the Bharat Ratna in 2008.
Work: He is remembered for his famous ragas, including Shuddha Kalyan, Miyan Ki Todi, Puriya Dhanashri and Multani etc.
He belonged to the Kirana Gharana.
Kirana Gharana got its name from a small town called Kerana in Uttar Pradesh. Ustad Abdul Karim Khan founded it. Famous artists such as Abdul Wahid Khan, Suresh Babu Mane, Hira Bai Badodekar and Roshanara Begum belong to this Gharana.
He belonged to the school of Hindustani classical music.
➤ Hindustani Music:
Origin:
Hindustani Music is one of the two distinct schools of Indian Classical Music practised mainly in North India. The other school of Indian Classical Music is Carnatic music which is practiced mainly in Southern India.
The historical roots of both the music types belong to the Bharata's Natyasastra.
Hindustani Music is vocal-centric. The major vocal forms associated with Hindustani classical music are the khayal, Ghazal, dhrupad, dhammar, Tarana and thumri.
Most of the Hindustani musicians trace their descent to Tansen. o Gharanas:
A Gharana is a social organisation system linking musicians or dancers by lineage or apprenticeship, and by adherence to a particular musical style.
Function in guru-shishya parampara, i.e. disciples learning under a particular guru, transmitting his musical knowledge and style.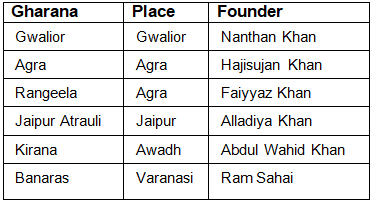 Chauri Chaura Incident
The Prime Minister issued a postage stamp commemorating the 100th anniversary of the Chauri Chaura incident.
Chauri Chaura is a town in Gorakhpur district of Uttar Pradesh.
On 4th February, 1922, this town witnessed a violent incident - a large crowd of peasants set on fire a police station that killed 22 policemen. Mahatma Gandhi called off the Non-Cooperation Movement (1920-22) due to this incident.
Key Points
Background (Launch of the Non-Cooperation Movement):
On 1st August, 1920, Gandhi had launched the Non­Cooperation Movement against the government.
It involved using swadeshi and boycott of foreign goods, especially machine made cloth, and legal, educational and administrative institutions, "refusing to assist a ruler who misrules".
In the winter of 1921-22, volunteers of the Congress and the Khilafat Movement were organised into a national volunteer corps.
Khilafat Movement was a pan-Islamic force in India that arose in 1919 to salvage the Ottoman caliph as a symbol of unity among India's Muslim community during the British raj.
The Congress supported the movement and Mahatma Gandhi sought to conjoin it to the Non-Cooperation Movement.
➤ Details of the Chauri Chaura Incident:
On 4th February, volunteers congregated in the town, and after the meeting, proceeded in a procession to the local police station, and to picket the nearby Mundera bazaar.

The police fired into the crowd killing some people and injuring many volunteers.
In retaliation, the crowd proceeded to set the police station on fire.
Some of the policemen who tried to escape were caught and battered to death. A lot of police property, including weapons, was destroyed.
➤ Reaction of the British:
The British Raj prosecuted the accused aggressively. A sessions court quickly sentenced 172 of the 225 accused to death. However, ultimately, only 19 of those convicted were hanged.
➤ Reaction of Mahatma Gandhi:
He condemned the crime of the policemen's killing. The volunteer groups in nearby villages were disbanded, and a Chauri Chaura Support Fund was set up to demonstrate "genuine sympathy" and seek atonement.
Gandhi decided to stop the Non-Cooperation Movement, which he saw as having been tainted by unforgivable violence. He bent the Congress Working Committee to his will, and on 12th February, 1922, the satyagraha (movement) was formally suspended.
➤ Reaction of Other National Leaders:
Jawaharlal Nehru and other leaders leading the Non-Cooperation movement were shocked that Gandhiji had stopped the struggle when the civil resistance had consolidated their position in the freedom movement.
Other leaders like Motilal Nehru and CR Das recorded their dismay at Gandhi's decision and decided to establish the Swaraj Party.
➤ Justification for the Suspension of the Movement:
Gandhi on his part, justified himself on grounds of his unshakeable faith in non-violence.
Historians such as Bipan Chandra have argued that Gandhian strategy of non-violence was based on the premise that the use of repressive force against non-violent protesters would expose the real character of the colonial state and ultimately put moral pressure on them, but incidents such as Chauri Chaura defeated that strategy.
Besides, Bipin chandra opines that withdrawal or shift to a phase of non-confrontation is an inherent part of a political action strategy based on the masses.
➤ Immediate Result:
The disillusionment resulting from the suspension of the Non-Cooperation Movement nudged many of the younger Indian nationalists towards the conclusion that India would not be able to throw off colonial rule through non-violence.
It was from the ranks of these impatient patriots, some of India's most of revolutionaries came into picture like Jogesh Chatterjee, Ramprasad Bismil, Sachin Sanyal, Ashfaqulla Khan, Jatin Das, Bhagat Singh, Bhagwati Charan Vohra, Masterda Surya Sen, and many others.
Besides, the Non-Cooperation Movement's sudden termination disillusioned the Khilafat movement leaders that created a rift between Congress and the muslim leaders.