Health

The World Health Organisation [W.H.O.] gave the following definition of health in 1948. Health is state of complete physical, mental and social well being and not merely the absence of disease or infirmity.
The WHO definition of health recognizes three dimension of health i.e. Physical, mental and social.
In 1978 this definition was updated by including- the ability to lead a "Socially and economically productive life".
Personal and Community Issues Both Matter for Health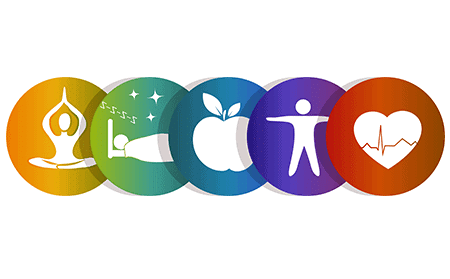 It is rightly said that Health is Wealth. There are various factors which influence health. These factors lie both within the individual and also in the society in which he or she lives. The internal factors are basically the genetic make-up of an individual while external factors lie in the environment to which he/she is exposed.
Personal health is a state of complete physical, mental and social well-being. Community health comprises of maintaining, improving and protecting the health of entire community.
The various factors that help in maintaining community health are:
(i) Maintaining proper hygienic and sanitary conditions of the environment.
(ii) Providing good socio-economic conditions.
(iii) Providing health care services.
(iv) Imparting health education and promoting public awareness.
(v) Providing proper facilities for preventing diseases.
Basic Conditions for Good Health
Sound mind in a sound body is the old saying and expresses the importance of good health.
(i) Balanced diet
(ii) Personal hygiene
(iii) Clean surroundings
(iv) Clean food and water
(v) Clean air
(vi) Exercise and relaxation
(vii) No addictions
(viii) Good economic conditions
Distinctions between Healthy and Disease Free
| | |
| --- | --- |
| Disease free | Healthy |
| One who is not suffering from any disease or derangement of the functioning of body. | It is a state of physical, mental and social well being |
| It refers to the individual | It refers not only to the individual but also its social and community environment |
| A disease free individual may have good health or poor health | A healthy individual is one who is able to perform normal under given situation. |
History of Vaccines and Vaccinations
Vaccine: Preparation of weakened infectious agents or their products that can be injected or given orally to prevent specific disease.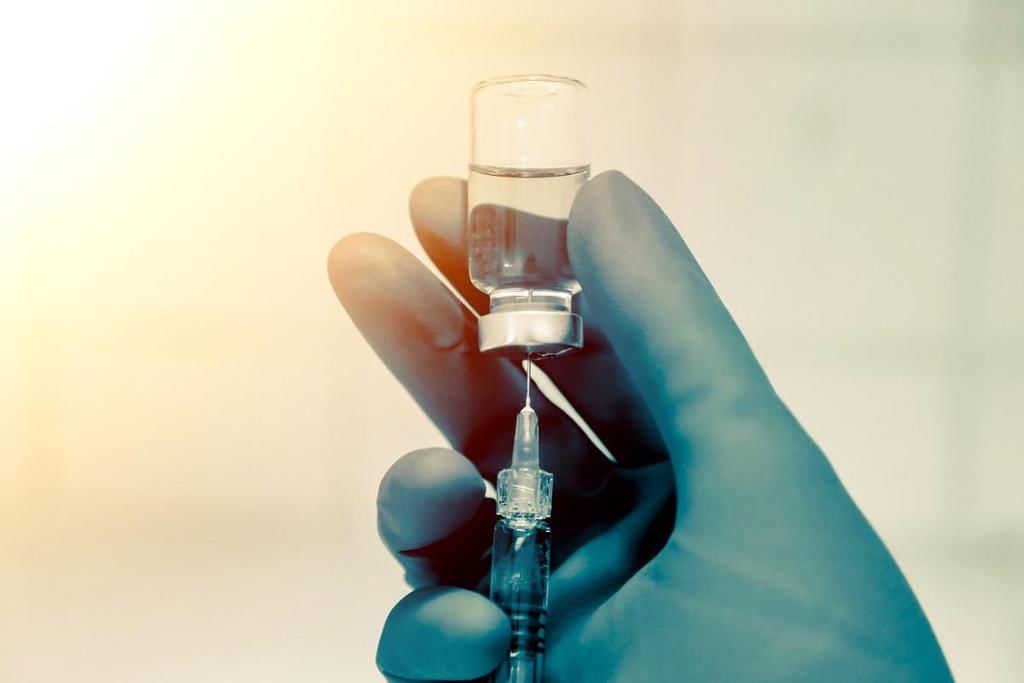 The modern term vaccination comes from the Latin word vacca means cow and vaccinia means cowpox. An English physician Edward Jenner observed that people who got cowpox(a mild disease) did not suffer from smallpox(a more severe disease). Jenner took some pus with a sterile needle from the cowpox rashes of an infected girl and injected in the scratches made in the skin of an uninfected boy who soon got cowpox. After he recovered Jenner infected the boy's arm with pus from the spots of a person suffering from smallpox luckily the boy did not get smallpox and Jenner's experiment was successful.
Principles of Treatment

The immune system is a major factor that determines the number of microbes surviving in the body.
There are two ways to treat an infectious disease, i.e., (i) to reduce the effects of the disease and (ii) to kill the cause of the disease.
In the first case, treatment is provided to reduce the symptoms which are due to inflammation. Doctor gives medicine to the patient so as to bring down fever, reduce pain or loose motions. The patient is also advised to take bed rest, so that he/she can conserve his/her energy. This will enable him/her to have more energy to focus on healing.
To cure the disease, the microbes have to be killed by the use of medicine. As you know that microbes can be classified into different categories. They are viruses, bacteria, fungi or protozoa. Each of these groups of organisms will have some essential biochemical life processes, which is peculiar to that group and not shared with the other groups. These processes may be pathways for the synthesis of new substances or respiration. For example, our cells may make new substance by a mechanism different from that used by bacteria. Therefore, the drug that can block the bacterial synthetesis pathway without affecting our own, is used to cure a bacterial disease. The antibiotic drugs work on the same principle. Similarly, there are drugs that kill protozoa such as malarial parasite without affecting our body.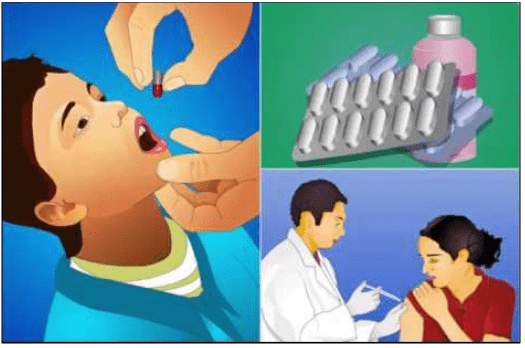 Since viruses have only a few biochemical mechanisms of their own. This is the reason that making antiviral medicines is difficult than making antibacterial medicines. The viruses enter the host cells and use host's machinery for their life processes. Therefore, there are relatively few virus drugs, which check a number of viral diseases including HIV infection.
Principles of Prevention
There are two ways for prevention of disease one is general and one is specific to each disease.
The first one is we can prevent exposure by providing good living conditions. Safe drinking water and a clean environment.
Another is the immune system of our body is normally fighting off microbes we have cells that specialize in killing infecting microbes. These cells go into action when microbes enter the body. The immune cells manage to kill off the infection long before it assumes major proportions.
The functioning of the immune system will be good if proper and sufficient nourishment and food are available.
There are some specific ways also for preventing infections like vaccination for a particular disease.