Q.1. Explain properties of Production Possibility Curve (PPC). (Delhi 2010c)
Ans. Production Possibility Curve (PPC) has two basic properties that are as follows:
(a) PPC is downward sloping Downward slope of PPC indicates that if the country wants to produce more of one good, it has to reduce the production of other good.
(b) PPC is concave to origin Concave shape of PPC means that slope of PPC increases as in this concept production will obey the law of increasing opportunity costs or increasing Marginal Rate of Substitution.

Q.2. Does massive unemployment shift the PPC to the left?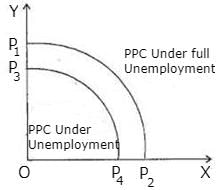 Ans. Massive unemployment will shift the PPC to the left because labour force remains underutilized. It will imply that the country's resources are lying idle when they could have been used for some productive purposes like farming, manufacturing, etc.

Q.3. What does the slope of PPC show?
Ans. The slope of PPC indicates the increasing marginal opportunity cost.

Q.4. Unemployment is reduced due the measures taken by the government. State its economic value in the context of Production Possibilities Frontier.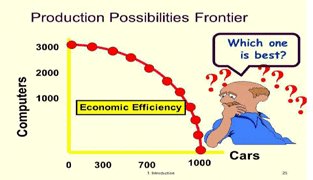 Ans. When government taken measures to reduce the unemployment it enables the economy to utilize its existing resources in the optimum manner and moves from inside the PPC to points on the PPC. Hence, economic value is reflected in terms of increased output arid income.

Q.5. From the following PP schedule calculate MRT of good x.



Ans.