Union Budget 2018-19 Key Highlights
Highlight Budget 2018-2019
The budget for 2018-19 focusses on the following key areas viz., agriculture, rural development, MSMEs, employment, infrastructure, health and education.
Total receipts for 2018-19 are estimated to be Rs. 24,42,213 crores, including capital receipts.
The fiscal deficit is estimated to be at Rs. 6,24,276 crores which is around 3.3% of GDP. The revised estimates of fiscal deficit for 2017-18 pegged it around 3.5% of GDP.
Agriculture and Rural Economy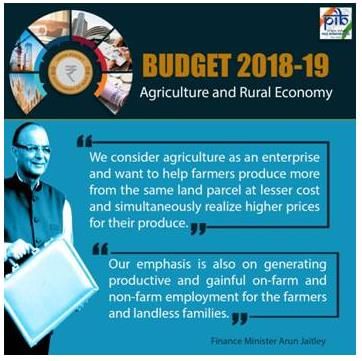 The target for institutional credit disbursal to agriculture and allied sectors is Rs. 11 lakh crores, up from Rs. 10 lakh crores in 2017-18.
Two new funds viz., Animal Husbandry Infrastructure Development Fund (AHIDF) and Fisheries and Aquaculture Infrastructure Development Fund (FAIDF) are proposed with a corpus of Rs. 10000 crores.
About 22000 existing rural haats to be developed and upgraded into Gramin Agricultural Markets (GrAMs) for the welfare of small and marginal farmers. These GrAMs will be electronically linked to the National Agricultural Market (e-NAM). An Agri Market Infrastructure Fund with a corpus of Rs. 2000 crores are to be set up for this purpose.
For the organized cultivation of specialized medicinal and aromatic plants Rs. 200 crores has been allocated.
National Bamboo Mission has been restructured with the new scheme having an outlay of Rs. 1290 crores.
Rs. 2600 crores have been allocated under Pradhan Mantri Krishi Sinchai Yojana to extend irrigation to 96 deprived irrigation districts with an aim of Har Khet ko Pani. Central government to work with the States in assisting the farmers to set up solar water pumps to irrigate their fields.
To tackle air pollution in Delhi-NCR, a special subsidy scheme was announced to support the efforts by Punjab, Haryana, Uttar Pradesh and Delhi to deploy machinery on fields for crop residue management.
To enhance the efficacy of Mega Food Parks, state -of-the-art testing facilities to be set up.
The allocation to National Rural Livelihoods Mission was increased to Rs. 5750 crores, apart from the target of disbursing Rs. 75000 crores of credit to the Self-Help Groups (SHGs).
"Operation Greens" has been announced, on the lines of "Operation Flood", to address price volatility among perishable commodities such as tomato, onion, and potato, with an outlay of Rs. 500 crores. This will be linked to the Sampada Scheme on agro-processing cluster development.
Micro Small and Medium Enterprises
Under the MUDRA Yojana, Rs. 3 lakh crores worth credit is to be extended to MSMEs. Around Rs.4.6 lakh crores worth credit has been extended to MSMEs under the Yojana in the past three years.
To provide capital and interest subsidy to MSMEs, support their innovation efforts, a sum of Rs. 3794 crores have been allocated.
Employment
To support the creation of formal jobs, the government has proposed to contribute 12 percent of the wages towards EPF for new employees in all sectors for the next three years. Finance Minister announced that around 70 lakh formal jobs were created in 2017-18.
To support the recruitment of women workers, it was proposed to amend their contribution under Employees Provident Fund and Miscellaneous Provisions Act from 12 percent to 8 percent for the first three years of their employment.
The special package to the textile sector for job creation has been continued with an enhanced allocation of Rs. 7148 crores, up from the Rs. 6000 crores provided in 2016.
Infrastructure
For the development of infrastructure, Rs. 5.79 lakh crores have been allocated, up from the Rs. 4.94 crores allocated in 2017-18.
For the development of road network, around 35000 km of projects were approved under Bharatmala Pariyojana with an estimated cost of Rs. 5.35 lakh crores.
For the capital expenditure needs of Railways, Rs. 1.48 lakh crores have been allocated. This includes the expenditure of route electrification, procurement of new rolling stock, redevelopment of railway stations, track renewal, Eastern and Western Dedicated Freight Corridors. For the development suburban rail networks of Mumbai and Bengaluru, Rs. 51000 crores and Rs. 17000 crores respectively are proposed to be spent.
A new scheme called NABH Nirman is proposed to augment the capacity of airports to handle one billion a year.
Education, Health, and Social Protection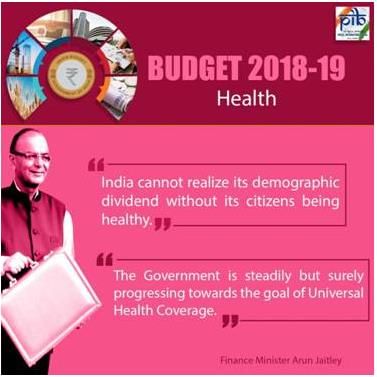 The total allocation for the three sectors is about Rs. 1.38 lakh crores, up from Rs. 1.22 lakh crores allocated last year.
Ekalavya Model Residential Schools would be set up in every block with 50 percent tribal population by 2022.
To promote innovation, increase investments in research and infrastructure in premier institutions, a new initiative is known as Revitalizing Infrastructure and Systems in Education (RISE) would be launched with an outlay of Rs. 1 lakh crore to be provided over the next four years.
Prime Minister's Research Fellows to be launched under which 1000 B.Tech students would be facilitated to pursue PhD in IITs and IISc with a fellowship.
National Health Protection Scheme to be launched which envisages providing a health cover for around ten crore poor and vulnerable families (around 50 crore individuals) to avail secondary and tertiary care hospitalization.
1.5 lakh health and wellness centres are being proposed which are aimed at fulfilling the objective of assured comprehensive primary health coverage mentioned in the National Health Policy, 2017. Rs. 1200 crores have been allocated for this purpose.
Nutritional support to be provided to all TB patients at a cost of Rs. 500 per month throughout the duration of the treatment. Rs. 600 crores have been allocated for this purpose.
24 existing district hospitals will be upgraded into Government Medic al Colleges and Hospitals.
Finance and Digital Economy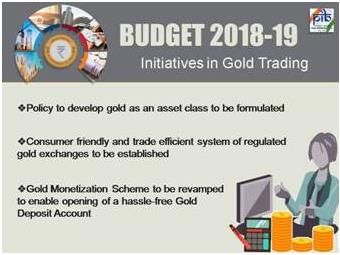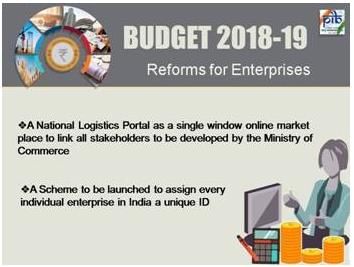 Regulators have been urged to move from 'AA' to 'A' rating for investment eligibility. This would encourage the raising of funds from the bond market.
A unified authority to regulate all the financial services in International Financial Services Centre (IFSCs) in India has been proposed.
NITI Aayog to start a national programme towards increasing the use of Artificial Intelligence.
Allocation to Digtial India Programme is pegged at Rs. 3073 crores.
The Department of Science and Technology will start a Mission on Cyber -Physical Sytems which is aimed at setting up centres of excellence in robotics, artificial intelligence, big data analytics, internet of things (IoT), digital manufacturing, and quantum communication.
To improve the broadband access in rural areas, five lakh wifi hotspots to be set up which can cover up to five crore rural citizens and provide internet connectivity.
Rs. 10000 crores has been allocated for the creation and augmentation of telecom infrastructure.
A unique ID to be assigned to individual enterprises on the lines of Aadhaar.
Defence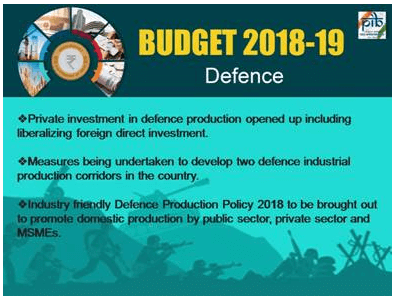 The total outlay for defence is Rs. 2.95 lakh crores. Of this, around Rs. 99,500 crores has been earmarked for capital expenditure. This is to be used for defence modernization, including the purchase of new hardware. The remaining Rs. 1.95 lakh crores is towards revenue expenditure.
Two defence industrial corridors will be created to meet the needs of the armed forces.
Fiscal Management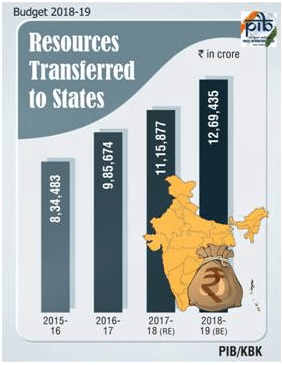 Several key recommendations of the FRBM Committee have been accepted including reducing the central government debt to 40 percent of GDP.
The disinvestment target for 2018-19 has been set at Rs. 80000 crores. The target of Rs. 72,500 crores for 2017-18 has been exceeded with total receipts estimated to be around Rs. 1 lakh crores.
Direct tax collections for 2016-17 and 2017-18 have increased considerably, with a growth of 12.6 percent and 18.7 percent respectively.
The number of effective taxpayers has increased to 8.27 crores by 2016 -17, from 6.47 crores in 2014-15.
Tax benefits
100 percent deduction is announced for Farmer Producer Organizations with a turnover less than Rs. 100 crores on their profits for the next five years.
A lower corporate tax rate of 25 percent is extended for companies with a turnover of up to Rs. 250 crores. This will mainly benefit MSMEs.
For senior citizens, interest income of deposits in banks and post offices, up to Rs. 50000, will be exempt from TDS. The deduction limit for health insurance premium has been hiked to Rs. 50000.
The transfer of derivatives and certain securities from capital gains tax by non-residents and non-corporate taxpayers from IFSC to be charged at a concessional rate of 9 percent, known as the alternative minimum tax (AMT) similar to the MAT for corporates.
Tax Proposals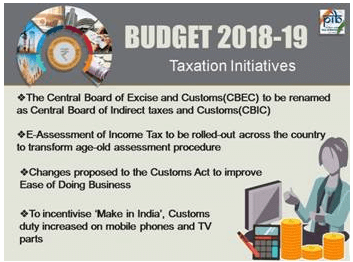 Long-Term Capital Gains (LTCG) Tax has been extended to equity investments with gains exceeding Rs. 1 lakh to be charged at 10 percent.
E-assessment for a direct tax to be rolled out for the entire country, which is currently limited to 102 cities.
The present education cess on personal income tax and corporate tax to be increased to 4 percent, from 3 percent. It will be renamed as "Health and Education Cess". It is estimated to yield tax revenues of up to Rs. 11000 crores, to be used for meeting the education and healthcare needs of BPL and rural families.
Customs duty has been increased on mobile phones from 15 to 20 percent, on their accessories to 15 percent, and on TV parts to 15 percent.
The Education Cess, Secondary and Higher Education Cess that is imposed on imported goods are to be abolished. It will be replaced by a Social Welfare Surcharge at the rate of 10 percent.
The Central Board of Excise and Customs (CBEC) to be renamed as Central Board of Indirect Taxes and Customs (CBIC) in the light of GST roll out.
Other Provisions
Merger of three public sector insurance companies viz., National Insurance Co. Ltd., United India Assurance Co. Ltd., Oriental Insurance Co. Ltd into s single entity.
The emoluments for the President of India to be increased to Rs. 5 lakh per month. The emoluments for the Vice-President and Governors to be increased to Rs. 4 lakh and Rs. 3.5 lakh per month respectively.
A comprehensive Gold Policy to be formulated to develop gold as an asset class. Gold exchanges to be created with proper regulation to make them efficient and consumer friendly. The Gold-Monetization Scheme to be revamped in order to enable the consumers to open a Gold Deposit Account in a hassle-free manner.
To commemorate the 150th birth anniversary of Mahatma Gandhi in 2019, Rs.150 crores has been set aside for the celebrations.