Practicing Mock Tests is an important step in the CAT preparation process. The Mock Test papers of CAT will help you know the type of questions that will be asked in the exam.
Why Mock Tests?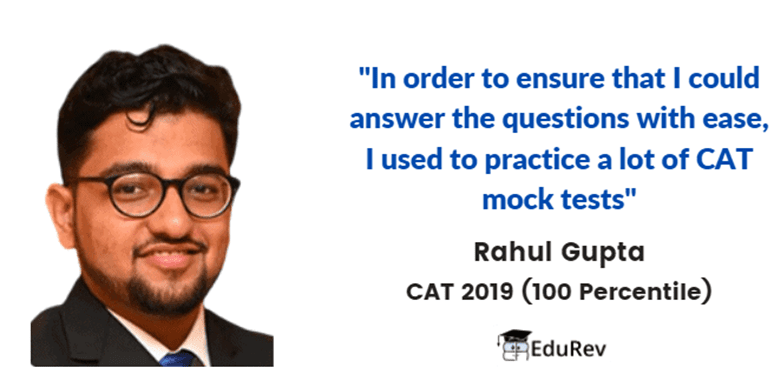 There are many advantages of taking CAT Mock Test Exams.
Some of them are:
Familiarity with the exam pattern: The mock tests help in becoming familiar with the exam pattern, which eventually builds up speed and confidence.
Improvement in accuracy: Mock Tests help in improving the accuracy in solving various types of questions, which are important for the actual exam.
Idea about Current level of preparation: Mock Tests provide a brief idea about your current level of preparation and compels you to work hard.
Accustomizing to the pressure of the exam: By frequently taking the CAT Mock tests, one gets accustomed to the pressure of the exam, which helps in preparing for the D-day.
How to Attempt Mock Tests Efficiently?
You can follow the given approach compiled by EduRev Experts on how to attempt mock tests or can use it as a guideline to formulate your own approach and strategy for attempting the mock tests.
The approach is divided into:
The First Mock Test
Sectional Mock Tests
Full-Length Mock Tests
Analyzing the Mock Tests
The First Mock-Test
Before you start your preparation, every aspirant should give one mock unprepared which will help you understand what CAT is all about and what you know and what you don't about the exam.
While giving this mock, analyze the sections that require an extra effort in terms of both concepts and practice and the sections that require just practice.
You will want to get up while giving this mock as you are not prepared but DON'T. Give that exam like you would give your final CAT exam. This mock is the benchmark of how far you would go in the coming months.
Sectional Mock Tests
As soon as you are done with a section make sure you give its sectional mock. After two weeks give another sectional mock on the same section you have completed as this will help you revise and will let you know your own retention power.
Below are the strategies to attempt mock test of each section:
Sectional Mock Tests of Quant
In the Quant section it is important to work on the attempt rate first, that is, the number of questions you are able to attend in the given time, and then focus on improving your accuracy.
You would encounter 2 types of questions:
Questions already seen or solved: These are the questions you have already seen or solved in mock tests or practice. You need to attempt these questions in the first attempt and these are those which would increase your score.
Tricky questions: These are questions in which a tricky component is present. Here you might be able to understand most of the questions, but one part of it would take time to solve. Attempt these questions in the second attempt.
Quant is a section which is mastered through basics only. Basic understanding of profit and loss, percentages, ratio and proportion, time & work, etc. is enough to sail in this section.
Take more sectional tests or individual chapter tests to improvise your conceptual understanding.
You can practice sectional mock tests for Quant from

here

.
Sectional Mock Tests of VARC
Mocks and sample tests could do wonders in verbal Ability preparation for CAT. This fact has been tested by the CAT toppers over a period of time.
During the mocks, most candidates attempt either in the range of 10-15 or in the range of 25-30 questions.
If you aim to focus on the accuracy rate and keep your attempts between 10-15, then in the best-case scenario, you can score a maximum of 37-45 marks (90-100% accuracy).
On the other hand, if you aim to focus on the attempt rate and keep your attempts between 25-30, then even in the worst-case scenario (70-80% accuracy), you can score a minimum of 43-55 marks.
Hence, it would be beneficial to focus on increasing the number of attempts and then move on to improving your accuracy rate.
Maximize your attempts gradually in the sectionals by focusing more on RC's ( follow the order - RC > Summary > Odd one out > PJ's/ last sentence).
You can practice sectional mock tests for VARC from

here

.
Sectional Mock Tests of DILR
Knowing what questions to choose in the DILR section could make or break your CAT score, and is a vital part of your CAT prep. Attempting a good number of mock tests will help you figure out which questions to attempt and which to leave.
You should take care of the following points while attempting the DILR section in the exam:
Scan the test: Don't just start with the first set of practice papers or mock tests while you're solving them. Give yourself 4-5 minutes to read through all of LRDI's questions and choose the few sets that you can answer quickly. Select 1-2 sets that are simple to solve first, and then move on to more complicated sets.

Set selection: There are sets ranging from simple to difficult in any paper. Identify the easier sets and begin with them. Make sure you don't skip the simple sets in favor of the more challenging ones. You will be able to determine the difficulty level by practicing lots of sets on a regular basis. For example, choose sets with fewer people or fewer variables in the questions, and leave questions with a lot of information for later.
Move ahead: It is critical to leave the questions which you are unable to solve while working on the questions. Not all questions are meant to be answered as some of them are tricky questions. If you can't finish the question in the time allotted, move on to the next one without wasting any time.
Full-length Mock-Tests
Here are some general pointers which you should keep in mind before or while attempting any full-length mock test.
Start with easy questions: The thumb rule of attempting any exam or any mock test is to start with comfortable questions as it is expected to be less time-consuming.
Don't spend much time on one question: Spend a maximum of 2 to 3 minutes on one question. If you are still unable to recollect or solve it, go to the next question.
Attempt each CAT section in three rounds: First Phase – Solve questions that you find extremely easy and are completely sure about. Second Phase – Opt for questions that you feel you can give a try Third Phase – Go for questions that are time-consuming and would require more head pondering.
Go back to the marked question in the buffer time: Mark the time-consuming questions for review and revisit them once you complete the section. After a thorough revision, try and solve those questions
Save time for revision: After the completion of the test, revise the answers to ensure that there are no mistakes. Allot at least 10 minutes at the end of the test for the revision of each section.
One Sectional Mock in One Day: Make it a habit of giving at least one sectional mock before sleeping every night and analyzing it the next day.
Remove any distractions: The first thing to remember while giving the full-mocks is that you should NOT have any distractions near you. Switch off your phone, ask your family not to disturb you, don't get up to pee or drink water because you won't be allowed to in exam. The closer your environment is to the actual paper, the closer you are to your goal.
Don't Guess: While giving the mocks, DON'T GUESS, attempt what you are sure of because your goal is not to score here but, in the exam, the only person you will be tricking by guessing is yourself and that's the worst thing you can do to yourself.
Don't be demotivated by low scores: This is just the beginning and with each mock, you will only get better and better as the only way to go from here is up.
Be consistent in giving Mocks: Be regular in giving mocks depending on your preparation so far, you need to ensure that you have given enough mocks so that your percentile is CONSISTENTLY in the range you desire.
Analyzing the Mock-Tests
Please analyze the mock tests. Yes, it's repeated for a reason, that's how important this is. Giving a mock and not analyzing it is like trying to push the waves back in an ocean. Futile.
While analyzing mocks first thing you need to see is the question you thought you did right but was actually wrong. These are the dangerous areas which you have false confidence about. These areas require special attention as these areas result in a score of -4 (-3 because you were counting on it and -1 because it took away from what you had attempted right.)
Next you have to work in areas that you didn't know about. It can either be an entire section or a type of question. Either way, make sure the next time you come across that question you are able to solve it.
Last, you must compare the time taken. Did you take more than expected time? Then there must be a trick you don't know about. So, you need to search for that. Make sure you are forever working on faster ways to solve questions and evolving your approach.
Analyze: Now that you've solved a number of previous year papers or mock tests, it's time to analyze your strengths and weaknesses. Make a list of the different types of problems you've encountered and decide which questions you're comfortable answering and which you're not. By doing this, you will be able to determine which topics need more focus.
EduRev gives you analysed result of the mocks you give, you will get to know your rank, your strong and weak areas and time you spent to solve each question.
Improve: After analyzing your performance now, you should work upon your weaknesses so that you can increase your accuracy as well as precision while solving DILR questions.
How to manage time on the day of CAT 2021: General Tips?
Right after entering the examination hall, the count-down begins, aspirants taking CAT have only two hours to complete all the questions. It is necessary to manage 120 minutes accordingly. The most important thing is to keep calm and not let the anxiety take over. Here are some suggestions that one should follow on the day of the exam.
CAT has a sectional time limit, which means each section needs to be completed in 40 minutes. Due to the sectional time, limited candidates cannot switch to the other section. As per past years' trends, the sequence is VARC, DILR and QA.
When one starts to solve questions from any section, they should take a look throughout the section and try to mark which one they will attempt first. Candidates can select such questions on the basis of their strength or interest level or the difficulty level of the section.
While taking questions to form the RC or DILR section always read passages or questions thoroughly. Through this candidates get an idea of what set or passages hold in it.
If in case, any particular question is taking more than your estimated time then it is better to skip such a question and solve it later if the sectional time limit permits.
While taking the DILR section, it may be hard to solve all the questions. Expert says, even a candidate is able to solve all the questions from the DILR section, still they solve any 2 questions per set and leave the rest for that moment and solve them later if they still have time left in hand for the DILR section.
Try to keep 2-3 minutes for revision. So, that one can take a look at all the attempted questions of a particular section.