The UPSC optional subjects play a very important role in the UPSC CS Main Examination. It consists of a total of 500 marks out of a total of 2025 marks. If you choose wisely, then these 500 marks can make a great difference in the final total marks.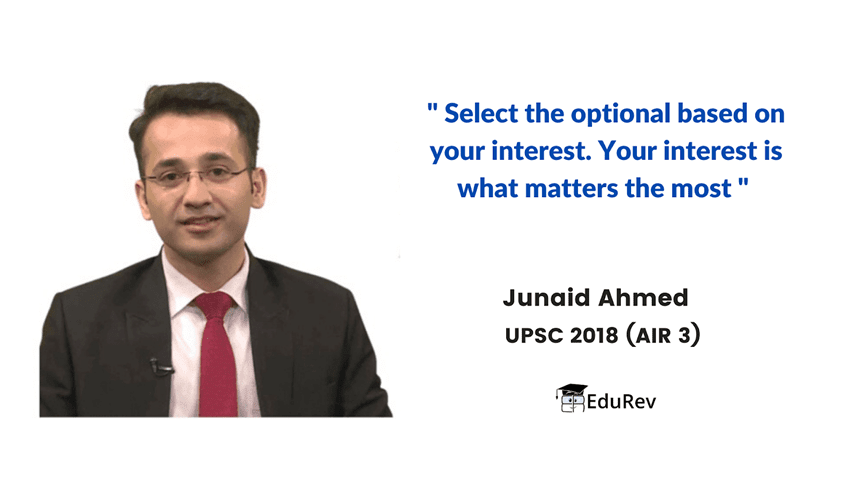 How to choose the right optional subject or how to choose an optional subject in the right way, this is the one question that haunts most of the IAS aspirants whether they are beginners or already attempted the exam once or more than once.
EduRev UPSC Experts on the advice of various IAS toppers including Anudeep Durishetty (AIR 1, 2017), Junaid Ahmed (AIR 1, 2018) & more have compiled the following guidelines and strategy that will help you choose the best optional subject for yourself for UPSC Mains.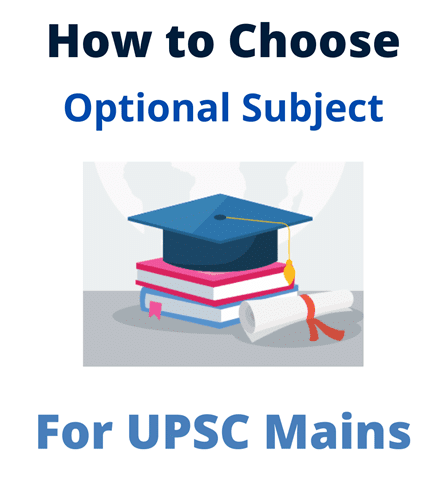 The simple answer of the question: "How to choose the optional subject for UPSC Mains" is:
Your chosen subject should:
Enthuse you
Make you be acquainted with more about it
Should not bore you
Make you think out of the box
Have books easily available
It is well-advised to all the candidates while choosing an optional subject not to think of the score, so choose a subject with the above-mentioned qualities, and one thing to keep in mind that these qualities may differ from one aspirant to the other. So, If you are still wondering which are the most scoring subjects for IAS exam, you should understand that there is no right answer to that question; there is only the right fit for every individual.
However, EduRev UPSC experts have provided you with a few points to ponder over before finalizing on an optional subject. Go through them and finally come to a decision based on what you truly want.
1. Your Interest and academic background
Identify your interest in a subject by exploring about it through school level NCERT's (Class 11th and 12th preferably), going through Optional subject syllabus, and your comfort level in reading the subject.
Commerce Background: If you are from Commerce background, look for what you have already studied in college and choose accordingly between Commerce, Management or Public Administration.
Engineering Background: If you are from Engineering background, check the syllabus and content of optional subjects like Physics, Chemistry, Maths., Engineering optional – Civil, Electrical, Mechanical etc.
Humanities Background: If you are not comfortable with the science subjects mentioned, check other optional subjects such as Geography, Psychology, Anthropology, Political Science, Sociology, Public Administration, Philosophy etc.
Familiarity with the subject: The factor of familiarity with the subject is important. If you already have that subject as part of your graduation or post-graduation, then that should be your choice. Otherwise, opt for a subject that you can consistently study without losing interest.
2. Availability of resources or Coaching available in the subject
Evaluate on the basis of available resources: Now, there are 47 optional subjects available, but the resources in terms of educators, study materials, and relevant books are extremely limited. Although now, with the onset of online education and applications like EduRev, you can access more resources sitting at the comfort of your home, it is imperative that you evaluate the choice of optional on the basis of the available resources.
Good study material accelerates your preparation: Check from your peers, friends, civil servants who have already qualified, for identifying the best coaching classes or resources available. Study material from good coaching along with the classes conducted will accelerate your preparation manifolds.
3. Contribution of the Optional Subject towards General Studies syllabus
Past year papers and syllabus: Find out on your own from the past question papers and the syllabus regarding the contribution of your chosen optional subject towards General Studies and essay papers of the Main exam.
Overlapping Syllabus: Some of the optional subjects like History, Political Science & International Relations, Sociology, Geography, Economics, Public Administration, etc have syllabuses that overlap with the General Studies syllabus in both Prelims and Mains. Hence, choosing that optional might save you some preparation time.
List of optional subjects in UPSC having the most overlapped syllabus with GS: The following subjects are popular among IAS aspirants from both technical and non-technical because of the high overlap with GS or other parts of the UPSC exam:
(i) Public Administration: Highly relevant, compact syllabus, paper II (Indian Administration) has a lot of overlap with polity and governance part in GS II.
(ii) Sociology: the study of society, lots of material which can be used in GS I, Essay, and even in Ethics paper.
(iii) History: relevant for prelims as well as GS I.
(iv) Geography: relevant for prelims as well as GS I
(v) Political Science: relevant for prelims as well as GS II
(vi) Law: relevant for prelims as well as GS II
(vii) Optional subjects in UPSC like Economics, Philosophy, and Agriculture are also good choices.
4. Time Management
Amount of time: Apart from the understanding ability, a candidate should decide on how much of time he/she would be able to spend on studying an Optional Subject. A few candidates might be working while preparing or studying at a university etc, should be able to estimate the amount of time required to study the chosen optional subject along with General Studies.
Other factors: Other than these, factors such as relevance to the civil services job role, a consistent choice of subject among high rankers, scoring potential, and comfortability with the subject may also be considered while evaluating the optional subjects.
Conclusion: Steps to follow
Here are the important steps which you can consider for choosing the optional subject in UPSC
First, go through the list of all the optional subjects.
Consider your most liked subjects. Think about every subject in which you exceeded expectations, in which subject you showed more interest, in which subject you got great marks during your school days.
See which parts of news you are more interested in. Think which subjects of GS you like more. A few people like history, some like polity/ sociology and continue pursuing those books as though they are doing masters in those topics. Consider short-listing them as your alternative subject.
Some people have a pastime of reading the literature of their mother tongue.
How to Shortlist from the Initial List of Optional Subject in UPSC
Based on the above-mentioned criteria, prepare a list of 4-5 subjects that you think you have an interest in.
Now, go through the syllabus of each alternative subject. Read all topics precisely. Underline/ highlight the points that you think you know something about or have some interest in the syllabus of each shortlisted optional subject.
Now go through the previous year's question papers (3-4 years) of the shortlisted subjects. Read all the questions. Then again, measure yourself the level of interest you have or the knowledge you hold to answer each question.
By following the above points, you will be able to understand how compatible you are with a specific subject.
Three More Steps to Shortlist
Finally, the availability of materials and guidance through training matters a lot. For a few papers, it is hard to get standard books, for some subjects tutions may not be available. Non-technical subjects can be prepared by doing self-study provided you consistently work on writing.
By now you will have a reasonable picture of choosing between 2-3 papers. For instance, if you are from an engineering background and especially good at your engineering subjects, in the meantime if you have broadly read the literature of your native language, will be in quandary to select between these two subjects.
In this scenario, the 'success rate' counts. Generally, literature subjects have performed well in all years. You may wind up choosing literature of your native language as your alternative paper. It's a decent choice.
Other Factors that Matters While Shortlisting
For a few people who have worked in a big company, Public Administration is a great choice and in fact, it has been the most chosen option by working aspirants or with the people who have quit their jobs.
Medical students may settle on Medical Science, Zoology or Anthropology as these papers are related to their field.