PREPARATION GUIDE FOR CLAT 2020 GENERAL KNOWLEDGE (GK AND CURRENT AFFAIRS)
General Knowledge is a very essential part of the CLAT exam, carrying a total weightage of 50 marks, which is the highest apart from Legal Aptitude. The General knowledge section of CLAT consists of 50 questions from Static GK and Current Affairs. The importance of this section lies in the fact that it helps conserve time as it will only take 10 minutes to complete this section during exam. In an exam like CLAT, where effective time management is the key to cracking it, these 10 minutes have the ability to change your entire career graph. But, then this part requires maximum effort during the preparation. The GK section of CLAT also helps to boost the overall score as all the questions are factual and direct.
Current Affairs (CA) coverage has been on the rise every year. From 24-25 Current affairs questions every year till CLAT 2013, the count changed to 35-36 in CLAT 2015-16.
In CLAT 2017, entire section was CA, except one question. The trend is unlikely to change. The section is divided into questions from both Current Affairs and Static GK. Current Affairs will be consisting of all the things going around in mainstream media over the entire year. On the other hand, when it comes to Static GK, the CLAT exam can have questions from any sphere of life.
You definitely cannot skip this section as it will prove to be quite scoring and time-saving if the preparation is done really smartly.
To guide you through the preparation process of CLAT GK, here are a few points and tips:
(i) CLAT Previous Years Question Papers: You should go through previous year CLAT papers to check the CLAT pattern followed and the kind of questions being asked. When you prepare with CLAT previous year question papers, you get a list of important topics related to GK. This way, you'll know the areas covered and you can plan accordingly from there.
When you get a track of the questions in the past few years, prepare in line with the pattern. If questions on international relations and organizations and some particular sports are asked, there is a probability that such questions might be repeated. So, keep a track of such trends while preparing.
CLAT Past Year Papers (2008-2019)
Includes 10 tests
(ii) Reading is everything:
Newspapers and magazines cover all the incidents in the national and international domain. For current affairs, the habit of reading newspaper has to be inculcated to be aware of what all is going around. Make sure to read a good newspaper such as "The Hindu" on a regular basis.
Also, maintain a copy to write down the important news bits. Small hours dedicated to newspaper every day will give great results.
Go through these notes prepared once in a week or else, in the end, everything will seem new and it will be hard to cram everything in one go.
You must make sure to be well aware about specific topics like science, technology, legal affairs, sports, people, places, inventions etc.

Daily Current Affairs (State, National and International)
Includes 2021 docs & 356 tests

Includes 266 tests
(iii) Know your Strengths:
The next step now, is to identify the subjects or portions you are strong at or are of your interest and start preparing them first and then slowly move to the areas that might be difficult for you. This will help you gain confidence in this section. This will also take away a lot of burden from you and help you prepare efficiently. As mentioned earlier, the static general knowledge has been losing its value in the exam and more emphasis is being laid on current affairs now, as seen through the analysis of the previous year papers. Always be prepared for something unexpected as nothing can be predicted before the exam.
(iv) Watch and Learn:
Watching National and International news regularly is another factor that will contribute in strengthening your Current Affairs Section. This will help you know about the current issues in detail. Also, make systematic notes of the news which will be of great help later.
(v) Practice with CLAT mock tests:
Mock tests are the best sources of a variety of questions from different topics. You will get the knowledge of various questions asked from diverse topics. CLAT mock tests will also give you a realistic environment to test your knowledge. This will also help you prepare several new topics/ questions, which in turn will boost your confidence.

Mock Test Series for CLAT 2020
Includes 45 tests

PREVIOUS YEARS ANALYSIS: CLAT GENERAL KNOWLEDGE & CURRENT AFFAIRS
| | | | |
| --- | --- | --- | --- |
| Year/Topic | Static GK | Current Affairs | Total |
| 2014 | 34 | 16 | 50 |
| 2015 | 22 | 28 | 50 |
| 2016 | 14 | 36 | 50 |

Area Wise Analysis: CLAT General Knowledge & Current Affairs
| | | | |
| --- | --- | --- | --- |
| Area | 2014 | 2015 | 2016 |
| Sports | 1 | 6 | 4 |
| Science & Technology | 7 | 8 | 2 |
| Economics & Govt. Policy | 10 | 9 | 5 |
| History/ Art & Culture | 10 | 6 | 4 |
| Polity | 8 | 2 | 13 |
| National & International Events/ Organizations/ people | 7 | 9 | 3 |
| Miscellaneous (Geography, Environment, Books, Awards, etc.) | 7 | 10 | 19 |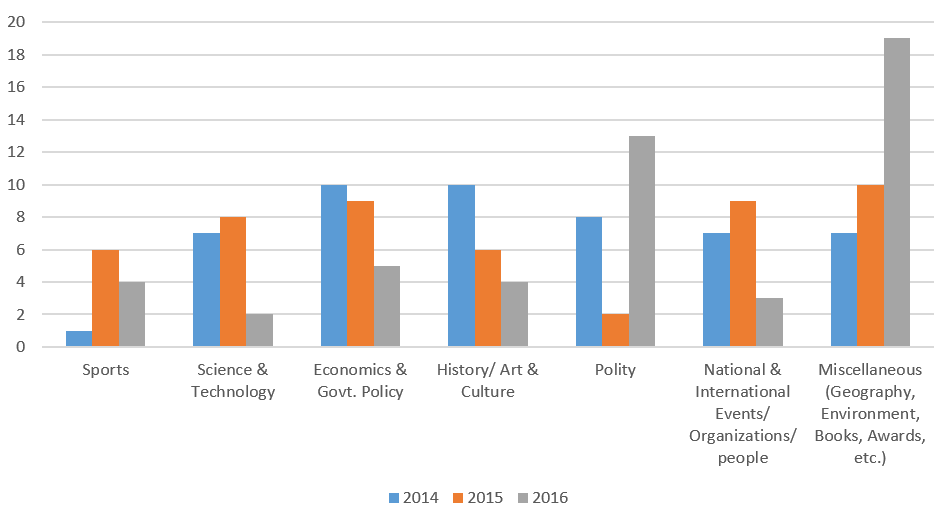 The three must-haves for CLAT GK and Current Affairs Preparation:
Newspaper: This is something you should be around always. Pick anyone, example "The Hindu" or any other you find best. The reading should be very regular. It can be boring at times, nevertheless, it is indispensable. Another thing that might help here is making notes for future revision.
Monthly Magazine: This is the second important thing that you should own during your CLAT Preparation days. Give equal attention to this once a week and be thorough with it.
Annual Magazine: You should definitely step-in here and get hold of 'The Hindu- Diary of Events' which is a neat round-up of all that has happened in the preceding year. Give this some reading by allocating few hours of your time and be aware.
ALL COURSES FOR CLAT 2020

Mock Test Series for CLAT 2020
Includes 45 tests

Legal Aptitude for CLAT 2020 Preparation
Includes 23 docs, 81 videos & 51 tests

English for CLAT 2020 Preparation
Includes 10 docs & 43 tests

Reasoning for CLAT 2020 Preparation
Includes 16 docs & 55 tests

Quantitative Aptitude for CLAT 2020 Preparation

Includes 21 docs & 31 tests

CLAT Past Year Papers (2008-2019)
Includes 10 tests


Similarly, prepare for other sections of CLAT here:
How to prepare Reasoning for CLAT 2020?
How to prepare Legal Aptitude for CLAT 2020?
How to prepare Numerical Ability for CLAT 2020?
How to prepare English for CLAT 2020?