History is often considered to be one of the most difficult subjects to learn and understand. But, that is not a case at all.
Although the subject does not test the understanding skills of students and is basically based on cramming of facts and answers but, that does not mean you cannot understand it. You just need to follow a proper strategy for History class 6.
In order to gain expertise in History subject it is necessary to be clear about the facts. Remembering all the facts is undoubtedly a tedious task but preparing separate notes for each chapter can prove fruitful.
To help you, here are a few tips to follow while preparing for Class 6 History: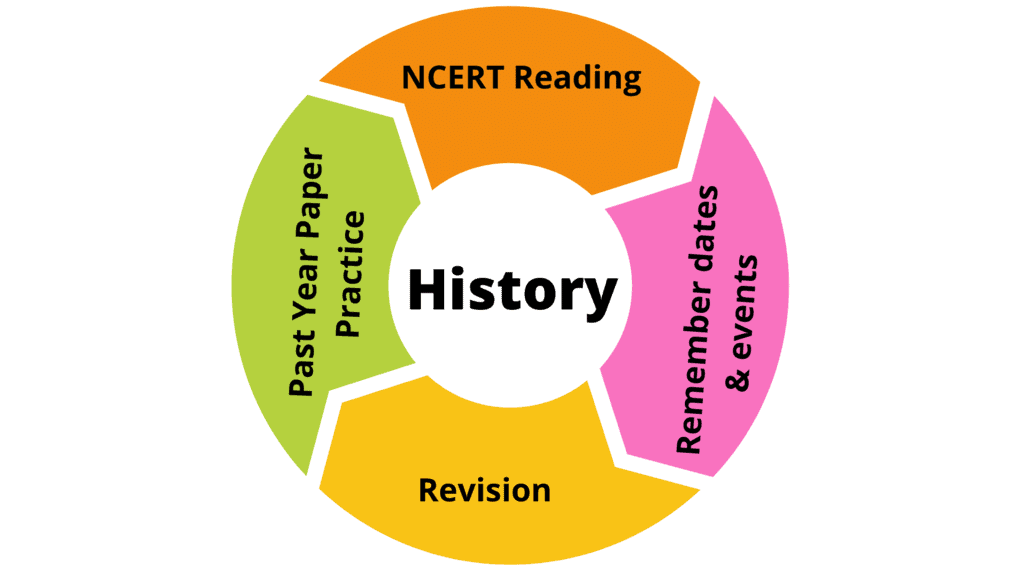 1. NCERT Reading

Social Science Studies (SST) Class 6 (VI) - CBSE, NCERT
Includes 103 docs, 66 videos & 58 tests
The first and foremost task in the preparation should be to read NCERT Textbooks and refer NCERT Solutions.
Go through the history chapters from the NCERT Textbook and make notes and revise these notes the next day.
CBSE board strictly follows NCERT book and over the years every single question has been from NCERT book so, you must read it.
Solve questions taking help from NCERT Solutions for History class 6.
NCERT Solutions will help you improve your writing skills. Learn the answer and try writing it on your own. Good writing skills help you get good marks in lengthy questions.
Links of NCERT Textbooks and Solutions:
Chapter 1 - What, Where, How and When?
Chapter 2 - On the Trial of the Earliest People
Chapter 3 - From Gathering to Growing Food
Chapter 4 - In the Earliest Cities
Chapter 5 - What Books and Burials Tell us
Chapter 6 - Kingdoms, Kings and an Early Republic
Chapter 7 - New Questions and Ideas
Chapter 8 - Asoka, The Emperor Who Gave Up War
Chapter 9 - Vital Villages, Thriving Towns
Chapter 10 - Traders, Kings and Pilgrims
Chapter 11 - New Empires and Kingdoms
Chapter 12 - Buildings, Paintings and Books
2. Remember dates & events

Always try to understand the events and remember the dates by relating them to present experiences.

Instead of mugging up try to understand what happened after what in a battle.
As far as lengthy answers are concerned, students should try to learn them in points and also write them as they learn it. This will not only save time but will also help in better retention of facts.
An interesting way to remember dates is to make a timeline of events.
A timeline is a sequence of related events arranged in the chronological order and displayed along a line.
3. Revision

The one thing that is very important is Revision.
The notes that you prepared are the best way to revise the complete syllabus.
Revision makes sure you have all the events and their dates in your mind for a long time.
Revision can help you in filling up the missing dates or facts. So, you must revise before the exam.
4. Past Year Paper Practice

Finally, practice as much as you can. Attempt Previous Year papers as they help in getting acquainted with the trend of questions asked in the exam.
Practicing mock tests, sample papers and previous year question papers also helps in keeping a check on speed and the writing skills.
Previous year question papers provide you a variety of important questions picked from different topics.
They act as the most important resource to revise the vast syllabus of Class 6 Social Science effectively in less time.
Links of Practice tests of Class 6:
Important Topics for Class 6 (History) Social Science Preparation

Here is a list of all the important topics from all the Class 6 History Chapters to make it easier for you to determine the amount of time you should be giving to various chapters and topics. Initially, it is advised go through all the topics for history class 6 and then, focus more on the important ones given here. This a smart way of preparation. Build the basics for the subjects and then focus on the important concepts from exam point of view.

1. What Where How and When
Familiarise the learner with the major developments to be studied.
Develop an understanding of the significance of geographical terms used during the time frame.
Illustrate the sources used to reconstruct history.
2. On the Trail of the Earliest People
Human life has evolved over millions of years. In early stages, men were hunters and food gatherers.
They hunted wild animals, fishes and gathered fruits, nuts and seeds.
3. From Gathering to Growing Food
Appreciate the diversity of early domestication.
Identify the material culture generated by people in relatively stable settlements.
Understand strategies for analyzing these.
4. In the Earliest Cities
Appreciate the distinctive life in cities.
Identify the archaeological evidence of urban centres.
Understand how this is used to reconstruct processes such as craft production.
5. What Books and Burials Tell Us
Implications of farming and herding.
Archaeological evidence for crops, animals, houses, tools, pottery, burials, etc.
Case study: the North-West, and North-East.
6. Kingdoms Kings and an Early Republic
Introduce the concept of the state and its varieties.
Understand the use of textual sources in this context.
7. New Questions and Ideas
The Upanishads, Jainism, Message of Lord Mahavira, Mahavira Spreads his Religion, Doctrines of Jainism, The Jain Sangha and the Division in Jainism.
8. Ashoka the Emperor Who Gave Up War
Rise of the new idea
Gautam Buddha's life and teachings
Upanishads and its importance
Lord Mahavira's life
Jainism.
9. Vital villages and thriving towns
Role of iron in the growth of towns
The role of social organisations in the newly coming up of towns and cities.
10. Traders, kings and pilgrims
The journey of Sangam texts
Silk Route
Spread of Buddhism from north India to Central Asia
Pilgrims and Bhakti.
11. New empires and kingdoms
Gupta empire
Life of Harshavardhana
Pallavas dynasty
Chalukyas dynasty.
12. Buildings, paintings and books
Literature with respect to the Puranas, the epics, and other Sanskrit and Tamil works.
Architecture of the early monasteries and temples, sculptures, and the Ajanta cave paintings.
Science
Similarly, Prepare For Other Subjects Of Class 6:
Science for Class 6 (VI) - CBSE & NCERT Curriculum
Includes 90 docs, 90 videos & 32 tests
Mathematics Course Class 6- Notes, Questions, Videos & MCQs
Includes 68 docs, 222 videos & 26 tests

Hindi (Vasant) for Class 6 (VI) - CBSE and NCERT Curriculum
Includes 46 docs & 30 videos

English for Class 6 (VI) - CBSE and NCERT Curriculum
Includes 48 docs
English (A Pact with the Sun) for Class 6 (VI)
Includes 20 docs & 53 videos