The QA section requires a lot of practise, so in order to free up more time for practising, you should use all small, straightforward techniques to increase speed and decrease errors.
The quantitative ability section of CAT aims to test three things namely- numerical ability, mathematical skills and problem-solving skills.
In general, the questions in the quantitative ability section of the CAT are related to elementary mathematics.
In order to score good marks and clear the CAT cutoff, one needs to be completely acquainted with the fundamental concepts of solving questions.
The purpose of this document is to help you understand how to read Quantitative Aptitude as a subject for not just CAT but also other B School entrances like SNAP, XAT, IIFT, NMAT, etc., and understand how to tackle the QA Section in these exams.
All the toppers recommend the LPA strategy – Learn, Practice & Analyse to score the maximum marks in the QA section.
So, EduRev has made this Step-wise strategy for your complete preparation of the Quant section for CAT:
Step 0: Understanding the Exam Pattern and Syllabus for CAT
In CAT preparation, what and how much to learn is equally important. You can work hard, hustle, and put in the hours but the magic happens when you aim to perfect your skills beforehand.
Understand Exam Pattern First: Out of 76 questions in the CAT exam, Quant Section consists of 26 questions, and 6-8 questions in the section will be Non-MCQ type (without negative marking).
Recent Trends: IIMs have started giving more emphasis on Arithmetic questions in the CAT entrance exam syllabus to promote diversity. While a maximum of 10-14 questions are from Arithmetic, 8-10 questions are from Algebra, and 3-5 questions are from topics like Geometry, Number systems, and Modern Math. You can find the number of questions with their weightage in the exam given below: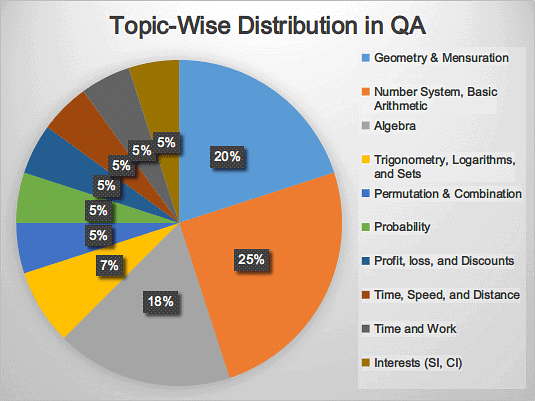 CAT Syllabus: There's no defined syllabus of CAT but EduRev team has done exhaustive research from previous year papers & best books recommended by the toppers and have compiled the detailed CAT syllabus, you can check the syllabus here
CAT Syllabus Topics in Quant Section (with links):
Step 1: Start with attempting Previous Year Papers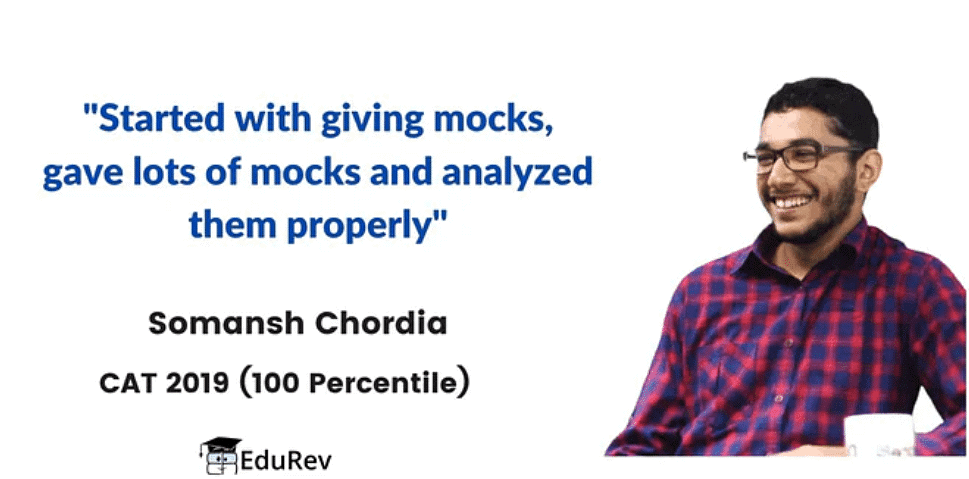 Step 2: Prepare each topic according to its importance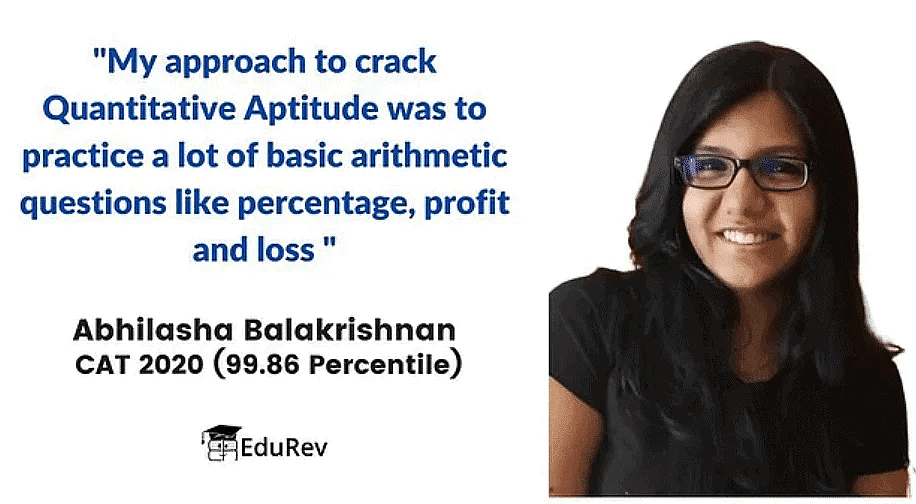 Giving your learnings some time: You have to give time to what you have studied. It is not advised to read too much in one day. Also, the concepts that you have studied today, takes time to come natural to you while using them in solving questions.
Step 2.1: Perfect your Concepts through Video Lectures & Detailed Notes
You should refer to a single source of notes & video lectures that will help you to strengthen the concepts and understand the same topic from a different perspective.
This will give you a fair idea of the Quantitative Aptitude section and will help you to keep things in mind for a longer period of time.
Regular revisions through notes and video lectures can help strengthen the basics and boost one's confidence in the subject. You can get topic-wise notes & video lectures in the Quantitative Ability course on EduRev, available on this link
However, if you're a beginner & think that you need to work on your basic mathematic skills and have ample amount of time for the same, we recommend studying the basic NCERTs through this Mathematics NCERTs for CAT course on EduRev.
Step 2.2: Work on Shortcut Techniques
Step 2.3: Practice topic-wise tests
Once the conceptual clarity of each topic is there, you must start practicing and solving more and more questions. Solving simple examples at first and then gradually moving toward the difficult questions would be helpful.
You can prepare these topics by giving topic-wise tests for Arithmetic, Number systems, Geometry, Algebra, Modern Maths etc on EduRev
Step 3: Focus on Weak Areas
After you have attempted tests, you need to analyze your tests and work on your weak areas
For this, give a few sectional tests (your weaker section) from here on EduRev. After a few of them, you will figure out which questions are easy to solve, and which are the hard ones. Now you need to categorize them into easy, medium, and hard.
EduRev algorithms also do this for you by categorizing the questions into easy, medium, and hard levels on the solutions page. It helps you to analyze if you are wasting time on hard questions or if you are getting the easy ones wrong.
An analysis report is created at the end of each exam, which not only tells you all the questions you attempted right and wrong, but it also compares the time taken by you to attempt each question with the average time taken by other students. This analysis helps you not only improve your accuracy but also your speed, which is equally important in CAT. You can also see your progress in a particular area by applying a course and time filter.

In the last few days, try to solve questions with a higher difficulty level. However, if they are still giving you a hard time then leave them and focus on solving the easy one in less time.
To practice questions of a certain level of difficulty, you can make use of our dynamic tests, which allow you to create a test for yourself, here you can select the number of questions, the topic, the time, and the level of difficulty.
During the exam, read every question but leave questions that are your weak points. Don't waste your time solving them as they will eat up the time which you could have spent on other questions. The key here is to not skip a question even if it is from your weak topic, read every question- it might be an easy one.
Step 4: Set a timer for your Sectional Practice
CAT will have sectional timing of 40 minutes to answer one section. As a solution to "How to Prepare for CAT Quantitative Ability (QA)," you should try to solve the entire section by keeping an eye on the time.
Better to move ahead of time as having a buffer time of a minimum of 5 to 10 minutes will leave room for revision on the exam day. CAT toppers suggest that you should mark important questions and concepts in order to have a quick revision during the final leg.
Practice sectional tests

with a time limit

for CAT,

Click here

.
Step 5: Solve a lot of Full Mock Tests
It is important to work on the attempt rate first, that is, the number of questions you are able to attend in the given time, and then focus on improving your accuracy.
You would encounter 2 types of questions:
Questions already seen or solved: These are the questions you have already seen or solved in mock tests or practice. You need to attempt these questions in the first attempt.
Tricky questions: These are questions in which a tricky component is present. Here you might be able to understand most of the questions, but one part of it would take time to solve. Attempt these questions in the second attempt.
The framing and language of the questions asked in CAT are the same almost every year, and once you start giving a lot of tests, this trigger starts becoming repetitive. Being used to the language can help you remain calm during the exam.
You can practice

CAT mocks

from the EduRev Platform with a time limit.
Analyzing is very important after every test, EduRev automatically analyzes your results for you based on speed and accuracy.
Other Important Links:
1. Overall Understanding of Exam:
Check out these documents and prepare your strategy for CAT accordingly.
2. Check out Subject-Wise Strategies