India And World
A.1. INDIA AND CENTRAL ASIA
Prime Minister visited to the five Central Asian States - Uzbekistan, Kazakhstan, Kyrgyzstan, Tajikistan and Turkmenistan. All central Asian countries are very rich in energy resources. At present the five Central Asian republics account for trade of only about $1.6 billion with India, compared to about $50 billion with China.
 Tajikistan: India and Tajikistan pledged to intensify cooperation against terrorism, with Prime Minister noting that the two countries are located in the "proximity of the main source" of the menace.
 Turkmenistan: Prime Minister pitched for early implementation of the $ 10 billion TAPI gas pipeline project during his talks with Turkmenistan.
 Kazakhstan: India and Kazakhstan focused on boosting trade, energy, defence and security cooperation. Kazakhstan, a leading uranium producer globally, will supply 5,000 tonnes of uranium to India during 2015-19.
 Uzbekistan: India and Uzbekistan discussed ways to implement the contract for supply of uranium signed in 2014.
 Kyrgyzstan: India and Kyrgyzstan signed agreements to boost defence cooperation and hold annual joint military exercises.
A.2. INDIA AND BANGLADESH
100th Amendment to the Indian constitution (Amendment of First Schedule to Constitution):
Exchange of certain enclave territories with Bangladesh and conferment of citizenship rights to residents of enclaves consequent to signing of Land Boundary Agreement (LBA) Treaty between India and Bangladesh.
 100th Amendment Act paves the way for the operationalization of the 1974 India-Bangladesh Land Boundary agreement.
 Under the Agreement (LBA), 111 border enclaves will be transferred to Bangladesh in exchange for 51 that will become part of India.
 Border Haats: Government approved proposal to set up more Border Haats on India-Bangladesh Border.
 Already four markets (Border Haats) - Kalaichar (Meghalaya-Bangladesh border), Balat (Meghalaya-Bangladesh border), Kamlasagar (Tripura-Bangladesh border) and Srinagar (Tripura-Bangladesh border) - are operational.
A.3. INDIA-AUSTRALIA
 India had finalized a civil nuclear deal that would allow it to buy uranium from Australia.
 India, which has nuclear energy contributing just 3 per cent of its electricity generation, will be the first country to buy Australian uranium without being a signatory to the nuclear non-proliferation treaty.
 India currently has nuclear energy agreements with 11 countries and imports uranium from France, Russia and Kazakhstan.
 Australia has about 40% of the world uranium reserves and exports nearly 7,000 tonnes of yellow cake annually.
A.4. INDIA-AFGHANISTAN
Quadrilateral Coordination Group (QCG), consisting of the U.S., China, Pakistan and Afghanistan, has been created to facilitate the process of direct talks between the Taliban and the Afghan government.
National Unity government (NUG): The U.S. had finessed the highly controversial 2014 presidential election by pushing the two contenders into a National Unity Government and the creation of the position of a chief executive.
 Differences between President Ghani and Chief Executive Abdullah have paralyzed the governance.
 The Afghan constitution provides for a Presidential system; however, the understanding was that within two years, by September 2016, the constitution would be suitably amended to convert the chief executive's position into that of a Prime Minister, and executive power would be shared.
India has played an important role in the reconstruction and rehabilitation of Afghanistan. The cumulative level of committed Indian assistance to Afghanistan amounts to US$ 2 billion.
 Some of the major projects are: Construction of a 218 km road from Zaranj to Delaram, Construction of 220kV DC transmission line from Pul-e-Khumri to Kabul and a 220/110/20 kV sub-station at Chimtala, Construction of Salma Dam in Herat province, Construction of Afghan Parliament.
 India and Afghanistan had signed the Strategic Partnership Agreement in 2011.
 India had transferred three Mi-25 attack helicopters to the Afghan Air Force (AAF).
A.5. INDIA-UAE
Prime Minister paid his first official visit to UAE. The last time an Indian PM visited UAE was Indira Gandhi in 1981.
 The Joint Statement between the United Arab Emirates and India is an important articulation of a significant shift in the Arab world's view of India.
 The new strategic partnership outlined by the UAE and India is not just defined by India's "Look West" policy but that it is equally defined by the GCC's (Gulf cooperation council) "Look East" policy.
 In 2014-2015, trade between India and the UAE crossed $59 billion with the balance of trade in favour of India, making the UAE one of India's biggest trading partners.
A.6. INDIA-IRAN
 Iran and India have signed an agreement to develop the Chabahar port. This will provide an alternative route for India to trade with Afghanistan and Central Asia, bypassing Pakistan.
 Chabahar port is suitably located to serve India's outreach in the region to Afghanistan and beyond as well as link with INSTC to which India is one of the initial signatories.
 International North-South Transport Corridor (INSTC) is the ship, rail, and road route for moving freight between India, Russia, Iran, Europe and Central Asia.
 India's presence in Chabahar will offset the Chinese presence in the Pakistani port of Gwadar.
 India is also willing to partner to develop the prolific gas project, Farzad B, in the Persian Gulf.  Iran is an important country for India for its energy security as well as to get access to oil and gas-rich Central Asian nations.
A.7. INDIA –SAUDI ARABIA
Prime Minister Narendra Modi paid first official visit to Saudi Arabia. He is the fourth Indian Prime Minister to visit Saudi Arabia after Dr. Singh in 2010, Indira Gandhi in 1982 and Jawaharlal Nehru in 1956.  Prime Minister presented a gold-plated replica of the Cheraman Juma Masjid to King Salman of Saudi Arabia.
 Prime Minister was conferred the Arabian country's highest civilian honour - the King Abdulaziz Sash.  In 2010, India and Saudi Arabia signed the Riyadh Declaration, which set the framework for enhanced cooperation in the security, defence and economic spheres.  Saudi Arabia is India's largest supplier of crude oil.
 India is the largest recipient of foreign remittances from the kingdom.
 Of the 11 million Indians working in West Asia, nearly three million are in Saudi Arabia. Therefore, stability in the region, and particularly in Saudi Arabia, is high on India's core agenda.
 In recent years, bilateral ties had acquired a security dimension with both countries stepping up cooperation in counter-terrorism and intelligence-sharing.
A.8. INDIA-USA
During the visit of U.S. Secretary of Defense Ashton Carter, both sides reached an 'in-principle' understating to conclude Logistics Exchange Memorandum of Agreement (LEMOA).
 Once concluded, the agreement would give American aircraft and warships access to Indian military bases for logistical purposes, including refueling and repair. In turn, India's military will enjoy similar access to U.S. bases.
 Recently the U.S.-India Defence Technology and Partnership Act was introduced in the US Congress, which places India on a par with its NATO allies
in terms of trade and technology transfer, specifically elevating its status as a defence exports market.
 The Act would "institutionalize" the Defence Technology and Trade Initiative (DTTI) framework between the two countries and the India Rapid Reaction Cell (IRRC) in the Pentagon.
 Maritime security cooperation: India's continuously sustained multi-year commitment of participating in the Rim of the Pacific Exercise (RIMPAC) multilateral naval exercise. It is the world's largest international maritime warfare exercise.
Solar dispute
The US has filed a complaint in the WTO against India's domestic content requirement (DCR) under the country's Jawaharlal Nehru National Solar Mission.
 US have claimed that the DCR violates WTO agreements such as national treatment principle and agreement on Trade Related Investment Measures (TRIMS).
WTO ruling
 India's domestic content requirements in question were trade-related investment measures for the purposes of the Illustrative List in the TRIMs Agreement's Annex and were therefore inconsistent with Article 2.1 of the TRIMs Agreement.
 The Panel also found that the domestic content requirements in question do accord "less favourable treatment" within the meaning of Article III:4 of the GATT 1994.
 The panel, however, did not pronounce a verdict on the financial subsidies provided by India its solar power projects.
A.9. INDIA – SEYCHELLES
 Prime Minister Narendra Modi became the first Indian Prime Minister to visit Seychelles after 34 years. The Union Cabinet gave its ex-post facto approval to the protocol for cooperation in the field of blue economy.
 India has been involved with Seychelles in helping bolster its need for maritime security as it has a large Exclusive Economic Zone (EEZ) of 1.3 million square kilometers.
 India secured a pact to develop infrastructure of Assumption Island in Seychelles.it is strategically located in the Indian Ocean, north of Madagascar.  Indian navy has for the first time deployed maritime reconnaissance aircraft to Seychelles for surveillance of the island nation's Exclusive Economic Zone.
A.10. INDIA- CHINA
 Daulat Beg Oldie in Ladhakh was designated as fifth border meeting point between India and China.
 Four other border meeting points between India and China are: Kibithoo (Arunachal Pradesh), Spanngur Gap (Chushul, Ladakh), Bum-La (Tawang, Arunachal Pradesh) and Nathu-La (Sikkim).
 The dam at Zangmu, Tibet in the middle of the Brahmaputra, or Yarlung Zangbo as it is known in China, is now fully operational.
 China has, in its current five-year plan, also given the go-ahead to start work on three other dams, one of which is even bigger than the 510 MW Zangmu dam – a 640 MW dam scheduled for construction at Dagu, 18km upstream. Two smaller dams will be built at Jiacha and Jiexu.
A.11. INDIA- CLMV SUMMIT
India seeks to invest in the CLMV (Cambodia, Laos, Myanmar and Vietnam) countries (which are part of the 10-member ASEAN group) to take advantage of the free trade agreements they have with various countries such as China.
The CLMV Summit is a very important meeting under the ASEAN framework as these four states are part 10-member ASEAN grouping.
A.12. JAIPUR SUMMIT: FORUM FOR INDIA-PACIFIC ISLANDS COOPERATION (FIPIC)
 India hosted the second summit of the Pacific Islands countries, Forum for India-Pacific Islands Cooperation (FIPIC).
 The summit in Jaipur underlined the growing geostrategic importance of the 14 South Pacific islands that lie at the centre of a key maritime route rich in resources and one of the largest voting blocs in the United Nations.
 Forum for India-Pacific Islands cooperation (FIPIC) is a multinational grouping developed in 2014 for cooperation between India and 14 Pacific Islands nations which include Cook Islands, Fiji, Kiribati, Marshall Islands, Micronesia, Nauru, Niue, Samoa, Solomon Islands, Palau, Papua New Guinea, Tonga, Tuvalu and Vanuatu.
 All Head of state/head of government of the above countries met in Suva, Fiji in November 2014 for the first time where the annual summit was conceptualized.
A.13. INDIA- SRI LANKA:
 India and Sri Lanka signed a civil nuclear cooperation agreement, the first such deal signed by Sri Lanka with any foreign country. Mr. Modi became the first Indian PM and the third Indian leader to visit Jaffna, after Mahatma Gandhi and Jawaharlal Nehru.
A.14. INDIA-AFRICA
The 3rd India-Africa Forum Summit took place in New Delhi. 41 heads of state and government from 54 countries in Africa were present at Summit. The summit was the largest gathering of foreign dignitaries in New Delhi since the 1983 Non-Aligned Summit.
The two previous India-Africa summits were held in 2008 and 2011, in New Delhi and Addis Ababa respectively.
Convergence of interest-India and Africa
 India and Africa said that the two partners are aligned on the outstanding issues at the World Trade Organisation (WTO) and are in favour of multilateral trading systems.
 Cooperation to tackle terrorism: India strongly advocated stepped-up cooperation through intelligence exchange and training with 54 African countries.
 Cooperation on climate change between India and Africa, both who had "contributed the least to global warming,"
 There's a convergence of interest for reforming the Security Council.
A.15. INDIA-GERMANY
 German Chancellor Angela Merkel travelled to India for the Third Indo-German Inter-Governmental Consultations.
 "Fast-track clearance mechanism": In a bid to attract German investment, India decided to set up a "fast-track clearance mechanism". The only other such country-specific mechanism is for Japan.
A.16. INDIA AND IBSA
Recently the cabinet approved the signing of the Tripartite Agreement among India, Brazil and South Africa (IBSA), on the IBSA Fund for the Alleviation of Poverty and Hunger.
 The IBSA Dialogue Forum (India, Brazil, and South Africa) is an international tripartite grouping for promoting international cooperation among these countries. It represents three important poles for galvanizing South-South cooperation and greater understanding between three important continents of the developing world namely, Africa, Asia and South America.
| | | | |
| --- | --- | --- | --- |
| 2006 | September, 2006 | Brazil | Brasilia |
| 2007 | October, 2007 | South Africa | Pretoria |
| 2008 | October, 2008 | India | New Delhi |
| 2010 | 15 April 2010 | Brazil | Brasília |
| 2011 | 18 October 2011 | South Africa | Pretoria |
| 2013 | 16 May 2013 (canceled) | India | New Delhi |
A.17. 13TH INDIA-EU SUMMIT
The 13th EU-India Summit was held in Brussels on March 2016.
Outcome of summit
The 13th India-EU Summit concluded in Brussels without a consensus on a bilateral free trade deal even as progress was made in bilateral cooperation in other fields - from foreign policy to outer space.
Deadlock in Broad-based Trade and Investment Agreement (BTIA)
EU's main Demands
 EU has been keen on reducing or abolishing tariffs in several sectors, including in the automobile and wine and spirits sectors.
 India's import duty on cars is between 60 and 120 per cent as against the EU's 10 per cent.
India's main demands
 India's main demands on data security status, easier temporary movement of skilled professionals and seamless intra-corporate movement.
 The EU should do away with their non-tariff barriers.
 India has also sought agricultural market access in the EU as well as disciplining of Sanitary and Phyto-sanitary (norms related with plants and animals) and Technical Barriers to Trade.
Other major issues between India and EU
 Human rights violation: One of the ostensible reasons for stalled talks between the European Union (EU) and India had been the EU concern over human right violations in India.
 Italian marine's case has also played a spoiler in the EU-India relationship.
 Arbitrary Ban: In August 2015, India had deferred negotiations on the FTA over the EU imposing a ban on sale of around 700 pharmaceutical products
A.18. INDIA-MALDIVES
Maldives President Abdulla Yameen Abdul Gayoom paid official visit to India. Maldives is important country in Indian Ocean region (IOR). Relations between India and Maldives have witnessed many ups and downs.
India is mainly concerned about growing ties between Maldives and China.

China is assisting Maldives in some infrastructure and developmental projects.
Maldives is also part of China's Silk Road project.
Male had terminated the agreement it entered into with GMR in 2010 for the modernization of the International Airport. The project was subsequently given to a Chinese company.

India's help to Maldives.

Indian Army's 'Operation Cactus' foiled a coup in Maldives that was attempted by a pro-Eelam group in 1988. India maintains a naval presence in Maldives, at the request of the Maldives, since 2009.
In December 2014 India dispatched "water aid" to the Maldivian capital of Male.
A.19. INDIA-PAPUA NEW GUINEA
President of India paid first ever official visit to Papua New Guinea since the establishment diplomatic ties between the two countries.
 India is looking to explore and develop Papua New Guinea's vast oil and gas resources through joint ventures and investments.
 India considers its cooperation with the islands of the Pacific to be a key component of 'Act East policy'.
A.20. INDIA-PAKISTAN
Sir Creek: Sir Creek is a 96 km tidal estuary on the border of India and Pakistan. The creek, which opens up into the Arabian Sea, divides the Gujarat state of India from the Sindh province of Pakistan.
The Sir Creek dispute between India and Pakistan, which got its name from the British representative who negotiated the original dispute over firewood between the local rulers.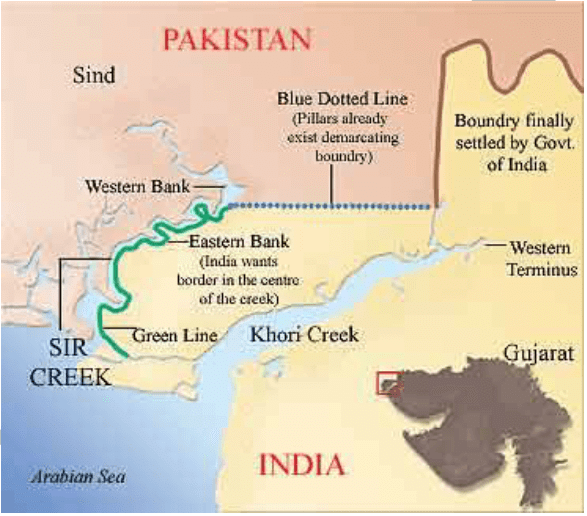 Fig: Pakistan's Position

 Pakistan claims the entire Sir Creek, with its eastern bank defined by a "green line'' and represented on a 1914 map belongs to it.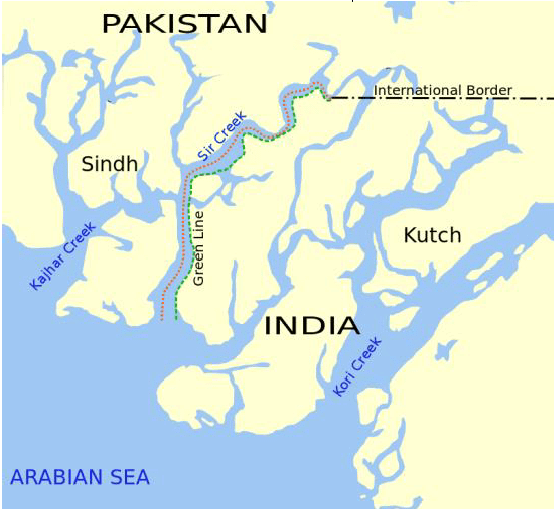 Fig: India's Position
 India supports its stance by citing the Thalweg doctrine in international law. The law states that river boundaries between two states may be, if the two states agree, divided by the mid-channel.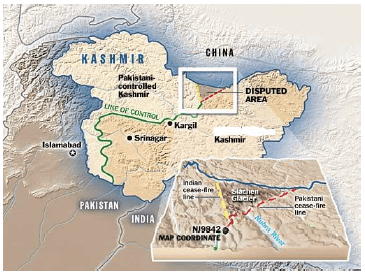 Fig: Siachen Dispute
 Siachen - which means the land of roses - also has the dubious distinction of being the world's highest battlefield.
 A triangular bit of land between Pakistan occupied Kashmir and the part ceded by Pakistan to the Chinese.
 The Siachen dispute is a direct result of the ambiguity that exists in the Karachi ceasefire agreement of July 1949.
 The agreement, which established the ceasefire line (the positions of the two militaries at the end of the 1947-1948 war), did not delineate beyond grid reference NJ 9842, which falls south of the Siachen glacier, to the Chinese border but left it as "Chalunka (on the Shyok River), Khor, thence North to the glaciers".
Interpretation of Karachi ceasefire agreement
Indian and Pakistani sides have since interpreted the phrase "thence North to the glaciers" very differently.
 Pakistan argues that this means that the line should go from NJ 9842 straight to the Karakoram pass on the Sino-Indian border.
 India, however, insists that the line should proceed north from NJ 9842 along the Saltoro range to the border with China.
Strategic location
 Siachen sits at a very strategic location with Pakistan on the left and China on the right.
Operation Meghdoot
 India launched Operation Meghdoot in April 1984 and occupied the high points of the glacier.
A.21. ASHGABAT AGREEMENT
The Union Cabinet has given its approval for India to accede to the Ashgabat Agreement, an international transport and transit corridor facilitating transportation of goods between Central Asia and the Persian Gulf.
 Accession to the Agreement would enable India to utilize this existing transport and transit corridor to facilitate trade and commercial interaction with the Eurasian region.
 Further, this would synchronize with our efforts to implement the International North South Transport Corridor (INSTC) for enhanced connectivity.  This move will further strengthen trade ties between India and the Eurasian region.
About Ashgabat Agreement
 An agreement between five countries on establishing a new international transport and transit corridor (Uzbekistan – Turkmenistan – Iran – Oman– Qatar) was signed on 25 April, 2011 in Ashgabat.
 Qatar had withdrawn from the agreement in 2013.
 "Ashgabat Agreement" forms the basis for developing the shortest trade route/corridor between the Central Asian countries and Iranian and Omani ports.
 Oman, Iran, Turkmenistan and Uzbekistan are the founding members of the Ashgabat Agreement, while Kazakhstan joined it subsequently.
A.22. INDIA –PAKISTAN AND USA
USA de-hyphenating policy
The US government, under President Bush, formulated the action plan of the 'de-hyphenation' policy but it was sealed when Obama came to power.
 It allows the State Department to view India and Pakistan as two separate silos, without referring to their bilateral relations.
 Special Representative for Afghanistan and Pakistan (SRAP) was set up in 2009 which hailed the commencement of the de-hyphenation policy.
Reversal of policy
 Obama administration is actively considering a reversal of the move. The Obama Government wants to re-merge the office of the Special Representative of Afghanistan and Pakistan (SRAP) with the Bureau of South and Central Asia (SCA), which handles India.
A.23. 4TH INDIA-AFRICA HYDROCARBONS CONFERENCE (IAHC)
• The government has organised the 4th India-Africa hydrocarbon conference on January, 2016 in New Delhi. A total of 21 African countries participated in the event.
• The Conference is aimed at greater cooperation between India and African continent towards 'Development Transmitting Partnership' in the field of Hydrocarbons.
A.24. FIRST INDIA-ARAB MINISTERIAL CONFERENCE
• The 1st Ministerial Meeting of Arab-India Cooperation Forum was held on 24 January 2016 in the Bahraini capital Manama.
• In meeting, leaders reviewed the achievements of the Arab-Indian cooperation and adopted the Manama Declaration.
• The Arab-Indian Co-operation Forum was launched in New Delhi in 2008.
__________________________________
Arab League
• The Arab League is an organization that consists of independent Arab States on the territory of northern and north-eastern part of Africa and southwest Asia.
• Representatives of the first six member states – Egypt, Iraq, Jordan, Lebanon, Syria and Saudi Arabia – that initiated the league's formation signed the agreement in Cairo, in March, 1945.
• Presently, League has 21 members which includes Algeria, Bahrain, Comoros, Djibouti, Egypt, Iraq, Jordan, Kuwait, Lebanon, Libya, Mauritania, Morocco, Oman, Palestine, Qatar, Saudi Arabia, Somalia, Sudan, Tunisia, United Arab Emirates and Yemen.
A.25. INDIA - VIETNAM
• India will set up a satellite tracking and imaging centre in southern Vietnam that will give Vietnam access to pictures from Indian earth observation satellites that cover the region, including China and the South China Sea.
• The Indian Space Research Organization (ISRO) will fund and set up the satellite tracking and data reception Centre in Ho Chi Minh City to monitor satellite launches.
A.26. RAISINA DIALOGUE 2016
What is it? The Raisina Dialogue is envisioned as India's flagship conference of geopolitics and geo-economics.
 It is designed to explore prospects and opportunities for Asian integration as well as Asia's integration with the larger world.
 The 2016 conclave focused on Asia's physical, economic, digital connectivity and fostering common global spaces with an emphasis on Asia.
 It is based on India's vital role in the Indian Ocean Region and how India along with its partners can build a stable regional and world order.
 The conference was held jointly by Ministry of External Affairs, India and the Observer Research Foundation (ORF), an independent think tank based in India.
 The theme of the conference was 'Asian connectivity'