INDIAN AFFAIRS
PM Modi arrives in Chhattisgarh, to launch various schemes
i. On April 14, 2018, on the occasion of Ambedkar Jayanti, Prime Minister Modi launched first of 1.5 lakh health and wellness centres, planned under the recently launched Ayushman Bharat Scheme, at Jangla village in Bijapur district of Chhattisgarh.
ii. During the course of this visit, PM Modi will be visiting Bijapur district's Jangala Development Hub, situated in a panchayat that has emerged as a model panchayat.
iii. PM Modi has become first Indian Prime Minister to visit tribal district Bijapur, which was till now considered as one of the most backward regions of India
Intra-state e-way bill to come into effect from April 20 in Haryana
The intra-state e-way bill will come into effect on 20th April 2018 in Haryana.
Intra-state e-way bill to come into effect from April 20 in Haryana:
i. The e-way bill is mandated for intra-state movement of goods also in Haryana. This was announced by Haryana Chief Minister Manohar Lal Khattar at the inaugural function of new building of excise and taxation.
ii. He said the Haryana state government has been expanding e-governance in a planned manner to create an easy and transparent work environment.
Some wildlife sanctuaries in Haryana:
♦ Bhindawas Wildlife Sanctuary
♦ Khaparwas Wildlife Sanctuary
♦ Nahar Wildlife Sanctuary
Tripura Govt sanctions Rs 50 crore for IIIT at Bodhjungnagar
On April 12, 2018, Tripura State Government approved Rs 50.67 crore to set up an Indian Institute of Information Technology (IIIT) at Bodhjungnagar, located 15 km away from Agartala.
Information related to setting up an IIIT at Bodhjungnagar:
i. Bodhjungnagar is one of North Eastern region's biggest industrial zones.
ii. Decision to set up IIIT at Bodhjungnagar in Public Private Partnership (PPP) mode was taken in 2012. However, the project could not take off due to non clearance of funds from the previous Left Front government.
iii. The institute would be set up on 52.08 acres land and the total project cost would be Rs 128 crore.
iv. Out of Rs. 128 crore, Rs 73.60 crore will be provided by Central Government. Part of funding will also be procured from industrial partners.
v. North Eastern Electric Power Corporation Limited (NEEPCO) and ONGC have come forward to extend financial cooperation for this project.
Quick Facts about Tripura:
♦ Capital – Agartala
♦ Current Chief Minister – Biplab Kumar Deb
♦ Current Governor – Tathagata Roy
♦ Important National Park – Rajbari National Park
Maharashtra Govt. launches Tribal development centre
On April 10, 2018, Maharashtra Chief Minister Devendra Fadnavis launched 'QUEST', a centre to evaluate and quantify special development budget allocations and their impact on tribal development.
Details about Maharashtra State Government's 'QUEST':
i. Abbreviation 'QUEST' stands for Quality Evaluation for Sustainable Transformation.
ii. 'QUEST' has been initiated by Maharashtra State Ministry of Finance and Ministry of Tribal Welfare, with an objective to bring greater accountability in spending and management of dedicated funds allocated for tribal welfare.
iii. Maharashtra has become the first among all Indian states to kick start such initiative.
iv. In context of this news, it is important to note that in Maharashtra State Budget 2018-19, Rs 8233.12 crore has been allocated for development of Scheduled Tribes.
Quick Facts about Maharashtra:
♦ Capital – Mumbai (summer), Nagpur (winter)
♦ Current Governor – C. Vidyasagar Rao
♦ Current Chief Minister – Devendra Fadnavis
♦ Important National Park – Sanjay Gandhi National Park
Andhra transforming its capital into world class city
State of Andhra Pradesh is constructing a world-class city in its de facto capital Amaravati.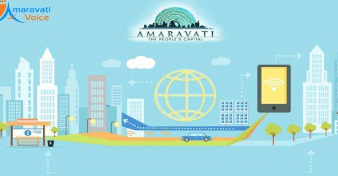 Urbanisation of Amaravati:
i. Nearly 3840 apartments in 61 towers are under construction in the Amaravati capital region.
ii. Out of 61 towers, 21 towers having 1440 apartments are being built by Shapurji Palonji. These apartments will be for Type 1, Type 2 government officers and Group D employees.
iii. 22 towers with 1968 apartments for NGOs, are being built by L&T while 18 towers having 432 apartments (for Members of Legislative Assembly, Members of Legislative Council and All India Services Officers are being built by Nagarjuna Construction Company.
iv. Towers being built by Shapurji Palonji and L&T are at Nelapadu village while those being built by Nagarjuna Construction Company are at Rayapudi village.
v. This entire urbanisation project is being supervised by Department of Municipal Administration and Urban Development under Minister P Narayana.
Quick facts about Andhra Pradesh:
♦ Capital – Amaravati (de facto)
♦ Current Chief Minister – N Chandrababu Naidu
♦ Current Governor – E S L Narasimhan
♦ Important National Park – Papikonda National Park
NPCIL & NSDC signed a MoU
National Skill Development Corporation (NSDC) has signed a Memorandum of Understanding (MoU) with the Nuclear Power Corporation of India Limited (NPCIL) to provide skill training to 500 youth and women at Kudankulam in Tamil Nadu.
Details about NPCIL-NSDC MoU:
i. Kudankulam Nuclear Power Project (KKNPP), situated in the Tirunelveli district of Tamil Nadu is the single largest nuclear power station in India.
ii. As per the terms of the MoU, firstly, NSDC will conduct a baseline survey in 19 villages in Tirunelveli district to assess nature and extent of talent gap and will accordingly identify job roles for the training.
iii. Thereafter, NSDC will impart training through its approved training partners near KKNPP. The objective is to provide gainful employment (wage and self-employment) to nearly 70 percent of the trained candidates post-training.
iv. Upon successful completion of the training, the trainees will be awarded a certificate which conforms to National Skills Qualification Framework (NSQF).
v. NPCIL has committed Rs. 1.74 crore under its Corporate Social Responsibility (CSR) contributions towards this project, which is estimated to be complete in 15 months.
vi.NPCIL will monitor the progress of the implementation of the project to ensure that the objective of the project is met effectively.
Quick Facts about NPCIL:
♦ Founded in – 1987
♦ Headquarters – Mumbai, Maharashtra
Ahmedabad Municipal Corporation launched 6th edition of Heat Action Plan
On April 11, 2018, Ahmedabad Municipal Corporation (AMC), in Gujarat launched 6th edition of Heat Action Plan (HAP) aimed at protecting city dwellers from scorching temperatures during summer.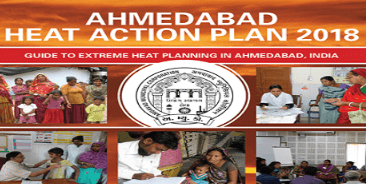 Salient Features of AMC's 6th edition of Heat Action Plan:
i. The plan has been designed and will be implemented in partnership with Gandhinagar-based Indian Institute of Public Health (IIPH) and US based Natural Resources Defence Council (NRDC) along with other groups and NGOs.
ii. AMC has been implementing HAP since 2013. Ahmedabad is the first city to prepare and implement heat action plan.
iii. Key elements of this year's HAP are expanding use of cool roofs, increasing access to drinking water, reflective paint on buildings to lower inside temperatures and training medical professionals to help protect patients during extreme heat.
iv. This year's plan also incorporates an early warning system to be used during heat waves, inter-agency coordination to alert residents in predicted high temperature areas and a robust public education campaign about how to avoid harm from excessive heat.
25 MW waste-to-power plant to be constructed in Gurugram
A power plant worth Rs 502 crore will be set up in Bandhwari village of Gurugram district, Haryana, to produce electricity from waste under the Integrated Solid Waste Management Scheme.
25 MW waste-to-power plant to be constructed in Gurugram:
i. The plant will be set up by August 2019. It will generate 25 MW of electricity. Haryana Chief Minister Manohar Lal Khattar laid the foundation stone of the plant in Bandhwari village on 13th April 2018.
ii. He said that the plant will be set up as per the conditions of the National Green Tribunal.
iii. Urban Local Bodies Minister Kavita Jain said the plant will be installed in Gurugram and Sonipat clusters to generate electricity from waste.
Some National parks in Haryana:
♦ Sultanpur National Park
♦ Kalesar National Park