INDIAN AFFAIRS
Chhattisgarh Govt to distribute free smartphones to over 50 lakh people
In a bid to reduce the digital divide, from May 2018, Chhattisgarh State Government will start distributing free smartphones to over 50 lakh people across the state under the Sanchar Kranti Yojana (SKY).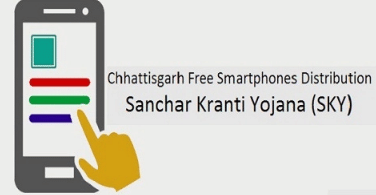 Distribution of free smartphones in Chhattisgarh:
i. Distribution of smartphones will start during the 'Vikas Yatra' campaign of Chief Minister Raman Singh. The Yatra has been organised to create awareness about developmental activities undertaken by the incumbent BJP Government under Mr. Raman Singh.
ii. Distribution of smartphones would be taken up in two phases – 30 lakh in first phase and remaining in the second phase.
iii. Women heads of households will be the priority recipients of the smartphones as out of 50 lakh smartphones, 40 lakh will be given to women heads of households in villages having population of more than 1000, 5 lakh phones will be given to women heads belonging to poor families living in urban areas and 5 lakh phones will be given to college students.
iv. On account of this scheme, 13900 villages of Chhattisgarh will get better phone connectivity.
v. Proving smartphones will facilitate reach of citizen-centric services to the people in remote area through 11000 common service centres (CSCs) of Chhattisgarh Infotech Promotion Society (CHiPS), will apprise people of government's welfare schemes and will also help in cashless payments through digital transactions.
Quick Facts about Chhattisgarh:
♦ Capital – Naya Raipur
♦ Current Governor – Balram Das Tandon
♦ Current Chief Minister – Raman Singh
♦ Important National Park – Guru Ghasidas National Park
UP Govt orders Govt hospitals and orphanages to establish SHISHU SWAGAT KENDRA- PALNA
On April 18, 2018, Uttar Pradesh State Government ordered all government hospitals and orphanages to establish SHISHU SWAGAT KENDRA – PALNA and put up cradles in front of their buildings so that any person, lady or couple can leave their unwanted child without disclosing their identity.
About SHISHU SWAGAT KENDRA- PALNA:
i. Objective of this setup is to tackle the problem of abandoning the infants at the roadside or other places which may pose a risk of life for the baby.
ii. As per the order, the cradles will be set up at medical colleges, district, satellite and sub-district hospitals.
iii. All these centres will have arrangements for taking proper care of such infants.
iv. The cradles will be fitted with a bell by which the staff can be alerted to the arrival of the child. Thereafter the child will be taken to the local child welfare committee and screened further to evaluate if it is fit for adoption.
v. This setup is expected to bridge the gap between the number of children available for adoption and the increasing list of adoptive parents.
Quick Facts about Uttar Pradesh:
♦ Capital – Lucknow
♦ Current Governor – Ram Naik
♦ Current Chief Minister – Yogi Adityanath
♦ Important National Park – Dudhwa National Park
MSME Ministry Sets UP four Technology Centres for North East: Giriraj Singh
Minister of State of Micro, Small and Medium Enterprises (MSME), Giriraj Singh has stated that four technology centres are being established in North Eastern India for supporting Micro industries in the region.
More information about Technology Centres for North East:
i. Mr. Singh shared this information on April 18, 2018 at UdyamSamvad Workshop organised by Ministry of Micro, Small and Medium Enterprises (MSME) in New Delhi.
ii. The workshop had eleven session with different entities like Ministry of Development of North Eastern Region (DoNER), financial organisations and industry bodies.
iii. Discussions at this workshop focused on various issues faced by entrepreneurs and Startups in North East States of India.
iv. Mr. Singh stated that technology centres are being established in Imphal (Manipur), Dimapur (Nagaland), Tinsukia (Assam) and Agartala (Tripura).
IIIDEM organizes Consultative Workshop for the Delegation from CEC of Kazakhstan
On 16th and 17th April, 2018, India International Institute of Democracy and Election Management (IIIDEM) organized a Consultative Workshop in New Delhi for the Delegation from the Central Election Commission (CEC) of Kazakhstan.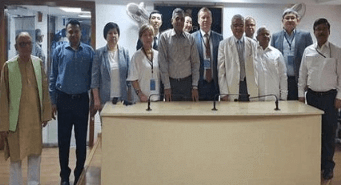 Consultative Workshop for the Delegation from CEC of Kazakhstan:
i. The delegation comprised six members including Vice-Chairman of CEC, Kazakhstan and other Senior Officials.
ii. Interactive discussions on the Electronic Voting Machine (EVM) & Role of Information Technology (IT) and a Training Programme were conducted during the course of this workshop.
iii. India's Chief Election Commissioner O. P. Rawat stated that EVMs are being used in Indian elections for the past 20 years.
iv. IIDEM was established by Election Commission of India (ECI) in June 2011 to advance its professional competence in election management.
KJo to be first Indian filmmaker in Madame Tussauds collection
Karan Johar (referred to as KJo), will soon become first Indian filmmaker to get a wax statue at Madame Tussauds, London.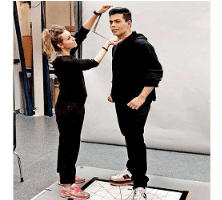 About Karan Johar:
i. Karan Johar's directorial debut was hit film Kuch Kuch Hota Hai (1998) which had Shah Rukh Khan and Kajol in lead roles.
ii. Other popular films directed by KJO are Kabhi Khushi Kabhie Gham, Kal Ho Naa Ho, My Name Is Khan and Student of the Year.
iii. He owns Dharma Productions Pvt. Ltd., a production and distribution company.
iv. Karan Johar is not just engaged in film making, but is also a costume designer, and television personality.
v. Amitabh Bachchan, Sachin Tendulkar and PM Narendra Modi are some of the other Indian dignitaries who have got a wax statue at Madame Tussauds, London.
Target year of completing PMGSY-1 advanced to 2019 from 2022
On 16th April 2018, the Union Rural Development Ministry said that, the government has advanced the target year for completion of phase one of rural road scheme PMGSY (Pradhan Mantri Gram Sadak Yojana) to 2019 from 2022.
Target year of completing PMGSY-1 advanced to 2019 from 2022:
i. The Pradhan Mantri Gram Sadak Yojana (PMGSY) was launched in 2000. It has provided connectivity to 1.52 lakh habitations (85.37 % out of the total 1.78 lakh eligible habitations).
ii. The Union Rural Development Ministry said that due to the need and urgency of rural roads for national development the target date for completion of PMGSY-I has been preponed from 2022 to 2019.
iii. To meet this target, the government has sanctioned the order for construction of roads to connect 1.66 lakh habitations (which is 93 % out of the target of 1.78 lakh eligible habitations).
iv. Less than 1 % of the eligible habitations remain to be sanctioned for new connectivity. Through this programme, over 5.50 lakh km of roads have been constructed.
Taglines of some banks:
♦ Dena Bank – Trusted Family Bank
♦ ECGC Bank – You focus on exports. We cover the risks
♦ IDBI Bank – Banking For All, Aao Sochein Bada
Gujarat CM launches Pocket Cop project; cops to get smartphones to curb crime
On 16th April 2018, Gujarat Chief Minister Vijay Rupani launched 'Pocket Cop' project to improve crime detection rate in the state, in Gandhinagar, Gujarat.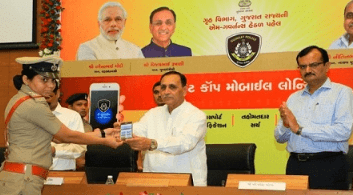 Pocket Cop:
i. Under the Pocket Cop project, smartphones having data of people with a criminal background will be given to 4,900 police personnel. The personnel include investigating officers, in-charges of police stations, those placed in PCR (Police Control Room) vans and working in passport verification.
ii. Some police personnel were handed the smartphones at the event held in Gandhinagar.
iii. The smartphone will contain four different applications for passport verification, tracing criminals, finding missing persons and for stolen vehicles.
iv. A trial was launched in Gandhinagar and Ahmedabad districts earlier. After its success it has been launched for the whole state now.
v.Vijay Rupani said that, all districts of Gujarat will be soon brought under CCTV surveillance for better crime detection.
Some National Parks in Gujarat:
♦ Blackbuck National Park
♦ Gir Forest National Park
♦ Marine National Park, Gulf of Kutch
Venkaiah Naidu launches Assam government's cashless health scheme
On 18th April 2018, Vice President M Venkaiah Naidu launched 'Atal Amrit Abhiyan', a health scheme of Assam government that provides free medical care of up to Rs 2 lakh for every person from Below Poverty Line (BPL) and Above Poverty Line (APL) families.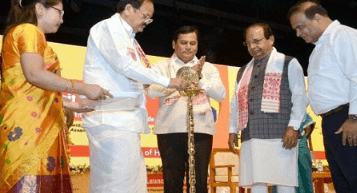 Atal Amrit Abhiyan:
i. Atal Amrit Abhiyan will cover 92 % of the Assam's population with annual income below Rs 5 lakh.
ii. Assam state government has allocated Rs 400 crore for the scheme in the financial year 2018-19.
iii. The scheme has been named after former Indian prime minister Atal Bihari Vajpayee.
iv. Venkaiah Naidu said that, the National Family Health Survey-IV has poor infrastructure due to shortage of manpower, especially doctors.
Some wildlife sanctuaries in Assam:
♦ Bherjan-Borajan-Padumoni Wildlife Sanctuary
♦ Borail Wildlife Sanctuary
♦ Bornadi Wildlife Sanctuary
UIDAI introduces new QR code for offline Aadhaar verification
On April 18, 2018 Unique Identification Authority of India (UIDAI) has taken an another effort to increase the privacy level of aadhar details without disclosing the 12-digit Aadhar card number.
i. It introduced an updated digitally signed 'QR code' on e-Aadhaar that will now contain the photograph of the Aadhaar user with other non-sensitive details like name, address and birth date.
ii. A QR code is a form of barcode label which contains machine-readable information.Aadhaar holders can download and print their biometric ID with the QR code from the website of Unique Identification Authority of India (UIDAI) or its mobile app.
iii. Aadhaar users can manually darken the Aadhaar number and use the printout with the new QR code for establishing their identity, offline also.
Overview of Unique Identification Authority of India (UIDAI)
i. The Unique Identification Authority of India (UIDAI) is a statutory authority established on 12 July 2016 by the Government of India under the jurisdiction of the Ministry of Electronics and Information Technology, following the provisions of the Aadhaar Act 2016.
ii. The UIDAI is mandated to assign a 12-digit unique identification (UID) number (termed "Aadhaar") to all the residents of India. The UIDAI data centre is located at Industrial Model Township (IMT), Manesar,[28] which was inaugurated by the then Chief Minister of Haryana Mr. Bhupendra Singh Hooda on 7 January 2013.
Kochi to host India Skills Kerala 2018
From April 28 to 30 , Kerala will host the India Skills Kerala 2018 in Kochi, as part of the World Skills India 2018. It will help youngsters in the State to show their vocational skills. It aims to generating interest and creating awareness among the general public.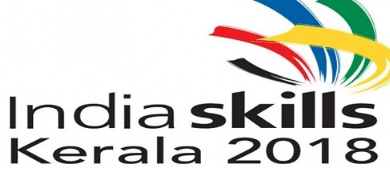 i. The activities for the above event had organized by Kerala Academy for Skills Excellence (KASE), the State Skill Development Mission (SSDM) and Industrial Training Department under the Department of Labour and Skills.
ii. It might help training students to get medals at the World Skills Competition Kazan 2019.
View facts about Kochi
♦ Kochi ,also known as Cochin ,is a major port city on the south-west coast of India bordering the Laccadive Sea. It is part of the district of Ernakulam in the state of Kerala and is often referred to as Ernakulam.
♦ Kochi was an important spice trading centre on the west coast of India.