INDIAN AFFAIRS
♦ Overview of Nepal Prime Minister KP Oli's India visit
Prime Minister of Nepal, KP Oli was on a three-day official visit to India from 6th – 8th April 2018.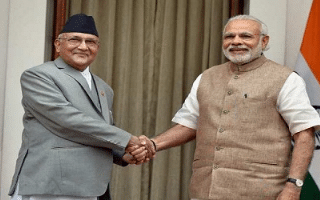 KP Oli was accompanied by his spouse Radhika Shakya and a 54-member delegation, including Nepalese Ministers, Secretaries, Government Officials and businesspersons.
KP Oli took charge as Prime Minister of Nepal for the second time in February 2018. Oli's, this visit to India was in line with the tradition of a Nepalese Prime Ministers visiting India on their first overseas trip.
Before the visit, KP Oli had stated that this visit would focus on implementing past agreements signed between Nepal and India, rather than signing new ones.
During the course of this visit, KP Oli called upon Indian President and Vice President and held talks with Prime Minister Narendra Modi and some Cabinet Ministers.
Highlights of Meeting between Indian Prime Minister Narendra Modi and Nepal Prime Minister KP Oli:
On April 7, 2018, Indian Prime Minister Narendra Modi and Nepal Prime Minister K.P. Sharma Oli met in New Delhi and held discussion to expand bilateral ties in developmental cooperation, agriculture, trade & investment, energy, connectivity & people-to-people contacts.
Both the Prime Ministers jointly pushed a button to virtually lay the foundation stone of the 900 MW Arun III hydroelectric project, for which Indian Government will provide USD 1.5 billion. This project will be built by Sutlej Jal Vikas Nigam.
The integrated checkpost at Birgunj-Raxaul, the main entry-exit point on the open India-Nepal border, was also remotely inaugurated by both the Prime Ministers.
India to build strategic Railway link between Kathmandu and Raxaul
India will build a strategic railway link between Raxaul in Bihar and Kathmandu in Nepal to enhance people-to-people linkages and promote economic growth and development.
Announcement in this regard was made on April 7, 2018, after delegation-level talks between Indian Prime Minister Narendra Modi and his Nepalese counterpart K P Sharma Oli.
Thus, a new electrified rail line connecting Raxaul to Nepal's Capital Kathmandu will be constructed and will be entirely financed by India.
This railway line holds strategic significance as in March 2016, China had agreed to construct a railway link with Nepal through Tibet, aimed at reducing Kathmandu's dependence on India.
India, Nepal to enhance Agriculture cooperation
On April 7, 2018, India and Nepal reiterated their commitment to promote bilateral cooperation in agricultural science and technology, agricultural production and agro-processing.
This reaffirmation was in line with the Memorandum of Understanding (MoU) inked between India and Nepal for the mutual benefit of farmers, consumers, the scientific community and the private sector.
This partnership will be driven by Ministers for Agriculture of both the countries.
It envisages collaborative projects in various areas of agricultural research and education and also promotes exchanges between the Indian Council for Agricultural Research (ICAR) and the Nepal Agricultural Research Council (NARC).
India, Nepal decide to develop inland waterways for Cargo Movement
India and Nepal have agreed to develop inland waterways for cargo movement, within the framework of trade and transit arrangements.
Both the Prime Ministers acknowledged the untapped potential of inland waterways which can contribute towards overall economic development of the region.
Officials from both the sides have been directed to work out modalities for including inland waterways as an additional means of transport in the Protocol to the Treaty of Transit between India and Nepal.
This modification will provide additional access to sea for Nepal.
Modi, Oli launch ground breaking of India-Nepal petroleum products pipeline project
On April 7, 2018, Indian Prime Minister Narendra Modi and his Nepal counterpart K P Sharma Oli launched the ground-breaking ceremony of Rs 3.24 billion India-Nepal petroleum products pipeline from Motihari to Amlekhgunj.
Memorandum of Understanding (MoU) in this regard was signed in August 2015 between Indian Oil Corporation and Nepal Oil Corporation.
The 69-km-long pipeline (32.7 km of pipeline in the Indian Territory and 36.2 km in Nepal territory) is the first international cross-country petroleum pipeline project in India.
A 10.75-inch diameter cross-country pipeline will be laid from Motihari in Bihar to Amlekhganj in Nepal.
Oli Seeks farm expertise for Nepal
On the third day of his India visit, Nepalese Prime Minister KP Oli visited the GB Pant University of Agriculture and Technology in Pantnagar, Uttarakhand.
KP Oli was conferred with a Honorary Degree of Doctor of Science at the university.
During his address, he sought the research expertise of G.B. Pant University of Agriculture and Technology in Uttarakhand to revolutionise agriculture in Nepal.
He outlined that although two-thirds of Nepal's population depend on agriculture, the sector's contribution to the economy has not been significant.
Quick Facts about Nepal:
Capital – Kathmandu
'Currency – Nepalese Rupee
Current Prime Minister – K P Oli
Neighbouring Countries – India and China
♦ Goa govt to launch its app-based taxi service
Goa State Government has decided to launch its own app-based taxi service at some key tourist destinations across the state.
Goa State Government's app-based taxi service:
i. Earlier, tourist taxi operators who run their businesses individually in Goa, opposed attempts made by online cab aggregators like Ola to start services in the state, fearing that such a move will affect their business.
ii. Thus, Goa Tourism Development Corporation (GTDC) itself decided to start the new mobile application-based transport service and invited the taxi operators to register with it.
iii. All taxi operators, who hold licence to run cabs in Goa, are eligible to register for this application-based transport service.
iv. The app-based taxis would operate from locations like GTDC residencies (hotels) across the state and registered taxi operators will have to follow the online queuing system, based on which a ride will be confirmed or assigned to them.
Quick Facts about Goa:
Capital – Panaji
Current Chief Minister – Manohar Parrikar
Current Governor – Mridula Sinha
Important River – Mondovi
♦ Maharashtra to start free chemotherapy units for cancer patients
Maharashtra State Government has announced that, starting from June 2018, cancer patients in the state would be provided free chemotherapy treatment at district hospitals.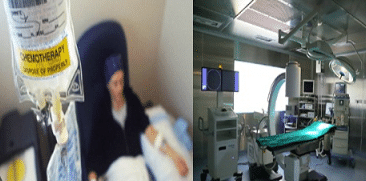 Free chemotherapy units in Maharashtra:
i. This facility will be rolled out in phased manner, starting with hospitals in Nagpur, Pune, Gadchiroli, Amravati, Jalgaon, Nashik, Satara, Wardha, Bhandara and Akola.
ii. Availability of free chemotherapy at district hospitals will provide relief to cancer patients, who have to come to Mumbai's Tata Memorial Hospital in Parel by incurring travel and lodging expenses and face related inconvenience.
iii. A physician and nurse from each of the district hospitals (where chemotherapy treatment will be provided ) would be imparted training by the Medical Oncology department of Tata Memorial.
iv. In context of this news, it is important to note that according to the National Cancer Registry Programme, 11 lakh people are diagnosed with cancer every year across India.
Quick Facts about Maharashtra:
Capital – Mumbai (summer), Nagpur (winter)
Current Governor – C. Vidyasagar Rao
Current Chief Minister – Devendra Fadnavis
Important National Park – Sanjay Gandhi National Park
♦ Kerala issues protocol to confirm brain death cases
With an aim to make organ transplants more transparent in the state, Kerala State Government has issued guidelines to be followed to confirm brain death cases.
Guidelines to confirm brain death cases:
i. A medical board comprising four doctors, including one in government service, will be the competent authority to declare a patient brain-dead.
ii. The guidelines have been divided in to three stages viz. – precautions to be taken before tests to determine brain death, analysis of reflective actions of brain and apnea test (known as sleep test).
iii. Distinction between a state of coma and brain has also been clearly outlined by precise definitions. A state of unconsciousness caused by damage to particular nerves of brain has been defined as 'Coma' while state of permanent destruction of brain cells caused by excessive bleeding in brain has been defined as 'Brain Death'.
Quick Facts about Kerala:
Capital – Thiruvananthapuram
Current Chief Minister – Pinari Vijayan
Current Governor – P. Sathasivam
Important National Park – Silent Valley National Park
♦ 8th Theatre Olympics concludes in Mumbai
51-day long 8th Theatre Olympics, concluded in Mumbai on April 8, 2018. Theatre Olympics is the largest international theatre festival and was held in India for the first time.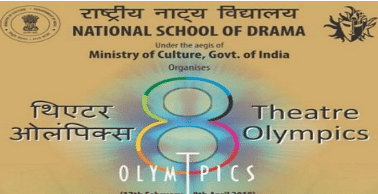 Conclusion of 8th Theatre Olympics:
i. 8th edition of Theatre Olympics was inaugurated by Vice President M Venkaiah Naidu at the Red Fort, Delhi, on February 17, 2018
ii. This event brought together around 25000 artists under the theme "Flag of Friendship".
iii. 8th Theatre Olympics witnessed 450 shows from more than 30 countries performed across 17 Indian cities – Agartala, Bengaluru, Ahmedabad, Bhopal, Chandigarh, Bhubaneswar, Chennai, Guwahati, Jaipur, Imphal, Jammu, Kolkata, Mumbai, New Delhi, Patna, Thiruvananthapuram, and Varanasi.
iv. Maharashtra Chief Minister Devendra Fadnavis was the Chief Guest at the closing ceremony. Union Minister of State (Independent Charge), Ministry of Culture, Dr. Mahesh Sharma and veteran Bollywood actor Nana Patekar were Guests of Honour.
♦ Odisha Public e-library opens in Berhampur
Odisha Public e-library set up by Berhampur Municipal Corporation (BeMC) and Odisha Society of America (OSA) has started functioning from the Berhampur Town Hall in Odisha.
Odisha Public e-library opens in Berhampur:
i. The Odisha Public e-library is expected to support the library movement of Odisha and help computer literate students.
ii. This library was inaugurated by Odisha chief minister Naveen Patnaik at BeMC's Maharaj Krushna Chandra Gajapati Research Library in Berhampur on 31st August 2017. Later it was moved to the Town Hall since it has more space and parking slots.
iii. The library has 12 computers, two servers and a projector. The library was opened for the public on 4th April 2018.
iv. The BeMC will connect with the National Informatics Center (NIC) so that its e-Granthalaya can also be accessed. The library has employed two staff members and one technical worker.
v. OSA (Odisha Society of America) is an association of Odia people living in the US. OSA had offered Rs 20 lakh for the e-library through chief minister's relief fund.
Some National Parks in Odisha:
Simlipal National Park
Bhitarkanika National Park
♦ UIDAI brings digitally-signed QR code with photo for e-Aadhaar
The UIDAI (Unique Identification Authority of India) has introduced secure digitally-signed QR Code on e-Aadhaar that will contain photograph of the Aadhaar holder along with demographic details.
UIDAI brings digitally-signed QR code with photo for eAadhaar:
i. UIDAI has replaced the existing QR code on e-Aadhaar containing the Aadhar holder's demographic details with a secured digitally-signed QR Code that contains demographics along with photograph of the Aadhaar holder.
ii. This has been introduced to enable better offline verification of an individual. QR code is a form of barcode label containing machine-readable information.
iii. e-Aadhaar is the electronic version of Aadhaar. It can be downloaded from UIDAI website.
iv. This new facility enables user agencies like banks to verify authenticity of Aadhaar card offline. Still, to confirm that a person is a bona fide owner of the Aadhaar card, a manual check of photo with the individual's face, should be performed.
v. UIDAI's e-Aadhaar QR Code reader software has been made available on its website since 27th March 2018.
vi. Now, in the e-Aadhaar, there will be a small QR code on front side of cutaway portion, with demographic data only. Large QR code on top portion of front side and the back will contain demographic data and photo.
vii. To make this information more secure and tamper-proof it will be signed with UIDAI digital signature.
About UIDAI (Unique Identification Authority of India):
CEO – Ajay Bhushan Pandey
Headquarters – New Delhi
♦ EPCES launches new membership software application
On 9th April 2018, Export Promotion Council for EoUs and SEZs (EPCES) announced that, it has launched a new membership software application.
EPCES launches new membership software application:
i. The new membership software application will help EPCES members to digitally interact with the council. The facility is available at https://membership.epces.in
ii. It will also help to reduce delays and paperwork for the members. The new facility allows members to renew their membership, apply for new membership or to download certificates, also.
iii. Officiating Chairman EPCES, Vinay Sharma said that, this move has been made with an aim to save paper and create a better work environment.
About Export Promotion Council fort EoUs and SEZs (EPCES):
Officiating Chairman – Vinay Sharma
Headquarters – New Delhi