Indian Affairs
Committee chaired by Secy, Corporate Affairs on review of penal provisions of Company Act 2013 submitted its final report to Shri Arun Jaitley
On August 27, 2018, the Committee constituted by Government of India in July 2018 to review framework dealing with offences under the Companies Act, 2013 submitted its report to the Union Minister for Finance & Corporate Affairs, Shri Arun Jaitley.
Objective:
To promote better corporate compliance.
Key Points:
i. This report is presented by the Secretary, Ministry of Corporate Affairs, Shri Injeti Srinivas, who chaired the committee.
ii. It had a detailed analysis of all penal provisions in 8 categories based on the nature of offences.
iii. The recommendations are:
To relieve Special Courts from adjudicating routine offences:
Re-categorization of 16 out of the 81offences by shifting them from jurisdiction of special courts to an in-house E-adjudication framework .
Remaining to continue under the jurisdiction of special courts ,
Status quo recommended in respect of all non-compoundable offences and serious corporate offences,
A transparent online platform for E-adjudication and E-publication of orders,
De-clogging the National Company Law Tribunal NCLT by:
Enlarging the jurisdiction of the Regional Director for offences under section 441 of the Companies Act 2013 ,
Central Government the power to approve the alteration in the financial year of a company under section 2(41);
Conversion of public companies into private companies under section 14 of the Act.
Recommendations related to corporate compliance and corporate governance:
Declaration of commencement of business,
Maintenance of a registered office,
Protection of depositors' interests,
Registration and management of charges,
Declaration of significant beneficial ownership, and
Independence of independent directors.
The other members of the committee included:
Shri Uday Kotak, Managing Director, Kotak Mahindra Bank, Shri Shardul S Shroff, Executive Chairman Shardul Amarchand Mangaldas & Co., Shri Ajay Bahl, Founder Managing Partner, AZB & Partners, Shri Amarjit Chopra, Senior Partner, GSA Associate, Shri Sidharth Birla, Former President, FICCI, Ms. Preeti Malhotra, Partner and Executive Director of Smart Group and Shri K V R Murty, Joint Secretary, Ministry of Corporate Affairs (Member Secretary of the Committee).
Petroleum and Natural Gas Minister launches online portal for Common Carrier Capacity booking on GAIL's pipelines, a first of its kind in Indian natural gas sector
On 27th August 2018, Minister of Petroleum and Natural Gas & Skill Development & Entrepreneurship Dharmendra Pradhan launched an online portal for enabling easy, efficient and transparent booking of Common carrier capacity for natural gas transmission services under GAIL's pipelines.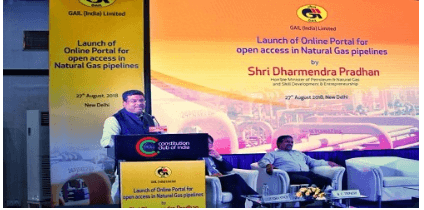 Online portal for Common Carrier Capacity booking on GAIL's pipelines:
i. The online portal is available at: www.gailonline.com. It is the first of its kind portal in the natural gas sector of India.
ii. This portal offers the facility to register pipeline capacity bookings online to gas consumers. It will serve on first come-first served basis.
iii. This portal will be a first step towards gas trading on hub or exchange traded platform in India. GAIL has been offering third party access to pipelines since 2004.
About GAIL:
♦ Chairman & MD – B.C. Tripathi
♦ Corporate Office – New Delhi
DAC clears procurement proposal worth over Rs 46,000 cr for services for Indian Army and Navy
On August 27, 2018, Defence Acquisition Council, DAC chaired by Defence Minister Nirmala Sitharaman approved approximately 46,000 crore rupees for procurement of services.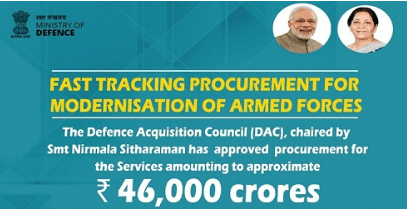 i. These include:
procurement of 111 Utility Helicopters for the Indian Navy at a cost of over 21,000 crore rupees and
other proposals amounting to around 25 thousand crore rupees.
ii. 111 Utility Helicopters is the first project under the Defence Ministry's Strategic Partnership (SP) Model that would boost 'Make in India' programme.
iii. Among the other proposals (worth 25,000 crore) are :
150 Indigenously Designed and Developed Advanced Towed Artillery Gun Systems for the Indian Army at a cost of around 3,365 core rupees. These have been developed by DRDO.
24 Sikorsky MH-60 Romeo maritime multi-role helicopters to enhance the capability of Navy at sea,
14 Vertically Launched Short Range Missile Systems to boost self-defence capability of ships against Anti-Ship Missiles. Out of them, 10 systems will be indigenously developed.
♦ Chief of Army Staff: General Bipin Rawat.
♦ Chief of Naval Staff: Admiral Sunil Lanba.
♦ Chief of Air Staff: Air Chief Marshall Birender Singh Dhanoa.
Bombardier Q400 turboprop: India's first biofuel flight from Dehradun to Delhi operated by Spice Jet took off
On August 27, 2018, SpiceJet would fly India's first biofuel-powered flight from Dehradun to Delhi on its Bombardier Q400 turboprop aircraft from Dehradun's Jolly Grant airport.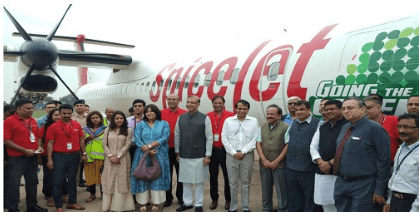 i. It has used a blend of the aviation turbine fuel and biofuel to power the flight.
ii. The flight had 20 people, including officials from aviation regulator DGCA and SpiceJet and was around 25 minutes.
iii. It would encourage sustainable and alternative fuels for the transportation & aviation sector under National Biofuels Policy.
iv. With this test, India will be among the first developing nations to adopt the sustainable alternative jet fuel.
About the Biofuel:
i. The fuel has been developed by Indian Institute of Petroleum, based in the capital of Uttarakhand.
ii. It's a mix of the oil extracted from the seeds of Jatropha plant.
iii. Five hundred farmer families in Chhattisgarh are involved in the production of the partially-refined biofuel.
iv. It was made partially from renewable resources such as agricultural residues, non-edible oils and bio-degradable industrial and municipal wastes.
Background:
i. Fuel is the biggest cost item for an airline, accounting for as much as one-third of the total cost of operations.
ii. The government will make an environment friendly aviation action plan till 2035.
iii. Billionaire Richard Branson's Virgin Atlantic was the first airline to have used biofuel to fly London-Amsterdam ten years ago.
Bombay Natural History Society (BNHS) opens its first regional centre near Chilika Lake
On August 27, 2018, Bombay Natural History Society (BNHS) opened its first regional centre in Chilika.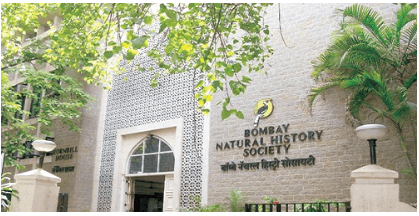 i. The regional branch was inaugurated in the premises of the Wetland Research and Training Centre (WRTC) of the Chilika Development Authority (CDA) at Chandrapur in Chilika.
ii. The branch would be engaged in the following activities:
Identifying the air route of the foreign birds flocking the Chilika lake during winter,
Sample collection,
Training related to bird census,
Publishing bird migration atlas books,
Examining various diseases among the birds and
To review the condition of the Nalabana bird sanctuary along with counting the birds.
iii. These activities would be carried out with the CDA and the Forest Department.
Background:
♦ BNHS has been promoting conservation of nature in India since its establishment in 1883.
♦ The Chilika Lake hosts one million birds with 97 species of intercontinental migratory birds.
BNHS:
♦ Director: Deepak Apte.
♦ Headquarters: Mumbai.