INDIAN AFFAIRS
11th Annual MedTech Summit of Biodesign Programme held in New Delhi
Department of Biotechnology under Union Ministry of Science and Technology has implemented Biodesign Programme with an objective to develop innovative and affordable medical devices as per unmet clinical needs of India. Under this programme, 11th Annual MedTech Summit was organised in New Delhi on December 2, 2017.
i. The summit was inaugurated by Union Minister of Science & Technology, Earth Sciences and Environment, Forests & Climate Change, Dr. Harsh Vardhan.
ii. During the event, Dr. Harsh Vardhan launched 'Noxeno', a nasal foreign body removal device. 'Noxeno' has been developed by Bengaluru-based start-up, InnAccel Technologies Private Limited.
First Meeting of the Fifteenth Finance Commission held in New Delhi
On 4th December 2017, the first meeting of Fifteenth Finance Commission was held at North Block in New Delhi.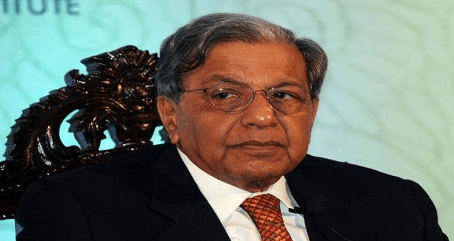 First Meeting of the Fifteenth Finance Commission:
i. The Meeting was held under the Chairmanship of N.K. Singh and was attended by all the other Members of the Commission – Shaktikanta Das and Dr. Anoop Singh, and the part time Members Dr. Ashok Lahiri and Dr. Ramesh Chand.
ii. The Fifteenth Finance Commission was constituted on 27th of November 2017. The Commission felt that wide-ranging consultations with all stake holders needed to be initiated.
iii. It was keen to seek academic inputs and inter-actions with leading Think Tanks and domain knowledge experts. It approved the setting-up of its office at Jawahar Vyapar Bhawan on Janpath in New Delhi.
About Finance Commission of India:
♦ First Finance Commission established – 1951
♦ A new Finance Commission is appointed every five years
♦ Consists of – chairman and four members
World's first IT campus for Persons with Disabilities to come up in Hyderabad
On December 2, 2017, Telangana State Government announced that it would set up the world's first Information Technology (IT) Campus for Persons with Disabilities (PWD) in Hyderabad.
IT Campus for Persons with Disabilities in Hyderabad:
i. In order to set up IT campus for Persons with Disabilities in Hyderabad, Telangana State Government has entered into an agreement with Vindhya E-Infomedia Private Limited.
ii. Vindhya E-Infomedia Private Limited is considered as a pioneer in creating inclusive workspace. Majority of its 1600 employee workforce comprises Physically Challenged, Visually Impaired and Hearing Impaired individuals.
iii. The IT Campus for PWDs in Hyderabad will focus on creating employment opportunities for Persons With Disabilities.
iv. It will be constructed over 10 acres land at the IT Park near Rajiv Gandhi International Airport. The campus will be equipped with all amenities viz. training centres, residential facility and delivery centres that will serve domestic as well as International clients.
International Arogya 2017, global summit on AYUSH and wellness, begins in Delhi
First International exhibition and Conference on AYUSH and Wellness sector, 'AROGYA 2017'begun in New Delhi on December 4, 2017. Abbreviation AYUSH stands for Ayurveda, Yoga and Naturopathy, Unani, Siddha and Homoeopathy. These are the medicine systems practised in India.
Highlights of 'AROGYA 2017':
i. This event was inaugurated by Union AYUSH Minister, Shripad Yesso Naik.
ii. Theme of this conference is 'Enhancing the global potential of Ayush'.
iii. This exhibition and Conference is being held to showcase the strength and scientific validation of these Indian System of Medicine (Ayurveda, Yoga and Naturopathy, Unani, Siddha and Homoeopathy) in the global context.
iv. Besides, it will also boost awareness and popularity of AYUSH Products in International market.
v. Over 200 Ayush and wellness delegates from over 50 countries will attend this four-day event.
PM inaugurates unique world-class hospital in Ahmedabad
On December 3, 2017, Prime Minister Narendra Modi inaugurated a unique world-class hospital at the Swaminarayan Gurukul Vidyapeeth Pratisthanam in Ahmedabad, Gujarat.
i. This 200-bed hospital offers best possible care for any ailment via three systems of medicine viz. Yoga, Ayurveda and Allopathy.
ii. The treatment process at this hospital combines best of traditional and modern medicine and offers world-class holistic care to patients at subsidised rates.
iii. PM Narendra Modi is on a visit to Gujarat for State Assembly election campaign. Gujarat State Assembly elections will be held on 9th and 14th December, 2017.
India and Germany Sign Climate Friendly Urban Mobility agreement
On December 4, 2017, India and Germany signed several agreements including a loan agreement for the project 'Climate Friendly Urban Mobility III'.
i. Government to Government Umbrella Agreement between Indian and German Government pertaining to Financial Cooperation in 2016 (II) under the Indo-German Development Cooperation was signed in New Delhi on December 4, 2017 wherein amount of Euro 200 million for the Financial Cooperation in form of loan for the project 'Climate Friendly Urban Mobility III' has been formalised.
ii. The agreement was signed by German Ambassaor, Dr. Martin Neyand and S. Selvakumar, Joint Secretary of Department of Economic Affairs under Union Ministry of Finance.
iii. Agreement also included grants worth Euro 11 million for other four projects – Community based sustainable Forest Management – Component I Manipur, Madhya Pradesh Urban Sanitation and Environment Programme, Sustainable Urban Infrastructure Development Odisha – Phase II and Green Energy Corridor – Intra-State Transmission System in Maharashtra.
Quick Facts about Germany:
♦ Capital – Berlin
♦ Currency – Euro
♦ Current Chancellor – Angela Merkel
♦ Important Rivers – Danube