INDIAN AFFAIRS
Uttar Pradesh becomes 1st Indian state to clear projects digitally
Uttar Pradesh (UP) has become the first state in India where business and investment projects can now be cleared digitally, without any human interface.
i. This has become possible with launch of 'Nivesh Mitra', a digital platform which will serve as a single-window clearance system.
ii. 'Nivesh Mitra' was launched by Prime Minister Narendra Modi during the inauguration session of the UP Investors' Summit in Lucknow.
iii. UP State Government has brought 20 departments under the ambit of 'Nivesh Mitra' and application for 70 clearances can be made through this platform.
iv. Any interested investor, sitting anywhere in the world, would only require to submit details of the project, along with required documentation, on the Nivesh Mitra website. Post satisfactory assessment of documents, the respective departments would clear the project file digitally.
v. Nivesh Mitra replaces Udyog Bandhu. Under Udyog Bandhu processes were eased significantly but one would still need to go through at least one government officer.
Quick Facts about Uttar Pradesh:
♦ Capital – Lucknow
♦ Current Governor – Ram Naik
♦ Current Chief Minister – Yogi Adityanath
♦ Important National Park – Dudhwa National Park
Parivartan scheme launched in Haryana
On February 21, 2018, Haryana Chief Minister Manohar Lal Khattar launched 'Parivartan', a scheme designed to address 10 issues in 46 developmental blocks of the state.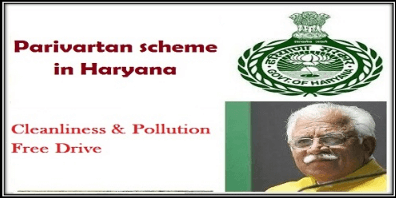 Information about Haryana Government's 'Parivartan Scheme':
i. 10 Issues to be addresses under 'Partivartan' Scheme: facilitation of financing, improving health services, making agriculture profitable and sustainable, implementing Swachh Bharat, engaging the youth, decongesting market areas, checking air pollution, effective policing, ensuring availability of identity-related services and ensuring road order and conduct.
ii. 46 top officials of the state, including those from the IAS, IFS and IPS cadres, have been allotted one block each, wherein they will undertake work related to the above stated 10 issues.
iii. Performance of officials will be based on 38 parameters placed under these 10 issues.
iv. This scheme will not only help in achieving developmental objectives of Haryana State Government but will also provide practical training to employees.
Quick Facts about Haryana:
♦ Capital – Chandigarh
♦ Current Governor – Kaptan Singh Solanki
♦ Current Chief Minister – Manohar Lal Khattar
♦ Important National Park – Sultanpur National Park
NER's first regional Centre for Agriculture with Israeli collaboration to be inaugurated in Mizoram
Israeli Ambassador to India, Mr Daniel Carmon has stated that a Centre for Agriculture, with collaboration of Israeli expertise, is going to be inaugurated in Mizoram on March 7, 2018.
Details about upcoming Centre for Agriculture in Mizoram:
i. This will be the first such centre in the North East region (NER) of India that is being established with Israeli collaboration.
ii. It has been set up at a cost of Rs 8-10 crore.
iii. This Centre has been set up with the tripartite collaboration of India's Ministry of Agriculture and Farmers Welfare, Government of Israel and State Government of Mizoram and is exclusively for processing of citrus fruits.
iv. Although the Centre is located in Mizoram, it will cater to the whole North East Region (NER) of India.
Telangana, Taiwan sign agreement for better technology partnership
On February 21, 2018, Telangana State Government signed a Memorandum of Understanding (MOU) with Taoyuan City of Taiwan for better technology partnership in the state.
Details about Telangana-Taiwan MoU:
i. This MoU was signed during World Congress on Information Technology (WCIT) 2018, in Hyderabad.
ii. The MoU was signed by Telangana's Information Technology Principal Secretary Jayesh Ranjan and Taoyuan City Director of the Board, Robert Huang in presence of Telangana's Minister for Information Technology and Industries, K.T. Rama Rao.
iii. Taoyuan City is home to many firms specialising in emerging technology viz. Internet of Things and robotics.
iv. As per the terms of the MoU, Taoyuan City and Telangana Sate Government will engage in an economic exchange of technology companies.
Quick Facts about Telangana:
♦ Capital – Hyderabad
♦ Current Governor – E.S.L. Narasimhan
♦ Current Chief Minister – K. Chandrashekar Rao
♦ Important National Park – Mrugavani National Park
Rajnath Singh announces special package for strengthening security in Arunachal Pradesh
On 20th February 2018, Union Home Minister Rajnath Singh announced that, the Central Government has sanctioned a special package to strengthen security in 3 eastern districts of Arunachal Pradesh: Tirap, Changlang and Longding.
Special package for strengthening security in Arunachal Pradesh:
i. The special package for strengthening security has been sanctioned to handle the prevailing insurgency problem in Andhra Pradesh.
ii. This special package also includes creation of new posts, purchasing of vehicles and equipment for police. Rajnath Singh made this announcement at the 31st Arunachal Pradesh statehood day programme.
iii. He ensured that funds from the government will be dispensed at the earliest for the construction of 20 police stations in the three districts. He also ensured that a forensic science laboratory will be sanctioned for Arunachal Pradesh.
Some wildlife sanctuaries of Arunachal Pradesh:
♦ Dibang Wildlife Sanctuary
♦ Talley Valley Wildlife Sanctuary
♦ Kamlang Wildlife Sanctuary
Gandhi Nagar station in Jaipur becomes India's first all-women railway station
On 19th February 2018, Jaipur's Gandhi Nagar railway station became India's first major railway station to be completely managed by women personnel.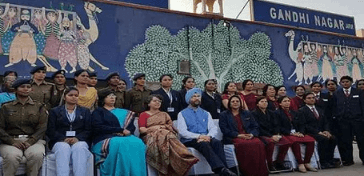 Jaipur's Gandhi Nagar station – India's first all-women railway station:
i. The all-women railway station was inaugurated by North Western Railway Zone general manager TP Singh.
ii. Gandhi Nagar station is located on the Jaipur-Delhi rail route. It has over 50 trains passing through and 25 trains halting there. It handles 7,000 passengers on a daily basis.
iii. Women staff have been appointed in various posts like point women (who change the tracks), station manager, chief reservation supervisor, assistant reservation supervisor, inquiry counter and reservation clerk, ticket checker etc.
iv. Sanitary napkin vending machine has been installed at the station. Women employees have been trained to function independently. CCTV cameras have been installed for security purposes and real time monitoring.
About North Western Railway:
♦ Established – 2002
♦ Divisions – Jaipur Division, Bikaner Division, Jodhpur Division, Ajmer Division
Rajnath Singh announces special package for strengthening security in Arunachal Pradesh
On 20th February 2018, Union Home Minister Rajnath Singh announced that, the Central Government has sanctioned a special package to strengthen security in 3 eastern districts of Arunachal Pradesh: Tirap, Changlang and Longding.
Special package for strengthening security in Arunachal Pradesh:
i. The special package for strengthening security has been sanctioned to handle the prevailing insurgency problem in Andhra Pradesh.
ii. This special package also includes creation of new posts, purchasing of vehicles and equipment for police. Rajnath Singh made this announcement at the 31st Arunachal Pradesh statehood day programme.
iii. He ensured that funds from the government will be dispensed at the earliest for the construction of 20 police stations in the three districts. He also ensured that a forensic science laboratory will be sanctioned for Arunachal Pradesh.
Some wildlife sanctuaries of Arunachal Pradesh:
♦ Dibang Wildlife Sanctuary
♦ Talley Valley Wildlife Sanctuary
♦ Kamlang Wildlife Sanctuary
PM announces Rs 20,000 crore Defence Industrial Corridor in Bundelkhand
On 21st February 2018, Prime Minister Narendra Modi announced that a defence industrial production corridor worth Rs 200 billion will be established in Bundelkhand.
Rs 20,000 crore Defence Industrial Corridor in Bundelkhand:
i. Bundelkhand is a region located between Uttar Pradesh and Madhya Pradesh. Narendra Modi said that, out of the two defence industrial production corridors announced in the union budget, one will be built in Bundelkhand.
ii. He made this announcement in the 'Investors Meet' at the Indira Gandhi Pratishthan in Lucknow.
iii. He said that, this project will bring an investment of Rs 200 billion. It will generate employment opportunities for 2,50,000 people. This corridor will connect Agra, Aligarh, Lucknow, Kanpur, Jhansi and Chitrakoot.
iv. The first out of the two defence industrial production corridors is built between Chennai and Bengaluru. It will link Kattupalli port, Chennai, Tiruchirapalli, Coimbatore and Hosur.
Some national parks in Madhya Pradesh:
♦ Mandla Plant Fossils National Park
♦ Madhav National Park
♦ Bandhavgarh National Park
Rajnath Singh announces special package for strengthening security in Arunachal Pradesh
On 20th February 2018, Union Home Minister Rajnath Singh announced that, the Central Government has sanctioned a special package to strengthen security in 3 eastern districts of Arunachal Pradesh: Tirap, Changlang and Longding.
Special package for strengthening security in Arunachal Pradesh:
i. The special package for strengthening security has been sanctioned to handle the prevailing insurgency problem in Andhra Pradesh.
ii. This special package also includes creation of new posts, purchasing of vehicles and equipment for police. Rajnath Singh made this announcement at the 31st Arunachal Pradesh statehood day programme.
iii. He ensured that funds from the government will be dispensed at the earliest for the construction of 20 police stations in the three districts. He also ensured that a forensic science laboratory will be sanctioned for Arunachal Pradesh.
Some wildlife sanctuaries of Arunachal Pradesh:
♦ Dibang Wildlife Sanctuary
♦ Talley Valley Wildlife Sanctuary
♦ Kamlang Wildlife Sanctuary