INDIAN AFFAIRS
Prime Minister Narendra Modi's Visit to Uttar Pradesh
i. Prime Minister Shri.Narendra Modi Visit Azamgarh, Mirzapur and his parliamentary constituency Varanasi in Eastern Uttar Pradesh for 2 days on 14th & 15th of July.
ii. Prime Minister Narendra Modi today dedicated to the nation the Varanasi City Gas Distribution (CGD) network and Piped Natural Gas(PNG)services under PM's Urja Ganga pipeline.
iii. On July 15,2018, The Prime Minister, Shri Narendra Modi launched the Bansagar Canal Project in Mirzapur ………………………………………..
Haryana government launched 'Paudhagiri' campaign to increase green cover
On July 16, 2018, Haryana Chief Minister Manohar Lal Khattar launched a campaign called 'Paudhagiri'.
i. About 3,100 students participated in the movement.
Objective:
The aim is to increase the green cover of the state.
Key Points:
i. This scheme was initiated by the CM planting a sapling of 'maulsari' in the premises of Tau Devi Lal sports complex in Gurgaon.
ii. Under this scheme, 22 lakh students of government and private schools from class 6 to 12 would plant saplings for the(monsoon) months of July , August and September.
iii. He/She will have to post a selfie with the growing sapling to receive Rs.50 every 6 months.
iv. Thus the student will get Rs 300 in the next three years for looking after a sapling.
Haryana:
♦ Capital: Chandigarh.
♦ Chief Minister: Manohar Lal Khattar.
♦ Governor: Kaptan Singh Solanki
♦ National Parks: Sultanpur National Park, Kalesar National Park.
Nickname:
| | |
| --- | --- |
| City | Nickname |
| Gurugram | Millennium city of India. |
| Bhiwani | Mini cuba |
Vaccination drive against measles-rubella launched by Gujarat govt with Rs.300 crore help from Centre
On July 16, 2018, The Gujarat government launched a measles-rubella vaccination drive with the help of Centre's Rs.300 crore financial assistance.
i. This campaign is aimed at protecting children from measles and rubella .
ii. It would last for 5-6 weeks vaccinating 1.6 crore children between the age of nine months to 15 years.
iii. It would be carried out in all government hospitals and 106 mobile vans were dispatched to reach the remotest sections of the state.
iv. In Vadodara district alone, 4 lakh children would be vaccinated in 1,827 in schools, aganwadis and hospitals.
v. The campaign is being promoted by former Test crickter Irfan Pathan.
Gujarat:
♦ Capital: Gandhinagar
♦ Chief Minister: Vijay Rupani
♦ Governor: Om Prakash Kohli
♦ National Parks: Gir Forest National Park , Vansda National Park, Blackbuck National Park, Jambughoda Wildlife Sanctuary.
INTERNATIONAL AFFAIRS
Pakistan-China Optical Fibre Cable (OFC) project: First land-based communication link between Pakistan and China
On 13th July 2018, Pakistan Prime Minister Nasirul Mulk inaugurated the Pakistan-China Optical Fibre Cable (OFC) project that will be the first land-based communication link between Pakistan and China.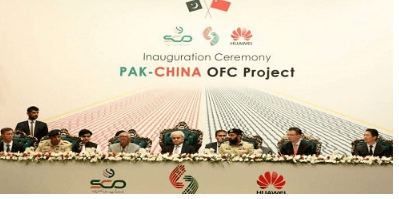 Pakistan-China Optical Fibre Cable (OFC) project:
i. Pakistan-China Optical Fibre Cable (OFC) project was completed in 2 years. It will help in developing the telecom sector in Gilgit-Baltistan region.
ii. It will also help in enhancement of security of the schemes under the China-Pakistan Economic Corridor (CPEC).
iii. This project involves an 820 km-long underground OFC from Rawalpindi to Khunjerab and a 172-km aerial OFC from Karimabad to Khunjerab.
iv. This project has been launched as part of the CPEC. It comprises 26 high-capacity microwave links as backup to the OFC network and 9 node centres in various locations.
v. Chinese Ambassador Yao Jing said that, OFC was one of the nine projects to be finished under the CPEC. He added that, the CPEC will also have a digital corridor.
vi .Maj Gen Amir Azim Bajwa, Director general of the Special Communication Organisation, said that, a communication link had been developed with the Chinese side on the border and has been tested successfully for end-to-end connectivity.
Some important dams in India:
♦ Pakal Dul Dam – Marusudar River
♦ Sardar Sarover Gujarat Dam – Narmada River
♦ Srisailam (N.S.R.S.P) Dam – Krishna River