Indian Affairs
HM Rajnath Singh inaugurates pilot project of smart fencing along Indo-Pak Border in Jammu
On 17th September 2018, India's first 'smart fence' pilot project was inaugurated by Union Home Minister Rajnath Singh along the Indo-Pak border at the Border Security Force (BSF) frontier headquarters in Ploura, Jammu.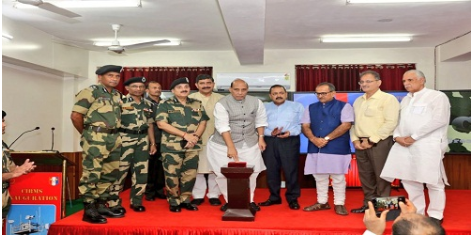 India's first 'smart fence' pilot project:
i. The Smart fencing uses various devices for surveillance, communication and data storage. It will provide 24×7 surveillance on the border irrespective of the weather condition.
ii. This pilot project involves setting up of laser-activated fences and technology-enabled barriers to safeguard vulnerable gaps along the borders.
iii. It comprises two border fencing projects, each covering a 5.5 km stretch along the International Border (IB) in Jammu.
iv. One of the smart fence was developed by a Slovenian company and the other one has been developed and deployed by an Indian company.
v. The pliot project has been launched as a part of the Comprehensive Integrated Border Management System (CIBMS)programme of BSF.
vi. CIBMS is designed to safeguard regions where physical surveillance is not feasible due to inhospitable terrain or riverine borders.
About Border Security Force (BSF):
♦ Director General – KK Sharma
♦ Headquarters – New Delhi
NHA launched website & helpline number for Ayushman Bharat beneficiaries
On September 17, 2018, a website and a helpline number of the Ayushman Bharat — National Health Protection Mission (AB-NHPM) was launched to check the enrolment of the beneficiaries.
i. The website is: mera.pmjay.gov.in & the helpline is : (14555)
ii. This was launched by the National Health Agency (NHA), the apex body implementing the scheme.
iii. Here the prospective beneficiaries could check if their name is there in the final list.
iv. This can be checked through the mobile number of the beneficiary, which is verified through an OTP and then the KYC (know your customer) details can be completed online.
v. Additionally, 'Ayushman Mitras' would assist patients and hospitals to to verify the eligibility and enrolment to the scheme.
vi. All the beneficiaries will be given letters having QR codes which will be scanned and a demographic authentication will be provided.
Background:
The ambitious insurance scheme Pradhan Mantri Jan Arogya Yojana (PMJAY) which aims to provide a coverage of Rs 5 lakh per family annually and benefit more than 10 crore poor families will be rolled out from Jharkhand on September 23 by Prime Minister Narendra Modi.
International Affairs
Union Trade Minister Suresh Prabhu participated in 2-day G-20 trade ministers meeting in Argentina
On September 14-15, 2018, Union Minister of Commerce & Industry and Civil Aviation, Suresh Prabhu participated in the 2-day G-20 Trade and Investment Ministerial Meeting, held in Mar del Plata in Argentina.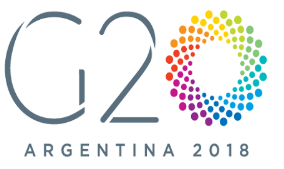 This is the first in 2 years.
Objective:
To discuss developments in international trade and its implications for the global economy.
Key Points:
i. The theme for the G-20 Trade and Investment Ministerial Meeting was: "Building Consensus for Fair and Sustainable Development".
ii. It was held under the chairmanship of:
H.E. Amb. Jorge Faurie, Minister of Foreign Affairs and Worship of the Argentine Republic, and
H.E. Mr. Dante Sica, Minister of Production and Labor of the Argentine Republic.
iii. All the G-20 countries participated with guests countries like:
Jamaica (on behalf of CARICOM), Senegal (on behalf of NEPAD) and Singapore (on behalf of ASEAN).
iv. Also, the following International Organizations participated in the meeting: IMF, ITC, OECD, UNCTAD, World Bank, WTO, CAF, and IADB.
v. Discussions on different areas of focus took place. They are:
opportunities and challenges of globalization, innovation and technological advancements.
vi. According to the meeting, economic growth remains robust, while trade shows signs of recovery since the financial crisis, with an increase of 4.7% in 2017 and a projected increase of 4.4% for 2018.
vii. The 36 heads of delegation agreed on the following:
Agri-food global value chains should be considered very important for achieving sustainable food future. This can particularly benefit developing countries.
Supporting MSMEs and women entrepreneurs.
For increasing productivity, the New Industrial Revolution (NIR) and the adoption of digital technologies is very important.
Background:
G-20 members represent 75% of international trade, half of foreign direct investment flows, half of foreign flows and 80% of global production.
About G-20 countries:
♦ G-20 is made up of 19 countries and the EU.
♦ The countries are Argentina, Australia, Brazil, Canada, China, France, Germany, India, Indonesia, Italy, Japan, Republic of Korea, Mexico, Russia, Saudi Arabia, South Africa, Turkey, the United Kingdom and the United States.
♦ The other invited members are Chile, Netherlands, Spain and representatives of regional groups of Jamaica, Rwanda, Singapore and Senegal.
2nd Mt Everest Friendship Exercise: Nepal and China conducts second joint military exercise in Sichuan province
On September 17, 2018, the second edition of Nepal-China joint military exercise 'Mt Everest Friendship Exercise' began in southwestern Sichuan province of China.
Objective:
With a special focus on combating terror.
Key Points:
i. The 12-day long exercise would have 12 military personnel participating from Nepal's Army.
ii. It is the second time that the Nepal Army is participating in a joint military drill with People's Liberation Army.
iii. First such drill was held in April 2017.
iv. The drill will have special focus on:
Combating Terror and
Disaster management training.
Nepal:
♦ Capital: Kathmandu.
♦ Currency: Nepalese Rupee.
♦ Nepal and India's Exercise: 'Surya Kiran' (having being conducted for 13 years and has 300 participants each)
China:
♦ Capital: Beijing.
♦ Currency: Renminbi.
IHDI suggests high inequality in India, higher in Pakistan and Bangladesh: HDI report by UNDP
On September 17, 2018, according to the human development index (HDI) report released by the United Nations Development Programme (UNDP), India is ahead of Bangladesh and Pakistan in inequality-adjusted HDI (IHDI).
i. India has IHDI of 0.468, a 26.8% reduction from the unadjusted HDI of 0.640.
ii. According to gender inequality index (GII) of the report, India has a GII of 0.524, ranking it 127 out of 160 countries in 2017, while Pakistan is ranked 133 and Bangladesh 134.
iii. GII is the loss in human development due to inequality between female and male achievements in reproductive health, empowerment, and economic activity.
UNDP:
♦ Headquarters: New York city, USA.