INDIAN AFFAIRS
Swachh Bharat Mission-Urban Launches Smart Star-Rating for Garbage Free Cities
On January 20, 2018, Minister of State (I/C) for Housing and Urban Affairs, Hardeep Singh Puri along with the Chief Minister of Goa, Manohar Parrikar launched the 'Protocol for Star Rating of Garbage-Free Cities' in Goa.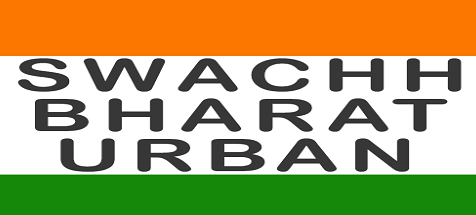 Information about Protocol for Star Rating of Garbage-Free Cities:
i. This seven star-rating system has been developed by the Swachh Bharat Mission – Urban.
ii. Under this system, cities will be assessed on multiple cleanliness indicators for solid waste management . Some of the indicators are door to door collection, source segregation, bulk generator compliance, sweeping, scientific processing of waste, scientific land filling, plastic waste management and dump remediation.
iii. Based on the assessment, cities can be rated as 1, 2, 3, 4, 5 and 7 star in accordance with the protocol conditions specified for each of the rating.
iv. This is a SMART rating (Single metric, Measurable, Achievable, Rigorous verification, Targeted towards outcomes) system that provides stakeholders with a single metric to rate a city's cleanliness.
President Ram Nath Kovind approves disqualification of 20 AAP MLAs for Holding Office of Profit
On 21st January 2018, President Ram Nath Kovind approved disqualification of 20 MLAs of Aam Aadmi Party (AAP) for holding offices of profit.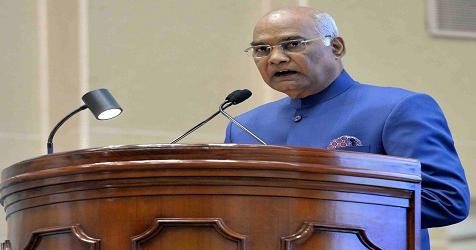 Disqualification of 20 AAP MLAs:
i. Accepting recommendations of the Election Commission (EC) President Ram Nath Kovind has disqualified 20 members of the Delhi legislative assembly.
ii. The AAP MLAs were appointed as parliamentary secretaries. The Election Commission has stated that, being parliamentary secretaries, they held office of profit and they should be disqualified as MLAs of the Delhi Assembly.
iii. The members who have been disqualified are: Praveen Kumar, Sharad Kumar, Adarsh Shastri, Madan Lal, Charan Goel, Sarita Singh, Naresh Yadav, Jarnail Singh, Rajesh Gupta, Alka Lamba, Nitin Tyagi, Sanjeev Jha, Kailash Gehlot, Vijendera Garg, Rajesh Rishi, Anil Kumar Vajpayee, Somdutt, Sukhvir Singh, Avtar Singh Kalka and Manoj Kumar.
About Aam Aadmi Party (AAP):
♦ Headquarters – New Delhi
♦ Leader – Arvind Kejriwal
♦ Founded – 2012
India's automated ocean pollution system to begin operation from April
S S C Shenoi, Director of Indian National Centre for Ocean Information Services (INCOIS)has stated that India will soon have its own automated ocean pollution observation system.
Details about India's automated ocean pollution system:
i. This new ocean data acquisition system (called automated moorings), which is expected to be functional in April 2018 will not only help in tracking ocean pollution levels but will also offer insights on how the marine system is changing.
ii. Estimated cost for setting up this system is Rs 100 crore.
iii. After being fully operational, this system will do away with the present practice of collecting water samples from sea and studying their pollution levels thereafter.
Quick Facts about INCOIS:
♦ Established in – 1999
♦ Located in – Hyderabad, Telangana
♦ Functions under – Union Ministry of Earth Sciences
Arunachal Pradesh CM inaugurates World War II Memorial Museum in Changlang
On January 21, 2018, Arunachal Pradesh Chief Minister Pema Khandu inaugurated the World War II Memorial Museum in state's Changlang district.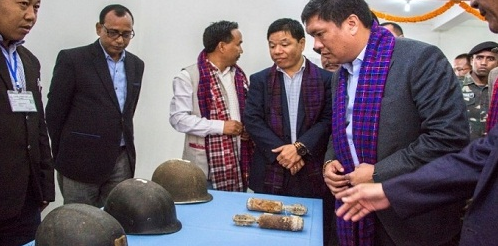 About World War II Memorial Museum in Changlang:
i. World War II Memorial Museum in Changlang has been built by the Union Culture Ministry at a cost of Rs 2.25 crore.
ii. It has been built in memory of those who laid down their lives in World War II.
iii. Remnants of the war, personal belongings of the soldiers and other persons involved have been preserved at this museum. Traditional items from indigenous Tangsa community have also been displayed at the museum.
iv. This memorial museum is expected to boost international and domestic tourist inflow especially from Southeast Asian countries.
Quick Facts about Arunachal Pradesh
♦ Capital – Itanagar
♦ Current Governor – B. D. Mishra
♦ Current Chief Minister – Pema Khandu
♦ Important National Park – Mouling National Park
Manipur CM N Biren Singh launches health assurance scheme for poor & disabled people
On January 21, 2018, Manipur Chief Minister N Biren Singh launched the Chief Minister-gi Hakshelgi Tengbang (CMHT), a health assurance scheme for the poor and disabled people.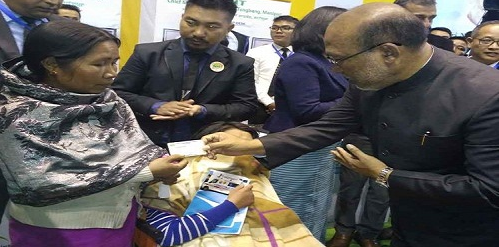 Information about Manipur Government's Chief Minister-gi Hakshelgi Tengbang (CMHT):
i. Under this scheme, poor people of Manipur will be provided cashless treatment at government hospitals, health centres and other empanelled selected private hospitals.
ii. All eligible families, identified from the Socio Economic Caste Census (SECC), will be provided Rs. lakh cover for treatment of seven critical identified critical ailments viz. cardiovascular diseases, neurological conditions, kidney ailments, liver ailments, neo-natal diseases, cancer and burns.
iii. Chief Minister-gi Hakshelgi Tengbang (CMHT) will have convergence with Central Government programmes like Prime Minister Jana Aushadhi Programme and Free Diagnostic Programme.
Quick Facts about Manipur:
♦ Capital – Imphal
♦ Current Chief Minister – N Biren Singh
♦ Current Governor – Najma Heptulla
♦ Important National Park – Sirohi National Park
Maharashtra to launch weather advisory system for farmers
Maharashtra State Government will soon start a system to issue daily district-wise weather advisory to farmers across the State.
i. Objective behind this initiative is to help farmer to minimise their crop losses due to adverse weather conditions.
ii. Maharashtra's Agriculture commissionerate has already completed setting up of weather stations at 2050 sites across the state. These stations have started collecting data and are uploading it on central server of the state government.
iii. It is to be noted that Union and state governments get their weather alerts and inputs from the India Meteorological Department (IMD). However, information provided by IMD gives a broader view while the system that will be introduced by Maharashtra State Government will provide more accurate information, which will be beneficial for farmers in scheduling their activities.
Quick Facts about Maharashtra:
♦ Capital – Mumbai
♦ Current Chief Minister – Devendra Fadnavis
♦ Current Governor – Chennamaneni Vidyasagar Rao
♦ Important National Park – Sanjay Gandhi National Park
India's First Garbage Festival 'Kachra Mahotsav 2018' organised in Chhattisgarh
On 19th to 21st January 2018, 'Kachra Mahotsav 2018', India's first garbage festival was organised by the Raipur Municipal Corporation in Chhattisgarh.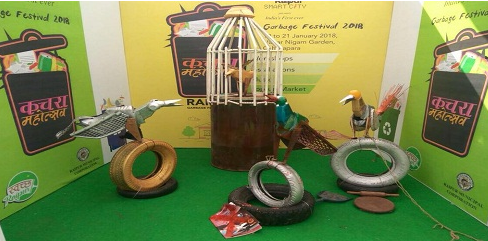 Kachra Mahotsav 2018:
i. Kachra Mahotsav's aim was to increase awareness, utilise the waste accumulated in a creative way, and to display various techniques for reusing things that are branded as garbage.
ii. Workshops, talks, and performances were conducted as a part of the event.
About National Parks in Chhattisgarh:
♦ Indravati National Park – Bijapur
♦ Kanger Ghati National Park – Jagdalpur