INDIAN AFFAIRS
Dharmendra Pradhan lays foundation stone for NSTI at Barang, in Bhubaneswar
On 16th July 2018, Union Skill Development and Entrepreneurship Minister Dharmendra Pradhan laid the foundation stone for National Skill Training Institute (NSTI) at Barang, in Bhubaneswar, to be established at a cost of Rs 160 crore.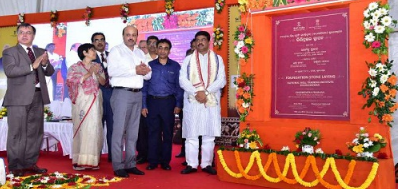 National Skill Training Institute (NSTI):
i. The National Skill Training Institute (NSTI) is developed with an aim to meet the increasing demands for skilled manpower.
ii. The NSTI will be developed on an area of 5 acres. It will feature advanced facilities to present skill development courses to the trainers and assessors.
iii. Candidates will be trained with new age courses to meet the needs of the industry.
iv. NSTI will function under the Directorate General of Training (DGT). It will have training activities like Trainers Training (Long term/Short term), Refresher Training and Re-skilling/Up skilling courses.
v. Dharmendra Pradhan said that, Skill India is a demand driven programme. It trains people in job roles that are market relevant and based on current industry needs and standards.
vi. A Memorandum of Understanding (MoU) was signed with National Small Industries Corporation (NSIC) for beginning a temporary campus of NSTI Bhubneswar in their premises at Mancheswar Industrial Area, Bhubaneswar. This will help to start the courses at the earliest.
vii. The major highlights of this training facility will be the use of Internet of Things in Agriculture, Smart Cities and Health Care, courses in Mechatronics and Mobile Repair.
viii. The main objective is to improve the existing training infrastructure and develop new institutions in the unserved areas.
ix. This initiative will provide necessary and employable skills to youngsters.
x. The Skill Development and Entrepreneurship ministry has involved IBM, NASSCOM and SAP to create courses on latest technologies to be taught in this institute.
xi.IBM has provided courses at advanced diploma level in IT Networking and Cloud Computing.
xii. NASSCOM is offering courses on Internet of Things. SAP will help to teach skills on Enterprise Resource Planning and Data Sciences.
xiii. An MoU was signed by Directorate of General Training and SAP. As per which, SAP will train the trainers at NSTI Bhubaneshwar on Business One enterprise software.
About SAP:
♦ CEO – Bill McDermott
♦ President and Managing Director, SAP Indian Subcontinent – Deb Deep Senguptar
Country's 1st Defence incubator to come up in T-Hub
On July 13, 2018, Country's first Defence Incubator will come up in T-Hub , Hyderabad.
i. It has been proposed by the Telangana IT minister KT Rama Rao.
ii. It will be coming up in the phase 2 of T-hub.
iii. It will give boost to Indian Defence and aerospace research and industry.
iv. It will be built under the Ministry's Innovation for Defence Exellence (iDEX) scheme.
v. Under the scheme research in the fields of Aerospace & Defence by MSMEs, start-ups, research institutions, educational institutions are to be funded
vi. The iDEX will be funded and managed by a Defence Innovation Organisation (DIO).
vii. Initial corpus of Rs.100 crore has been contributed by PSUs HAL and BEL with Rs.50 crore each.
T-Hub:
Founded: 5 November 2015.
Location: Hyderabad , Telangana.
It is the largest Incubation facility in the country.
Workshop on financial management in New Delhi organized by NMDFC
On July 17, 2018, The National Minorities Development and Finance Corporation, NMDFC, organized a workshop on financial management in New Delhi.
i. The workshop had the heads of states for NMDFC.
ii. Minority affairs Minister Mukhtar Abbas Naqvi announced that awareness programmes will be run by the institution.
iii. NMDFC provides financial assistance by giving loans to minorities at affordable interest rate.
iv. It has over 6 lakh 37 thousand beneficiaries for various programmes.