INDIAN AFFAIRS
Ayushman Bharat – National Health Protection Mission (AB-NHPM) to be implemented by 20 states under MOU with Health Ministry
On June 14, 2018, Union Minister of Health and Family Welfare Shri JP Nadda, signed Memorandum of Understanding with the State Health Ministers of 20 States to launch the Ayushman Bharat – National Health Protection Mission (AB-NHPM) at a Health Ministers conclave in New Delhi.
Objectives:
In formalizing the partnership between Centre and States.
Key points:
AB-NHPM will protect around 50 crore people (from about 10 crore families).
AB-NHPM will protect the people and at the same time Health and Wellness Centres (HWCs) will deliver comprehensive primary health care.
This would provide preventive, promotive, and curative care for non-communicable diseases, dental, mental, geriatric care, palliative care.
Government has initiated universal screening of common NCDs such as diabetes, hypertension and common cancers along with Tuberculosis and Leprosy.
Around 10 states and union territories are expected to implement the scheme through a trust model, while five may do so through a mixture of trust and insurance
Gujarat, Uttar Pradesh, Bihar, Chhattisgarh, Madhya Pradesh, Kerala and Jharkhand are some of the states.
West Bengal , Odisha, Karnataka, Punjab and Delhi are yet to implement this programme.
Another 5 states and Union Territories will join this programme by the end of June.
A web portal for initiating the empanelment of hospitals under the mission was also launched.
Training / Demo of empanelment software will be conducted and States can operationalize empanelment of hospitals by 1st of July.
About Ayushman Bharat – National Health Protection Mission (AB-NHPM):
Ayushman Bharat – National Health Protection Mission is a scheme that was announced by the Union Minister for Finance and Corporate Affairs, Shri Arun Jaitely while presenting the General Budget 2018-19 will cover over 10 crore poor and vulnerable families (approximately 50 crore beneficiaries) providing coverage upto 5 lakh rupees per family per year for secondary and tertiary care hospitalization. Ayushman Bharat – National Health Protection Mission will subsume the on-going centrally sponsored schemes – Rashtriya Swasthya Bima Yojana (RSBY) and the Senior Citizen Health Insurance Scheme (SCHIS).
Under this scheme ,Rs 1200 crore has been allotted for establishing 1.5 lakh Health and Wellness Centres. 24 new Government Medical Colleges and Hospitals will be set up, by up-grading existing district hospitals in the country.at least 1 Medical College for every 3 Parliamentary Constituencies and at least 1 Government Medical College in each State of the country.
Gujarat and Tripura ranked first according to Report on the Composite Water Management Index : NITI Aayog
On June 15, 2018, NITI Aayog has prepared a report on Composite Water Management Index (CWMI). The Report was launched today by Shri Nitin Gadkari, Minister of Minister for Road Transport & Highways, Shipping and Water Resources and Dr. Rajiv Kumar, Vice Chairman, NITI Aayog. Shri Amitabh Kant, CEO, NITI Aayog and Secretaries/ senior officials of Ministry of Water Resources, Drinking Water & Sanitation and Rural Development.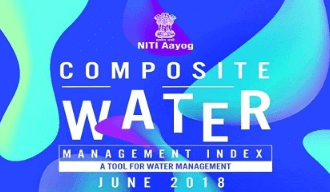 Objectives:
To enable cooperative and competitive federalism.
Key points:
i. The CWMI is an important tool to assess and improve the performance of States/ Union Territories in efficient management of water resources.
ii. Data collection exercise has been done in partnership with Ministry of Water Resources, Ministry of Drinking Water & Sanitation and all the States/ Union Territories.
iii. This would help enabling the states and Central ministries/Departments to formulate and implement suitable strategies for better management of water resources.
iv. Gujarat as number one in the reference year (2016-17), followed by Madhya Pradesh, Andhra Pradesh, Karnataka and Maharashtra.
v. In North Eastern and Himalayan States, Tripura has been adjudged number 1 in 2016-17 followed by Himachal Pradesh, Sikkim and Assam.
vi. In terms of incremental change in index (over 2015-16 level), Rajasthan holds number one position in general States and Tripura ranks at first position amongst North Eastern and Himalayan States.
About Composite Water Management Index (CWMI):
CWMI has been developed by NITI Aayog comprising 9 broad sectors with 28 different indicators covering various aspects of ground water, restoration of water bodies, irrigation, farm practices, drinking water, policy and governance . The reporting states were divided into two special groups – 'North Eastern and Himalayan states' and 'Other States', to account for the different hydrological conditions across these groups.
About Other Indexes released by NITI Aayog:
In February 2018, NITI Aayog had released a report on "Healthy States, Progressive India" which covered the ranking of States/ UTs in various health parameters.
106th Science Congress to be hosted by Lovely Professional University (LPU) in Jalandhar from January 3 to 7, 2019.
On June 15, 2018, It was announced that The 106th Indian Science Congress will be held at Lovely Professional University (LPU) in Jalandhar, Punjab from January 3 to 7, 2019.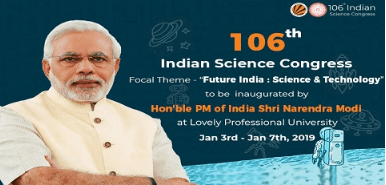 Key points:
i. The event will be inaugurated by PM Narendra Modi.
ii. The theme for the five-day science congress is 'Future India: Science & Technology'
iii. It will be organised by the Indian Science Congress Association (ISCA).
iv. It will have 18 plenary sessions, including those of medical, environmental, chemical and other science domains.
v. It will also have four parallel mega events, including women's science conference, children's science conference, science communicators meet and science exhibition.
vi. Participant countries would be US, Australia, Germany and Switzerland.
vii. About 15,000 delegates, including 300 top scientists and Nobel Laureates worldwide are going to participate.
viii. India's DRDO, DST, Defence units, Switzerland's Aglient, Camag companies would be present.
About Indian Science Congress Association (ISCA):
The ISCA works under Department of Science & Technology, Ministry of Science & Technology (Government of India). Its main objective is s to advance and promote cause of science in India, recognize and support excellence in scientific research, technologies and innovations.
Piyush Goyal dedicates NLCIL's Three 100 MW Solar Power Projects to the Nation
On 14th June 2018, Union Minister for Railways, Coal, Finance & Company Affairs, Piyush Goyal inaugurated Neyveli Lignite Corporation India Limited (NLCIL)'s three 100 MW Solar Power Projects for commercial operation and dedicated these projects to the Nation.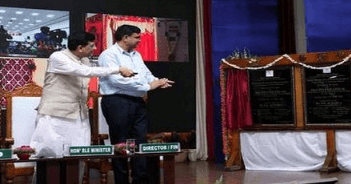 NLCIL's Three 100 MW Solar Power Projects dedicated to the Nation:
i. The Solar Power projects located at Thoppalaakkarai and Sethupuram in Virudhunagar District and Sellaiya Sezhiyanallur in Tirunelveli District, with an installed capacity of 100 MW each, were set up at a cost of Rs.1300 Crores.
ii. This is inclusive of Operation & Maintenance cost for 15 Years. The power generated from these units will be provided to Tamilnadu Power Generation and Distribution Company (TANGEDCO) at a cost of Rs.4.41/- per unit.
iii. A MoU was also signed by NLCIL and Anna University. The MoU was signed by Dr. V. Manoharan, General Manager/Centre for Applied Research & Development, NLCIL, Neyveli and Dr. S. Ganesan, Registrar, Anna University, Chennai.
iv. The MoU will help to establish a pilot project on solar drying of lignite, to increase its Caloric Value from 2700 Kcal to 4350 Kcal. The cost of the pilot project is Rs.2 Crore 69 Lakhs.
About NLCIL:
♦ Status – 'Navratna' profit making, Government Enterprise
♦ Purpose – mining of lignite and generation of power through lignite based thermal power plants
♦ Established – 1956
National Tribal Museum proposed to be set up at Delhi-Shri Jual Oram
A National Tribal Museum and a National Level Tribal Research Institute is proposed to be set up at Delhi by the Ministry of Tribal Affairs.
National Tribal Museum and a National Level Tribal Research Institute:
i. This announcement was made by Minister of Tribal Affairs Jual Oram on 14th June 2018.
ii. He said that the Museum will feature the rich tribal culture and heritage using advanced technologies.
iii. The proposal to establish the Museum and Tribal Research Institute has been sent to the NITI Ayog.
iv. According to the announcement made by Prime Minister Narendra Modi on 15th August 2016, Ministry of Tribal Affairs, is forming six Tribal Freedom Fighters Memorials. Out of which two are of national importance: Narmada (Gujarat) and Birsa Munda Central Jail (Ranchi).
v. Secretary, Ms. Leena Nair said that out of 115 Aspirational Districts identified by NITI Ayog, Ministry of Tribal Affairs is focusing on 40 tribal dominated Aspirational Districts.
vi. She also talked about the, Van Dhan Yojana launched in 2018 for providing livelihood for tribals by using non-timber forest produce having an estimated value of Rs 2 lakh crore per year.
Some important international airports in India:
♦ Kempegowda International Airport – Bengaluru, Karnataka
♦ Mangalore International Airport – Mangalore, Karnataka
♦ Cochin International Airport – Kochi, Kerala
Telangana has got annual allotment of Rs 1,813 crfrom the previous Rs.258 crore for Railway projects
On June 15, 2018, The Railway Minister PiyushGoyal announced the annual allocation of Rs. 1813 crore to Telengana for railway project.
Key points:
i. It is an increase from an average of Rs 258 crore.
ii. The minister flagged off the extended Kacheguda- Nizamabad passenger train up to Karimnagar.
iii. South Central Railway (SCR) has become the first railway zone in the country to complete 100 per cent LED lighting at all the stations under its jurisdiction
iv. Initiatives and passenger amenities to be provided by the South Central Railway and at Nizamabad station of 'Grade A' category.
v. Phase two of Multi-Model Transit System (MMTS) to be taken up by the state and central government.
vi. Setting up of a multi-storey car parking facility at Secunderabad station to be initiated soon.
vii.Secunderabad railway station would be connected to nearest Hyderabad Metro rail point through a skywalk for the benefit of passengers.
South Central Railway:
Headquarters: Secunderabad.
Dams in Telengana :
NagarjunaSagar Dam, Srisailam Dam, Sriramsagar Dam, NizamSagar.
10 day 'Yoga Ambassadors Tour' inaugurated by Ministry of AYUSH with Kerala Government
On June 15, 2018, As a part of Kerala government's tourism promotion programme, 'Yoga Ambassadors Tour',a specialized trip for yoga professionals from around the world was inaugurated by Minister of State for AYUSH Shripad Yesso Naik.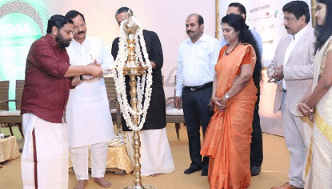 Key points:
i. It aims to design a wholesome yoga package for visiting tourists with well-known yoga destinations with related activities.
ii. It is a 10 day educational tour for yoga professionals .
iii. It has been organized by Association of Tourism Trade Organisations (ATTOI) in association with the Ministry of AYUSH and Kerala Tourism department.
iv. Places like Ayurveda, Kerala , Kanyakumari district of Tamil Nadu , renowned Yoga destinations like Shivandanda yoga ashram, the meditation centre at Vivekanada Rock in Kanyakumari and sites of Munnar will be included .
Dams in Kerela:
Neyyar Dam, Idukki Dam.
National Parks in Kerala:
Periyar National Park , Eravikulam National Park, Silent Valley National Park , Pampadum National Park.
Naval Women Mountaineers team led by Lt Cdr Kokila Sajwan Summit Mount Deotibba
On 10th June 2018, an all women Naval mountaineering team led by Lt Cdr Kokila Sajwan summited Mount Deotibba.
Naval Women Mountaineers summit Mount Deotibba:
i. The expedition was flagged off by Vice Admiral AK Chawla, AVSM, NM, VSM, Chief Of Personnel on 28th May 2018 from New Delhi.
ii. Mount Deotibba is the second highest peak (6001M) in the Pir-Panjal range in Himachal Pradesh. It is one of the most difficult peaks to summit.
iii. The team was led by Lt Cdr Kokila Sajwan. Team members are: Lt Cdr Nanadini Dam Roy, Lt Cdr Seema Chaudhary, Lt Cdr Pooja Sharma, Lt Cdr Rekha Shree, Lt Cdr Rashu Tyagi, Lt Saino Wilson, Lt Chamm Kumari, Surg Lt Himwant Kaur, Lt Surbhi Sharma, Lt Shristi Thakur, Lt Vipasha Sharma, Lt Kritika Sharma.
iv. They started the trek from the road head (Bara Hazari) to the base camp at a height of 4250 m through Chikka and Seri.
v. They passed through advance base camp at 4700 m and the Summit camp at 5250 m. After 12 hours of climbing, they summited the peak.
Some important dams in India:
♦ Ranjit Sagar Dam – Ravi River
♦ Baglihar Dam – Chenab River
♦ Chemera I Dam – Ravi River