Indian Affairs
♦ Cabinet Approvals
On March 21, 2018, Union Cabinet chaired by Prime Minister Narendra Modi approved following initiatives: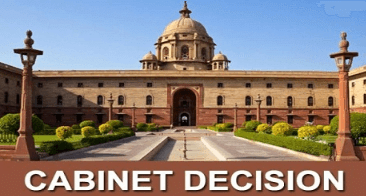 Cabinet Approves Scheduled Tribes Status to 2 Communities In Karnataka
On March 21, 2018, Union Cabinet gave 'in-principle' approval to inclusion of 2 communities – 'Parivara' and 'Talawara' – in the list of Scheduled Tribes (STs) in Karnataka.
Members of these communities had been demanding Scheduled Tribes (ST) status since long time.
Karnataka State Government had recommended inclusion of the Parivara and Talawara communities as synonyms of "Nayaka".
Now that the approval has been granted, members of these communities will be eligible to get the ST certificate from the state and will thereby get all benefits meant for the ST in the state.
Cabinet approves Opening of Missions in Africa to implement IAFS-III
Union Cabinet has approved the opening of 18 new Indian Missions in Africa over a four year period from 2018-2021 to implement commitments of India-Africa Forum Summit (IAFS-III).
18 new Indian Missions in Africa will be opened in: Burkina Faso, Cape Verde, Cameroon, Chad, Djibouti, Republic of the Congo, Equatorial Guinea, Guinea, Eritrea, Guinea Bissau, Mauritania, Liberia, Rwanda, Sierra Leone, Sao Tome & Principe, Somalia, Swaziland and Togo.
Opening of these missions will increase the number of Resident Indian Missions in Africa from 29 to 47.
This move will not only enhance India's diplomatic outreach in the African continent but will also allow India to engage with Indian Diaspora in African countries.
Cabinet approves North-East Industrial Development Scheme (NEIDS) 2017
Objective of NEIDS 2017 is to promote employment in the North Eastern States of India, by providing incentives, primarily to the Micro Small and Medium Enterprises (MSME) Sector.
NEIDS 2017 has been approved with financial outlay of Rs.3000 crore up to March, 2020.
It is a combination of the incentives covered under the earlier two schemes, with a much larger financial outlay.
Cabinet approves Ayushman Bharat – National Health Protection Mission
Union Cabinet has approved the launch of a new Centrally Sponsored Ayushman Bharat -National Health Protection Mission (AB-NHPM), which was announced in Union Budget 2018.
Salient Features of Ayushman Bharat -National Health Protection Mission (AB-NHPM):
AB-NHPM will provide a benefit cover of Rs. 5 lakh per family per year.
The benefit cover will include pre and post-hospitalisation expenses. Besides, there will be no cap on family size and age.
More than 10 crore families belonging to poor and vulnerable population (based on Socio-Economic Caste Census database) will be the target beneficiaries of this scheme.
It will subsume the on-going centrally sponsored schemes –Rashtriya Swasthya Bima Yojana (RSBY) and the Senior Citizen Health Insurance Scheme (SCHIS).
Cabinet approves extension of term of Commission constituted to examine the issue of Sub-categorization of OBC
Term of the Commission to examine the issue of sub-categorization of Other Backward Classes has been extended by twelve weeks i.e. up to April 2, 2018.
The Commission, headed by Justice (Retd.) Smt. G. Rohini was formed on October 2, 2017, in accordance with article 340 of Indian Constitution.
It commenced functioning on October 11, 2017 and it was stipulated that it would submit its report within twelve weeks i.e. in January 2018.
Considering the quantum of data involved and the time required for its analysis to prepare a comprehensive report, the Commission had sought extension of its term by twelve weeks.
Extension till April 2, 2018, will enable the Commission to submit a comprehensive report on the issue of sub-categorization of OBCs, after consultation with various stakeholders.
Cabinet Approves Moving Official Amendments to Ban Commercial Surrogacy in India
Union Cabinet has given approval for moving official amendments in 'Surrogacy (Regulation) Bill, 2016', aimed at banning commercial surrogacy and allowing ethical surrogacy to needy infertile couples.
Enactment of 'Surrogacy (Regulation) Bill, 2016' by the Parliament, will lead to the formation of National Surrogacy Board and State Surrogacy Boards.
Provisions of the bill seek to control the unethical practices in surrogacy and preventing commercialisation of surrogacy in India.
Prohibiting commercial surrogacy and allowing ethical surrogacy by enacting a suitable legislation was recommended in the 228th report of the Law Commission.
CCEA allows ITI Limited's FPO
Cabinet Committee on Economic Affairs (CCEA) has allowed ITI Ltd to bring a Further Public Offer (FPO) for fresh equity shares in order to achieve 25 per cent Minimum Public Shareholding requirement of Securities and Exchange Board of India (SEBI), raise working capital for new projects and to reduce its debt obligations.
ITI Limited is a Central Government-owned company under the administrative control of Union Ministry of Communications, Department of Telecommunication.
It is engaged in supply of Defence communication and networking components and is a major supplier of encryption products to Indian Army.
Cabinet approves continuation of higher education mission
Cabinet Committee on Economic Affairs has given its approval for continuation of Centrally Sponsored Scheme of Rashtriya Uchchatar Shiksha Abhiyan (RUSA) from April 1, 2017 to March 31, 2020.
RUSA was launched in year 2013; however, implementation in its right earnest began after May 2016.
It is administered by Department of Higher Education, functioning under Union Ministry of Human Resource Development
Objective of RUSA is to provide strategic central funding to State/UT Higher Education Departments and Institutions and thereby facilitating equitable access to superior quality higher education. 'Equity, Access and Excellence' in higher education are the key components of RUSA.
Funding under RUSA is subject to fulfilment of stipulated norms and future grants are outcome dependent.
♦ Cabinet approves central sector sericulture scheme
Cabinet Committee on Economic Affairs has given its approval for Central Sector Scheme "Integrated Scheme for Development of Silk Industry" for the period 2017-18 to 2019-20.
The scheme includes interventions geared towards increasing silk production from the level of 30348 MTs during 2016-17 to 38500 MTs by end of 2019-20.
It will be implemented by Union Textiles Ministry through Central Silk Board (CSB).
Financial allocation for this scheme is Rs. 2161.68 Crore.
Cabinet Approvals with Foreign Countries
On March 21, 2018, Union Cabinet chaired by Prime Minister Narendra Modi approved following bilateral agreements.
i. Union Cabinet has given its approval for revision of the Agreement between India and Qatar for the avoidance of double taxation and for the prevention of fiscal evasion with respect to taxes on income.
ii. Cabinet apprised of MoU between India and Guyana on cooperation in Renewable Energy
iii. Cabinet approves closure of India Development Foundation of Overseas Indians
iv. Union Cabinet has approved the formation of a wholly owned subsidiary company of Telecommunications Consultants India Ltd (TCIL) in the US for information communication and technology (ICT) related work
♦ Government sets up task force to draft new Direct Tax Law
Central Board of Direct Taxes (CBDT) has stated that it has constituted a task force to review the Income Tax Act, 1961 and to draft a new Direct Tax Law which takes into consideration the prevailing economic scenario and economic needs of contemporary India.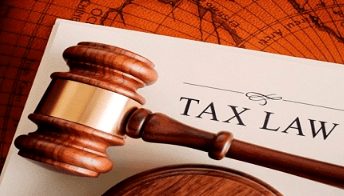 New Direct Tax Law for India:
i. CBDT believes that to prepare the draft of new Direct Tax Law, it is necessary to engage with stakeholders and general public.
ii. Thus it has invited suggestions and feedback from stakeholders and general public in the format provided on www.incometaxindia.gov.in.
iii. Suggestions/feedback in this regard may be sent through e-mail at rewriting-itact@gov.in by April 2, 2018.
Quick Facts about Central Board of Direct Taxes (CBDT):
Constituted under – Central Board of Revenue Act, 1963
Parent Department – Department of Revenue, Union Ministry of Finance
Current Chairman – Sushil Chandra
♦ Government launches Sand Mining Framework to check illegal extraction
On 20th March 2018, Union Minister of Mines Narendra Singh Tomar launched a "sand mining framework" in order to help states to take action against illegal mining.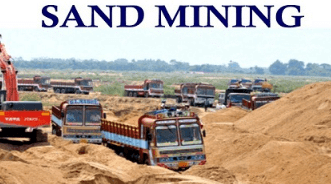 Sand Mining Framework:
i. Developed by: The Sand Mining Framework was prepared by the Ministry of Mines.
ii. It was developed after conducting study in several states and consultations with institutions like National Council for Cement and Building Materials, Cement Manufacture Association etc.
iii. The suggestions in this framework will offer a roadmap to the states that will help them to develop their policies and will act as a check on illegal mining of sand.
About National Council for Cement and Building Materials:
Founded – 1962
Objective – to promote research and scientific work connected with cement and building materials trade and industry
♦ Jackfruit declared as Kerala's official fruit
On 21st March 2018, the jackfruit was declared as official fruit of Kerala.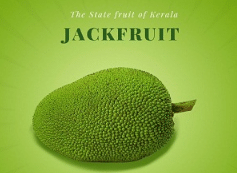 Jackfruit – official fruit of Kerala:
i. An official announcement on this regard was made by Kerala Agriculture minister V S Sunil Kumar in the Kerala state assembly. This decision was taken based on a proposal made by the Kerala Agriculture Department.
ii. This has been done in a move to promote the 'Kerala jackfruit' as a brand in markets all over India and abroad.
iii. The agricultural office in Ambalavayil in Wayanad is to be used for jackfruit research.
iv. The state animal of Kerala is 'Elephant'. The state bird of Kerala is 'great hornbill'. The state flower of Kerala is 'kanikkonna'.
Some wildlife sanctuaries in Kerala:
Aralam Wildlife Sanctuary
Chimmony Wildlife Sanctuary
Chinnar Wildlife Sanctuary
♦ Madhya Pradesh inks MoU with Bharat Financial for animal healthcare plan
The Madhya Pradesh Animal Husbandry Department has inked a MoU with Bharat Financial Inclusion Ltd (BFIL) to launch 'Pashu Dhan Sanjeevani – 1962', an animal healthcare programme.
Pashu Dhan Sanjeevani – 1962:
i. The MoU was signed in the presence of Madhya Pradesh Animal Husbandry Minister Antar Singh Arya and BFIL CEO and MD Geoff Woolley.
ii. The 'Pashu Dhan Sanjeevani – 1962' is claimed to be the first of its kind initiative by any state government in India.
iii. This programme offers animal owners a range of veterinary services. They just have to dial the toll-free helpline number 1962.
iv. Veterinary services like emergency treatment, on-demand artificial insemination, vaccination and deworming will be offered at the doorstep of farmers.
v. This will be of great use to farmers who find it difficult to bring their cattle to the health centres. The IT ecosystem for this programme has been developed by BFIL.
vi. The service delivery process will be monitored through the 'Bharat Sanjeevani' software and a mobile app exclusively developed for doctors, veterinary field officers and artificial insemination technicians.
Some National Parks in Madhya Pradesh:
Van Vihar National Park
Satpura National Park
Pench National Park
♦ I&B Ministry reconstitutes panels for PIB accreditation
The Information and Broadcasting (I&B) Ministry has reconstituted two journalist-related bodies.
I&B Ministry reconstitutes panels for PIB accreditation:
i. On 20th March 2018 an order was issued by Information and Broadcasting Ministry that announced the members of the Central Press Accreditation Committee.
ii. The Central Press Accreditation Committee considers the names of correspondents and camerapersons who get Press Information Bureau (PIB) accreditation.
iii. The committee is headed by the Prinicpal Director General of PIB as the ex-officio chairperson. It has 8 members. It has a tenure of 2 years.
iv. Other members are: a representative of the Press Council of India and a representative of the News Broadcasters Association.
v. Five other members are: Prashant Mishra of Dainik Jagran; Navika Kumar of Times Now; Kanchan Gupta, commissioning editor with ABP News; J Gopikrishnan of The Pioneer; and Smita Prakash, Editor News of Asian News International.
vi. I&B Ministry has also constituted a committee to administer the Journalists Welfare Scheme.
vii. The administering committee will consist of: I&B Secretary, Principal DG PIB, and a joint secretary from the I&B ministry.
About Press Information Bureau (PIB):
Purpose – nodal agency of Indian Government to disseminate information to the print, electronic and new media on government plans, policies, programme initiatives and achievements
Set up – 1919
♦ World's longest sandstone cave discovered in Meghalaya
The world's longest sandstone cave named 'Krem Puri' has been discovered in Meghalaya.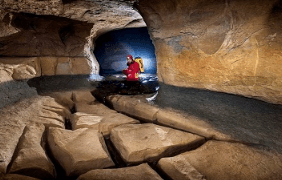 Krem Puri:
i. Krem Puri was discovered in 2016. However its actual length was found between 5th February and 1st March 2018.
ii. It was measured by the Meghalaya Adventurers' Association (MAA). It is 24,583 metres long.
iii. This cave is over 6,000 metres longer than the world record-holder Cueva Del Saman, a sandstone cave in Edo Zulia, Venezuela.
iv. It has also become India's second longest cave in the general category. The longest India cave is the Krem Liat Prah-Umim-Labit system in the Jaintia Hills in Meghalaya.
Some important lakes in India:
Largest fresh water lake in Asia & India – Wular Lake, Kashmir
Largest Artificial Lake in Asia – Upper Lake, Madhya Pradesh
Largest saline water Lake in India – Chika Lake, Odisha
♦ Three day International Yoga Fest begins in Delhi
On 21st March 2018, International Yoga Fest was inaugurated by Union minister Jitendra Singh at Talkatora Stadium, New Delhi, as a curtain raiser for the International Yoga Day (IYD) to be held on 21st June 2018.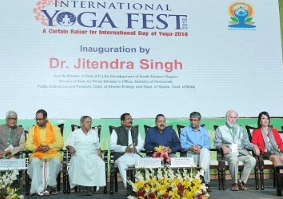 International Yoga Fest:
i. The International Yoga Fest is held for 3 days. Over 5,000 delegates from 16 countries and nearly 40 yoga institutions and universities are taking part in the fest.
ii. Four cities namely Jaipur, Hyderabad, Ahmedabad and Mysore have been shortlisted for conducting the main function of International Yoga Day 2018.
iii. The international yoga fest will be followed by 10 state-level fests that will be held in different parts of India.
Some important airports in India:
Sri Guru Ram Dass Jee International Airport – Amritsar, Punjab
Anna International Airport – Chennai, Tamil Nadu
Netaji Subhash Chandra Bose International Airport – Kolkata, West Bengal
♦ Government launches free wi-fi service for Udwada in Valsad district of Gujarat
On 21st March 2018, Bharat Sanchar Nigam Limited (BSNL) launched Free Wi-Fi Facility at Udwada Village, in Valsad District, Gujarat.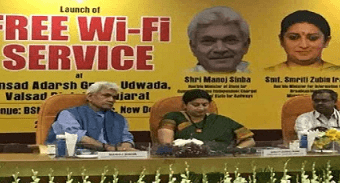 BSNL Launches Free Wi-Fi Facility at Udwada Village in Gujarat:
i. The facility was launched by Manoj Sinha, Minister of State for Communications and Minister of State for Railways.
ii. I&B (Information and Broadcasting) minister Smriti Irani selected Udwada village under Saansad Adarsh Gram scheme.
iii. Smriti Irani said that, under Saansad Adarsh Gram Yojana Rs.16.48 Lakh has been allotted for implementing Wi-Fi by BSNL in Udwada Village.
iv. Anupam Shrivastava, CMD of BSNL, said that two Hotspots with 17 Access points have been installed at Udwada village.
Some National Parks in Gujarat:
Vansda National Park
Marine National Park, Gulf of Kutch
Gir Forest National Park
♦ BIRAC celebrates its 6th Foundation Day
On 20th March 2018, Biotechnology Industry Research Assistance Council (BIRAC)celebrated its 6th Foundation Day in New Delhi.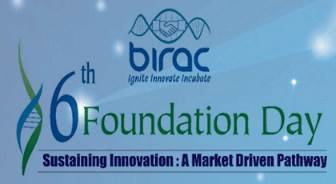 6th Foundation Day of BIRAC:
i. The event was inaugurated by Dr. Harsh Vardhan, Union Minister for Science & Technology and Earth Sciences and Environment, Forests and Climate Change, who was the Chief Guest of the event.
ii. Theme: The theme for 6th Foundation Day of BIRAC was 'Sustaining Innovation – A Market Driven Pathway'.
iii. Several dignitaries from the scientific and industry sectors within India and also from foreign countries attended the event.
iv. Preliminary winners of the SoCH (Solutions for Community Health) awards were announced at the event. This is an innovation challenge award which was initiated at the MyGov portal in September 2017.
About Biotechnology Industry Research Assistance Council (BIRAC):
Type – not-for-profit Public Sector Enterprise
Set up by – Department of Biotechnology (DBT), Ministry of Science and Technology