Indian Affairs
♦ Department of Posts launches Cool EMS Service between India and Japan
Ministry of Communications has introduced the Cool EMS Service between Japan and India with effect from 29.03.2018 that will allow Indian customers to import Japanese food items for personal use.
Cool EMS Service between India and Japan:
i. Cool EMS service is a one-way service from Japan to India. It enables customers in India to import Japanese food items for personal use as allowed under Indian regulations.
ii. In the initial phase, Cool EMS Service is made available only in Delhi. Food items will be carried by Japan Post in special cool boxes containing refrigerant to preserve the food.
iii. Recipient has to collect the parcel from Foreign Post office, Kotla Road, New Delhi within the prescribed time period.
iv. Features such as track and trace, etc. of Express Mail Service (EMS) are also available for Cool EMS service.
About Ministry of Communications:
Minister of state (Independent charge) for Communications – Manoj Sinha
Headquarters – New Delhi
♦ India's first insect museum opened in Tamil Nadu
On March 26, 2018, Tamil Nadu Chief Minister K Palaniswamy, unveiled an insect museum at the Tamil Nadu Agricultural University in Coimbatore.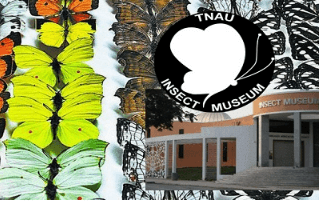 More information about insect museum at the Tamil Nadu Agricultural University:
i. The museum is fully dedicated to insects and claimed to be the first of its kind in India.
ii. It has been set up over 6691 sqft area at the cost of Rs. 5 crore.
iii. Insects preserved as specimens and also live ones, depicting different developmental stages are displayed at this museum.
iv. The lobby of this insect museum depicts the theme, "BUGS ARE KINGS".
v. The museum has state-of-the-art amenities including a mini auditorium to screen insect movies and documentary films.
Quick Facts about Tamil Nadu Agricultural University:
Established in – 1868 (as Agricultural School at Saidapet, Chennai)
Relocated to Coimbatore in – 1906
National Institutional Ranking Framework (NIRF) 2017 – 28th and 17th place in 'Overall' and 'Universities' categories respectively
♦ Tribal Affairs Minister Jual Oram launches E-Tribes India on e-commerce platforms
On 27th March 2018, Tribal Affairs Minister, Jual Oram launched "E-Tribes India" in New Delhi.
E-Tribes India:
i. The Launch of E-Tribes India includes www.tribesindia.com, www.trifed.in and Retail Inventory Software and M-commerce app.
ii. 'Tribes India' Banners were also launched at Amazon, Snapdeal, Paytm & GeM. Also TRIFED's Handbook for Retail Trade and TRIFED's quarterly magazine 'Tribes Haat' were inaugurated.
iii. TRIFED has developed its own e-commerce website: tribesindia.com. This website offers sale of all TRIFED products.
iv. Their Android App can also be downloaded from Google store (Tribes India). TRIFED has entered into agreements with Snapdeal and Amazon to sell their products on www.snapdeal.com and www.amazon.com.
v. Ministry of Commerce has also enabled the sale of TRIFED products on www.gem.gov.in. Tribes India products are also available on Flipkart and Paytm.
About Tribal Cooperative Marketing Development Federation of India Limited (TRIFED):
a multi-State Cooperative Society under the Ministry of Tribal Affairs
promotes and markets tribal products, tribal art and crafts within India and abroad by providing marketing support to tribal products
♦ MHRD has approved 'Study in India' programme
The Ministry of Human Resources Development (MHRD) has approved 'Study in India' programme to attract foreign students to study in India.
'Study in India' programme – Objectives & Salient Features:
i. This programme has several objectives including doubling India's market share of global education exports from less than 1 percent to 2 percent and improving global ranking of Indian educational institutes.
ii. Under this programme, meritorious foreign students will be given free waiver by respective institutes based on pre-defined criteria. Top 25% students will be given 100% waiver in tuition fees, next 25% will be given 50% waiver and another 25% below that will get 25% waiver.
iii. It is to be noted that inflow of foreign students under this programme will not affect the number of seats which are meant for Indian students.
iv. Besides, expenditure on fee waiver will have to be borne by respective Institute by adjusting it against the existing fund allocation.
v. However, Government has approved brand promotion expenditure of Rs. 150 crores for the 'Study in India' programme for 2018-19 and 2019-20.
♦ MEA launches 'Videsh Aaya Pradesh ke Dwaar' in Hyderabad
On March 22, 2018, External Publicity and Public Diplomacy Division of the Ministry of External Affairs (MEA) launched an initiative, 'Videsh Aaya Pradesh ke Dwaar' in Hyderabad, Telangana with an aim to bring the domain of foreign policy closer to the people.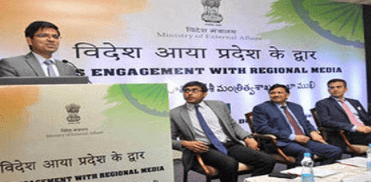 Overview of 'Videsh Aaya Pradesh ke Dwaar' initiative:
i. Under this initiative, MEA will hold direct interaction with the local media (having wide readership profile) in different cities across India.
ii. Through these interactions, MEA will communicate foreign policy priorities in simple terms and will highlight the benefits accruing to the common people through diplomatic efforts.
iii. Besides, a pool of media professionals interested in foreign policy will also be created.
♦ Government releases Draft policy on Defence Production
Union Defence Ministry has released a draft policy aimed at promoting the domestic defence industry and positioning it to achieve a turnover of Rs 170000 crore in military goods and services by 2025.
Salient Features of Draft policy on Defence Production:
i. The aim of aim policy on Defence Production is to make India self-reliant in terms of Defence Production and also to emerge as one of the top five manufacturers of defence platforms in the world.
ii. Besides, increasing domestic defence production, another goal is to achieve export of Rs 35000 crore in military equipment and services by 2025.
iii. These goals are to be achieved with active participation of public as well as private sectors.
iv. Government has identified 12 military platforms and weapons systems for production, in which India will strive to attain self-reliance.
v. These platforms/systems include fighter aircraft, warships, medium lift and utility helicopters, land combat vehicles, gun systems, missile systems, small arms, ammunition and explosives, electronic warfare (EW) systems, surveillance systems and night fighting enablers.
vi. The draft policy states that licensing process for defence industries and tax regime for domestic manufacturing will also be liberalised.
♦ SARAS Aajeevika Mela 2018 held in New Delhi
On 23rd March to 1st April 2018, SARAS AajeevikaMela 2018 is held in Hall No. 7, PragatiMaidan, New Delhi.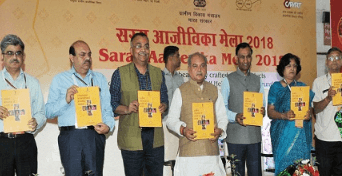 SARAS Aajeevika Mela 2018:
i. The SARAS Aajeevika Mela 2018 is organized by DAY-NRLM (Deendayal Antyodaya Yojana – National Rural Livelihoods Mission).
ii. SHG (Self Help Group) women from all states of India display and sell their products in the SARAS Aajeevika Mela 2018. More than 350 stalls have been set up.
iii. The stalls feature handlooms, handicrafts, artefacts and heritage products, tribal ornaments, decorative items, metallic products, earthen utensils, paintings, organic food items, spices, processed food products, soft toys, utility items, brass and wrought iron products etc.
iv. Cultural programmes are also organized as a part of the Mela. Also workshops on soft skills, packaging, managing consumers etc. are also held during the mela.
About DAY-NRLM (Deendayal Antyodaya Yojana – National Rural Livelihoods Mission):
Launched by – Ministry of Rural Development (MoRD)
Launched in – June 2011
Aims – to create efficient and effective institutional platforms of the rural poor, enabling them to increase household income through sustainable livelihood enhancements and improved access to financial services
♦ 11th Rashtriya Rifles Biennial Conference 2018 held in Jammu and Kashmir
On 26th and 27th March 2018, the 11th Rashtriya Rifles Biennial Conference 2018 was held in Nagrota, Jammu and Kashmir.
11th Rashtriya Rifles Biennial Conference 2018:
i. 11th Rashtriya Rifles Biennial Conference 2018 was chaired by Chief of the Army Staff General Bipin Rawat.
ii. Army Commander Northern Command, Director General Rashtriya Rifles, Corps Commander 15 and 16 Corps and all General Officers Commanding Counter Insurgency Forces took part in the conference.
About Rashtriya Rifles:
A branch of the Indian Army under the authority of the Indian Ministry of Defence
currently deployed in the state of Jammu and Kashmir