INDIAN AFFAIRS
Vietnam President Tran Dai Quang's India Visit
Vietnam President Tran Dai Quang was on an official visit to India from 2nd – 4th March 2018.
Tran Dai Quang visited India at the invitation of Indian President Ram Nath Kovind.
Vietnam is an important pillar in India's Act East Policy and is currently the country coordinator for India with the Association of Southeast Asian Nations (ASEAN).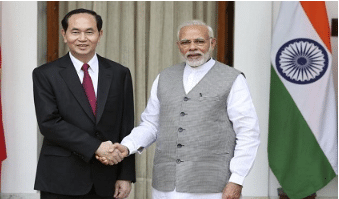 India, Vietnam ink three MoUs on nuclear, economic and trade cooperation
On March 3, 2018, India and Vietnam signed following three Memorandum of Understanding (MoUs) after talks between Indian Prime Minister Narendra Modi and Vietnamese President Tran Dai Quang.
MoU between Global Centre for Nuclear Energy Partnership, India (GCNEP) and the Vietnam Atomic Energy Institute (VINATOM) to strengthen the technical cooperation in the field of atomic energy for peaceful purposes.
MoU on economic and trade cooperation aimed at establishing a framework for enhancing economic and trade promotion.
Indian Council of Agricultural Research (ICAR) and Ministry of Agriculture and Rural Development of Vietnam signed a work plan for the years 2018-2022.
Vietnamese Prez inaugurates art exhibition
On March 3, 2018, President of Vietnam Tran Dai Quang inaugurated 'Vietnam Days in India' exhibition at the India International Centre in New Delhi, showcasing different forms of arts and culture of Vietnam.
'Vietnam Days in India' showcased traditional costumes and handicrafts of Vietnam.
Photographs of landmark events in the bilateral relations between India and Vietnam were also displayed at this exhibition.
India, Vietnam to take steps to achieve USD 15 billion trade target
After the signing of above stated MoUs, a joint statement was issued mentioning that India and Vietnam will take concrete measure to achieve the bilateral trade target of USD 15 billion by 2020.
In context of this news, it is to be noted that, for 2016-17, India-Vietnam trade stood at $6.24 billion.
As per the joint statement, India and Vietnam have agreed to hold the next Meeting of the Joint Sub-Commission on Trade in Vietnam's capital city Hanoi in 2018.
Quick Facts about Vietnam:
♦ Capital – Hanoi
♦ Currency – Vietnamese Dong
♦ Current President – Tran Dai Quang
♦ Important Rivers – Red River, Perfume River
I&B Minister Smiriti Irani inaugurates FICCI Frame in Mumbai
On March 5, 2018, Union Information and Broadcasting Minister, Smiriti Irani inaugurated 2018 edition of FICCI Frames in Mumbai.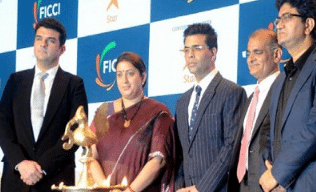 More information about FICCI FRAMES 2018:
i. 2018 edition of FICCI Frames, the Federation of Indian Chambers of Commerce and Industry's (FICCI's) annual convention on the film and entertainment market is a three-day global convention covering the entire gamut of Media and Entertainment Industry viz. films, broadcasts (TV & Radio), Print Media etc.
ii. Nearly 2000 Indian and 800 foreign delegates from Media and Entertainment sector will be attending this event.
iii. 35 knowledge sessions will be conducted during the course of this event and 200 high profile speakers from across the world will share their views.
Quick Facts about Federation of Indian Chambers of Commerce and Industry (FICCI):
♦ Formation Year: 1927
♦ Headquarters: New Delhi
♦ Organisation Type: Non-Government Trade Association
International Yoga festival held in Rishikesh
On March 1, 2018, Uttarakhand Chief Minister Trivendra Singh Rawat inaugurated the week-long 29th edition of annual International Yoga Festival (IYF) at Parmarth Niketan ashram in Rishikesh.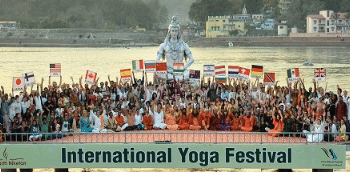 Highlights of 29th International Yoga Festival:
i. However, 29th International Yoga Festival was officially inaugurated by Vice President, Venkaiah Naidu on March 3, 2018.
ii. The International Yoga Festival has been organised by Parmarth Niketan Ashram in association with Union Ministry of AYUSH, Uttarakhand Tourism Development Board and Garhwal Mandal Vikas Nigam Ltd.
iii. In addition to daily yoga classes, 200 sessions on topics such as Ashtanga yoga, Bhakti yoga, Kundalini yoga and Ganga yoga will be conducted during the course of this event.
iv. More than 80 saints, yogacharyas, presenters and experts from nearly 20 countries will take part in these sessions.
v. Over 1500 yoga practitioners from 94 countries have gathered in Rishikesh for this week-long festival.