INDIAN AFFAIRS
Shigmotsav 2018 organised in Goa
On 3rd to 17th Match 2018, Shigmotsav 2018 is conducted in various regions of Goa.
Shigmotsav 2018:
i. Shigmotsav or Shigmo is the biggest Hindu festival in Goa. During the festival, parades are conducted that depicts the life of Goan people.
ii. The parade features folk performances by local men and women. Folk dances like Ghode Modni and Fugdi are performed.
iii. Shigmotsav 2018 focuses on traditional folk dances and performance of mythological scenes.
iv. During the parade, Goan people are seen in colorful dresses with multi coloured flags and they play large musical instruments like Dhol Tasha and flutes.
Some wildlife sancturies of Goa:
♦ Netravali Wildlife Sanctuary
♦ Mhadei Wildlife Sanctuary
♦ Cotigao Wildlife Sanctuary
India's first helicopter taxi service launched in Bengaluru
India's first helicopter taxi service (heli taxi) was launched in Bengaluru on March 5, 2018.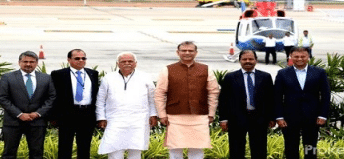 Details about India's first helicopter taxi service:
i. The first trip of the heli taxi was between Electronic City and Kempegowda International Airport in Bengaluru and was completed in 15 minutes.
ii. This service has been launched by Kerala-based Thumby Aviation Private Limited, using a Bell 407 helicopter with a capacity of six passengers.
iii. Currently, the heli taxi will operate between Electronic City and Kempegowda International Airport in Bengaluru only. However, Hindustan Aeronautics Ltd. (HAL) airport will also be added in the next few weeks.
iv. Seats can be booked online by downloading the Thumby mobile app (Heli Taxii).
v. The fare for this route is fixed at Rs 3500 per seat plus Goods and Services Tax (GST) at 18%.
Himachal to set up medicinal plant board centre
On March 5, 2018, Himachal Pradesh State Government approved the setting up of a regional-cum-facilitation centre of the National Medicinal Plants Board of the Ministry of Ayush.
Medicinal Plants Board Centre in Himachal Pradesh:
i. Decision in this regard was taken during the State Cabinet meeting chaired by Himachal Pradesh Chief Minister Jai Ram Thakur.
ii. This centre will be set up in Jogindernagar town in Mandi district of Himachal Pradesh.
iii. Rs. 748.30 lakh has been allocated for setting up this centre, wherein the central government would provide a grant of Rs 149.60 lakh.
iv. The centre will provide inputs for conservation, cultivation and sale of medicinal plants and will also facilitate training, research and development of region-specific planting material.
Quick Facts about Himachal Pradesh:
♦ Capital – Shimla, Dharamshala (second capital, in winter)
♦ Current Governor – Acharya Dev Vrat
♦ Current Chief Minister – Jai Ram Thakur
♦ Important National Park – Pin Valley National Park, Khirganga National Park
Myanmar puts off border pact with India
Myanmar has indefinitely postponed signing an agreement with India to streamline the free movement of people within 16 km along the border.
i. In context of this news it is important to note that India and Myanmar share a 1643 km unfenced border.
ii. Indian states that share border with Myanmar are Arunachal Pradesh (520 km), Nagaland (215 km), Manipur (398 km) and Mizoram (510 km).
iii. In January 2018, Union Cabinet had approved the agreement between India and Myanmar on land border crossing with a view to enhance economic interaction between people of the two countries.
iv. Indian Government at Centre had also directed all the above mentioned states to distribute "border pass" to the residents living within 16 km from the border.
v. However, Myanmar has indefinitely deferred signing the agreement citing domestic compulsions.
Quick Facts about Myanmar:
♦ Capital – Naypyidaw
♦ Currency – Burmese kyat
♦ Current President – Htin Kyaw
♦ Important River – Irrawaddy
Indian Navy concludes gruelling two-month long war games "ENCORE"
On February 28, 2018, Indian Navy concluded a gruelling two-month long War Games.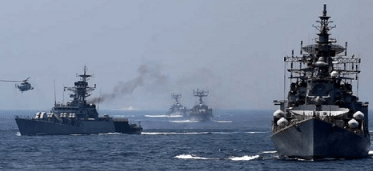 War Games of Indian Navy:
i. The War Games were conducted on both, the Western Seaboard of India as well as the Eastern Seaboard, extending from the Northern Arabian sea off the coast of Gujarat to the Southern Indian ocean off the Sunda Straits near Indonesia
ii. The War Game on the Western seaboard was codenamed Exercise Paschim Lehar and on the Eastern Seaborad the code name was ENCORE (Eastern Naval Command Operational Readiness Exercise).
iii. Conducting War Games on both the seaboards was in line with Indian Navy's threat perceptions of a two-front war.
iv. All operational ships, submarines and aircraft of Indian Navy, Air Force and Coast Guard along with men and equipment of the Army participated in these War Games.
Punjab inks MoU with Nandan Nilekani's e-gov to provide online services
Punjab State Government has signed a Memorandum of Understanding with Nandan Nilekani's e-Governments Foundation (e-Gov) for managing of electronic governance of Urban Local Bodies (ULBs) across the state.
Information about MoU between Punjab Government and e-Gov:
i. As per the terms of the MoU, a total of 67 services would be provided online within a span of one year.
ii .The services have been grouped under 12 modules viz. property tax, complaints and grievance, water and sewerage management, licensing, fire service, birth and death, verification, ULB web portal, state and ULB dashboards, mobile application, payroll and financial accounting.
iii. eGovernments foundation (co-founded by Nandan Nilekani) is engaged in transforming urban governance by enabling efficient and effective municipal operations and contact-less urban service delivery, with the use of scalable and replicable technology solutions.
Quick Facts about Punjab:
♦ Capital – Chandigarh
♦ Current Chief Minister – Amarinder Singh
♦ Current Governor – V P Singh Badnore
♦ Important River – Sutlej