INDIAN AFFAIRS
Centre sanctions Rs 1000 crore for research and innovation
Central Government has sanctioned a grant of Rs 1000 crore for the second phase of the Impacting Research Innovation and Technology (IMPRINT) India programme.
Details about second phase of IMPRINT India programme:
i. Announcement in this regard was made by Union Minister for Human Resources and Development, Prakash Javadekar at the Visitors Conference held in New Delhi on March 6, 2018.
ii. Launched in 2015, IMPRINT India is a joint initiative of Indian Institutes of Technology (IITs) and Indian Institute of Science (IISc), aimed at identifying areas of relevance to society that require innovation, ensuring higher funding support for research into these areas and measuring the research's impact on people's standard of living.
iii. Under the IMPRINT-I Programme, 142 projects at a cost of Rs. 318.71 crore are already under implementation. These projects are from important areas including security and defence, energy, health care, climate change, etc.
iv. Under the IMPRINT-II, a fund is being jointly created by the Department of Science and Technology and Ministry of Human Resource Development.
v. Proposals for IMPRINT- II will be called from March 16, 2018 and will be sanctioned by May 2018.Prof. Indranil Manna of IIT-Kharagpur will be the National Coordinator.
Delhi govt approves delivery of ration at doorsteps of PDS beneficiaries
On March 6, 2018, Delhi government approved a proposal for delivering rations in sealed packets at the doorstep to Public Distribution System (PDS) beneficiaries.
i. The proposal was put forth by Department of Food, Supply and Consumer Affairs for providing doorstep delivery of wheat/flour, rice and sugar for eligible PDS beneficiaries.
ii. This initiative will address problems such as theft of ration, poor quality of supplies and shops remaining closed.
iii. The proposal has now been sent to Lieutenant Governor of Delhi, Anil Baijal for approval. Post approval, the service provider for home delivery of ration will be selected through open bidding.
iv. It is important to note that currently, there are around 72 lakh PDS beneficiaries in Delhi.
Fourth India-Europe 29 Business Forum held in New Delhi
Fourth India-Europe 29 Business Forum (IE29BF) was held in New Delhi on 5th and 6th March 2018.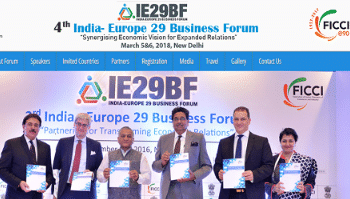 Highlights of Fourth India-Europe 29 Business Forum:
i. IE29BF was created in 2014 by Union Ministry of External Affairs and Federation of Indian Chambers of Commerce and Industry (FICCI).
ii. The forum serves as platform for promoting business exchanges between India and the twenty nine countries of Central Europe region.
iii. Keynote address at the Inaugural Session of IE29BF 2018 was delivered by MJ Akbar, Minister of State for External Affairs.
iv. Theme of IE29BF 2018 was 'Synergising Economic Vision for Expanded Relations' while Czech Republic was the 'Focus Country'.
v. 180 business delegates and officials from European countries and 200 business delegates from India participated in this two-day forum.
Animal Welfare Board of India headquarters shifted from Chennai to Haryana
On March 6, 2018, Union Minister of State for Environment, Forest and Climate Change Mahesh Sharma, informed Rajya Sabha that headquarters of the Animal Welfare Board of India (AWBI) has been shifted from Chennai to Haryana's Ballabhgarh.
Shifting of AWBI Headquarters:
i. The reason cited behind shifting the headquarters is to ensure better coordination between the environment ministry and the board.
ii. AWBI is a statutory advisory body established in 1962 under The Prevention of Cruelty to Animals Act,1960. It advises the Government of India's Ministry of Environment, Forest and Climate Change on matters of animal welfare.
iii. Well-known humanitarian Rukmini Devi Arundale was instrumental in setting up the board and was its first chair.
40 Participants of Indian Origin attends 46th Edition of "Know India Programme"
On March 6, 2018, Forty Indian-origin students from nine countries met Railways Minister Piyush Goyal as part of Know India Programme (KIP).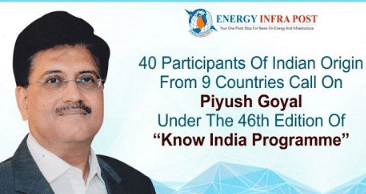 About Know India Programme (KIP):
i. KIP is Indian Government 's initiative to engage with the Indian diaspora in the age group of 18 to 30 years.
ii. It is a 25-day orientation programme, organised by Union Ministry of External Affairs in partnership with one or two Indian states.
iii. Participants for KIP are selected on the basis of nominations received and recommendations of Indian ambassadors in foreign countries.
iv. For 46th KIP, Madhya Pradesh was the partner state. Thus the participants visited Madhya Pradesh and also visited Parliament House and President's House in New Delhi.
'Vision for Future' event marks 70 years of Indo-Russia ties held in New Delhi
On 6th to 8th March 2018, 'Vision for Future' event is conducted to celebrate the 70 years of successful Indo-Russia ties, in New Delhi.
Vision for Future:
i. The Vision for Future event is organised by Ministry of External Affairs of India (Eurasian Division). It is co-organised by International Federation of Indo-Russian Youth Clubs and BRICS International Forum.
ii. The event is supported by Embassy of the Russian Federation in India and Russian Center of Science and Culture.
iii. This event is aimed at strengthening strategic partnership between India and Russia. Mains events of this programme are: First India-Russia Youth Parliament and India-Russia Excellence Award Ceremony & launch of Youth Festival Calendar.
iv. The event will highlight dynamic opportunities of cooperation between India and Russia to the youth.
About BRICS:
♦ Type – association of five major emerging national economies
♦ Members – Brazil, Russia, India, China and South Africa
Itanagar celebrates Silver Jubilee of Losar festival
On 2nd to 4th March 2018, silver jubilee of the Losar Festival was celebrated by Buddhist Community of Itanagar at the Nyokum Lapang Ground, in Itanagar, Arunachal Pradesh.
Silver Jubilee of Losar festival:
i. The festival was celebrated for three days. The Itanagar Buddhist Cultural Society (IBCS) organized the festival.
ii. This festival is celebrated as 'New Year' by the Buddhist community as per their calendar. Arunachal Pradesh Education Minister Honchun Ngandam was the chief guest at the event.
iii. Presentations were made by people from various regions of Arunachal Pradesh. Bhutanese and Gorkha Cultural programs were also part of the presentations.
iv. The festival also featured a community feast and prize distribution. The Buddhist New Year has entered into 2145 Earth Dog year, according to the Buddhist calendar.
Some wildlife sanctuaries of Arunachal Pradesh:
♦ Dibang Wildlife Sanctuary
♦ Kamlang Wildlife Sanctuary
Odisha MSME International Trade Fair begins in Bhubaneswar
On 5th to 10th March 2018, Odisha MSME International Trade Fair 2018 is held in Bhubaneswar, Odisha.
Odisha MSME International Trade Fair 2018:
i. The Odisha MSME International Trade Fair 2018 focuses mainly on food processing sector.
ii. The trade fair was inaugurated by Odisha Chief Minister Naveen Patnaik. Over 500 domestic and international delegates will take part in the trade fair.
iii. Odisha MSME Minister Prafulla Samal said that, 35 delegates from Iran, Bangladesh, Korea and Germany will take part in the trade fair.
iv. The trade fair will present over 350 stalls with 6 pavilions. The theme pavilion has been allotted for food processing sector. Pavillion-1 has been allotted for international exhibitors and central public sector undertakings (CPSUs).
v. Pavilion-2 is for food processing and sea food MSME units. Pavilion-3 is for MSMEs of women and scheduled tribes/scheduled castes entrepreneurs.
vi. Pavilion-4 is for MSMEs working in engineering and allied sectors and Pavilion-5 is given to start-ups and exporters.
Some wildlife sanctuaries of Odisha:
♦ Baisipalli Wildlife Sanctuary
♦ Balimela Wildlife Sanctuary
♦ Balukhand-Konark Wildlife Sanctuary