INDIAN AFFAIRS
Pradhan, UAE minister flag off first consignment of ADNOC crude for India
On May 12, 2018, Union Petroleum and Natural Gas Minister Dharmendra Pradhan and UAE Minister of State & Abu Dhabi National Oil Company (ADNOC) Group CEO Dr. Sultan Al Jaber flagged off first consignment of 2 million barrels of ADNOC crude for India.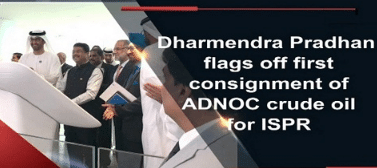 Information about first consignment of ADNOC crude for India:
i. In February 2018, during Indian Prime Minister Narendra Modi's visit to UAE, an agreement was signed between Indian Strategic Petroleum Reserves Ltd (ISPRL) and ADNOC of UAE, under which ADNOC will store about 5.86 million barrels of crude oil in India's Strategic Petroleum Reserve (SPR) facility at Mangalore at its own cost.
ii. It is to be noted that ISPRL has built 39 million barrels strategic crude oil storage facility at three locations in India viz. Vishakhapatnam (Andhra Pradesh), Mangalore (Karnataka) and Padur (Kerala).
iii. As per the ISPR-ADNOC agreement, ADNOC can sell part of the crude oil stored, to Indian refineries on commercial basis and a certain portion of the storage will be for exclusive use of the Indian government.
iv. Mr. Pradhan is on an official visit to United Arab Emirates (UAE). During the course of this visit, he held bilateral meeting with Mr. Jaber to discuss the ongoing cooperation in the hydrocarbon sector and explored ways to further enhance the engagement.
Quick Facts about ADNOC:
♦ Founded in – 1971
♦ Headquarters – Abu Dhabi, UAE
♦ Owned by – UAE Government
Ministry of Information & Broadcasting to establish a dedicated web portal for promotion of Audio Visual Services in India
The Ministry of Information and Broadcasting will set up a dedicated web portal for spreading information on filming locations and production facilities available in India.
Dedicated web portal for promotion of Audio Visual Services in India:
i. The portal will be of great help to production companies looking to shoot in India to obtain permissions and explore locations in India.
ii. It will aid in acceptance of the application for shooting feature films, TV and web reality shows, along with the online payments.
iii. It will offer information on locations and link to all state portals. It will capture detailed information related to a particular location, resources or facilities available in a standard format.
About Ministry of Information & Broadcasting:
♦ Minister of Information and Broadcasting – Smriti Irani
♦ Minister of State for Information and Broadcasting – Rajyavardhan Singh Rathore
Shri J P Nadda holds high level review meeting on Vector Borne diseases in Delhi
On 12th May 2018, J P Nadda, Union Minister of Health and Family Welfare chaired a high level meeting to review the preparedness of various agencies for prevention and management of vector borne diseases, in New Delhi.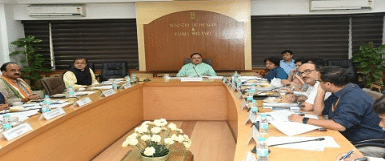 High level review meeting on Vector Borne diseases:
i. J P Nadda asked the agencies to develop a separate registry for cases originating and being treated in Delhi.
ii. He said to focus on active case finding for source identification and reduction of vectors and transmission.
iii. He added that there should be no shortage of diagnostic kits, drugs, testing labs, manpower and funds.
iv. He highlighted the importance of conducting focused and intensive IEC (Information, Education & Communication) campaigns and continuing them through the monsoon season.
v. He directed the officers to perform supervisory visits to various hospitals in Delhi to assess the situation, preparedness and to offer on the spot technical guidance to the health authorities.
Some important museums in New Delhi:
♦ National Museum of Natural History
♦ National Rail Museum
♦ National Science Centre
Govt set to expand Buddhist tourism circuit to 21 more states
In a bid to attract more Buddhist tourists from across the world, Central Government has decided to expand Buddhist tourism circuit to 21 more states.
Expansion of Buddhist Tourism Circuit:
i. Buddhist Circuit is among the thirteen thematic circuits under central Government's Swadesh Darshan Scheme. As per earlier plan, it comprised only seven major Buddhist pilgrimage sites in Uttar Pradesh and Bihar.
ii. However, now the circuit will be expanded as Union Ministry of Tourism has identified stupas and viharas in 21 states, around which small intra-state Buddhist zones will be developed.
iii. Some of these states are Madhya Pradesh, Rajasthan, Andhra Pradesh, West Bengal, Goa, Gujarat and Jammu & Kashmir.
iv. Among these states, most noteworthy is the plan to create a Buddhist theme park in Madhya Pradesh, which will have light and sound show, interpretation centre, wayside amenities and sanitation facilities.
v. Objective behind expanding Buddhist circuit is to attract more Buddhist tourists, particularly the new-age Buddhist tourists from the West, and also from traditional markets in South East Asia.
vi. This circuit will be India's first trans-national tourist circuit as Lumbini (birthplace of Buddha) in Nepal will also be promoted for tourism along with Buddhist sites in India.
Army Chief General Bipin Rawat reached Colombo today on 5-day visit to Sri Lanka
On 13th May 2018, Chief of Army Staff General of India, Bipin Rawat arrived at Colombo on a five-day visit to Sri Lanka.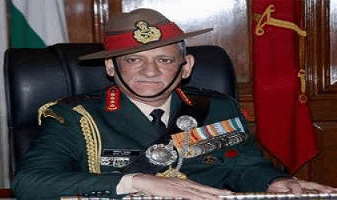 Army Chief General Bipin Rawat on 5-day visit to Sri Lanka:
i. As a part of his visit, Bipin Rawat will meet the Sri Lankan President Maithripala Sirisena and Prime Minister Ranil Wickremsinghe.
ii. He will also conduct a meeting with the military heads of Sri Lanka. Issues of mutual interest and ways to strengthen military cooperation between India and Sri Lanka will be discussed.
iii. Bipin Rawat will inaugurate a communications lab set up near Kandy with the assistance of Indian army.
iv. He will visit military establishments in Trincomalee and Diyatalawa. He will also visit some Sri Lankan military establishments outside Colombo.
Some important international airports in India:
♦ Imphal International Airport – Imphal, Manipur
♦ Biju Patnaik International Airport – Bhubaneswar, Odisha
♦ Sri Guru Ram Dass Jee International Airport – Amritsar, Punjab
Par panel to look into black money and performance of public sector banks
i. On 10th May 2018, a parliamentary panel of 30 membersestimate Committeealso known as Continuous Economy committee has been constituted by the speaker of parliament . Veteran BJP leader Mr.MuraliManohar Joshi has been appointed as the chairman of this committee.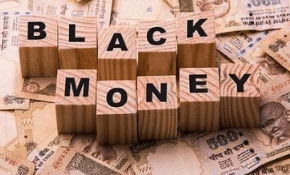 ii. This committee will focus on the black money and the unaccounted money that was legaitimised during the demonetization period as per RBI's report. Also it will look into the performance of public sector bank, import of uranium ,preparedness of Indian armed forces, environment and mining activities, among other things related to various ministries in the year 2018-2019.
Key points:
♦ Chairperson of Public Accounts Committee: Mr. MallikarjunKharge.
♦ 24 th Governor of RBI :Mr. Urjit Patel
♦ Speaker of Parliament : Mrs. SumitraMahajan.