INDIAN AFFAIRS
Punjab CM announces development projects for Tarn Taran
On May 17, 2018, Punjab Chief Minister Amarinder Singh announced several development projects aggregating Rs 555 crore for the uplift and up-gradation of the border district of Tarn Taran.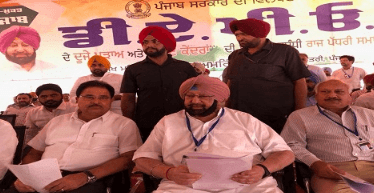 Development Projects for Tarn Taran, Punjab:
i. Tarn Taran district in Punjab is strategically located near the Indo-Pakistan border.
ii. Majority of the development projects (amounting to Rs. 370 crore) announced, are for improving road network and connectivity.
iii. Rs 60 crore has been set aside for the development of 779 schools while Rs 44 crore has been earmarked for development works in various mandis.
iv. Rs 40 crore will be spent for strengthening of health facilities in the district and Rs 12 crore for establishing government degree college.
v. Other projects include setting up a buffalo research centre and construction of high-level bridges.
Quick Facts about Punjab:
♦ Capital – Chandigarh
♦ Current Chief Minister – Amarinder Singh
♦ Current Governor – V P Singh Badnore
♦ Important River – Sutlej
PM Modi to lay foundation stone for construction of Zojila Tunnel in J&K
On May 19, 2018, Prime Minister Narendra Modi will lay the foundation stone of 14.2-km-long tunnel under the Zojila Pass in Jammu & Kashmir.
More information about Zojila Pass:
i. This tunnel will provide all-weather connectivity from Baltal in Kashmir to Minamarg near Gumri in Ladakh.
ii. Located at a height of above 11000 feet, Zojila Pass is the gateway to Ladkah region and connects Kargil and Leh with Srinagar. However, during winters, it remains inaccessible due to heavy snowfall.
iii. The tunnel will have immense utility for tourists. It also has a strategic significance as it will facilitate quick mobilisation of troops in case of any incursion from across the border.
iv. The project will be executed by IL & FS, which has experience of infrastructure development in such tough terrain.
Telangana CM announces employee welfare schemes
On May 16, 2018, Telangana Chief Minister K Chandrashekar Rao announced setting up of a new Pay Revision Commission (PRC) for government employees.
More information about Telangana's Pay Revision Commission (PRC) for government employees:
i. Mr. Rao announced that Telangana Permanent Transfer policy will be brought into force.
ii. Telangana Government will be giving special allowances to employees working in remote areas.
iii. Mr. Rao added that all benefits accruing to Retired Employees will be sanctioned 100% and implemented by the day an employee retires.
iv. He also announced that women employees will be given special leave of five days and Teachers in the state will get good pay revision in coming days.
Quick Facts about Telangana:
♦ Capital – Hyderabad
♦ Current Governor – E.S.L. Narasimhan
♦ Current Chief Minister – K. Chandrashekar Rao
♦ Important National Park – Mrugavani National Park
Environment Ministry Forms 19 Teams to clean Beaches and lakes
Union Ministry of Environment, Forest and Climate Change, has formed 19 teams to take up cleaning of beaches, lakes and river fronts across India.
Teams formed for Clean-up drive:
i. The 19 teams comprise senior officers of environment ministry, State Pollution Control Boards, college of fisheries located along the coastal stretches, district administration and other educational/research institutions.
ii. Eco-club schools, which are being provided assistance from Environment Ministry under the National Green Corps programme will also be a part of the teams.
iii. The 19 teams will undertake cleaning up of around 24 beaches in 9 coastal states and river fronts in 24 identified polluted stretches in 19 states.
iv. In addition to this, a special cleanliness drives will be carried out at Yamuna riverfront in Delhi and certain lakes and water bodies.
Smart Cities Mission – 1,333 projects worth Rs.50,626 crores completed or under implementation / tendering
On 17th May, The Ministry of Housing and Urban affairs has announced that it has been able to achieve success in the Smart City Mission.
Key points about Smart City Mission:
i. Smart Cities Mission – 1,333 projects worth Rs.50,626 crores completed or under implementation.
ii. Overall projects worth Rs.2,03,979 croresfor all 99 smart cities across the country.Out of which as far, 91 of them have already incorporated SPVs (Special Purpose Vehicles).
iii. 9 Smart Cities viz.Ahmedabad, Rajkot, Vadodara, Visakhapatnam, Bhopal, Pune, Kakinada, Surat & Nagpur have already established Integrated City Command and Control Centres (ICCC)
iv. Smart Road projects have been completed in 4 cities worth Rs.228 crores. Smart Solar projects and Smart Water projects in 6 cities have been completed. Smart Waste Water projects in 46 cities have been completed/under implementation/ tendering .
v. Other than these many impactful projects likeheritage conservation, water front development, public space development etc. have been completed in 13 cities worth Rs.107 crores and projects worth Rs. 5,865 crores are under implementation/tendering.
Smart City Mission has lots of convergence with other missions:-
Under AMRUT :- out of SAAP size of Rs.77,640 crores,projects worth rs 65,075 crores (84%) under various stages of implementation including projects tendered has been approved .
Under PMAY(U) :- Rs. 25,475 crores of Central asistance released to States/UTS.
Under DAY – NULM :- .1907.5 crores have been released so far.
Under HRIDAY:- City HRIDAY Plans (CHPs) for 12 cities have been approved.
Swachh Bharat Mission (Urban) :- Rs.6,592 crores have been released to states under this scheme.
Suresh Prabhu launches Intellectual Property mascot – IP Nani
On 17th May, the Minister of Commerce and Industry Shri Suresh Prabhu launched an Intellectual Property Mascot named IP NANI at a conference of National Intellectual Property Rights Policy held in New Delhi.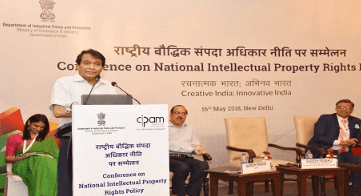 Mascot IP Nani is a tech-savvy grandmother who helps in combating IP crimes with the help of her grandson "Chhotu" aka Aditya. The IP mascot will spread awareness about the importance of Intellectual Property Rights (IPRs) among people, especially children, in an interesting manner.
Key Points:
i. The National IPR Policy was approved by the Union Cabinet on 12th May 2016. The objective of the Policy is "IPR Awareness: Outreach and Promotion" on IPR for school children .
ii. The Cell for IPR Promotion and Management (CIPAM) under the Department of Industrial Policy and Promotion (DIPP)collaborated with the European Union Intellectual Property Office (EU-IPO) to produce a series of animated videos on IPRs for children with IP Nani as their central character.
iii. The Minister has launched an anti-piracy video featuring actor Mr. Amitabh Bachhan in the same event.
Cell for IPR promotion and Management (CIPAM):
i. All these videos are available on CIPAM's official YouTube channel (CIPAM India), Twitter handle @CIPAM_India and Facebook Page @CIPAMIndia.
ii. So far 100 schools and 8000 students have been given workshops since it started in April 2017. NCERT to include lessons on IPR in class 12 syllabus.
The Union Ministry of Development of North Eastern Region (DoNER) has sanctioned two projects worth Rs 48 crore to boost tourism in Tripura
On 17th May 2018, the Union Ministry of Development of North Eastern Region (DoNER) sanctioned two projects worth Rs 48 crore to enhance tourism in Tripura.
Two projects worth Rs 48 crore to enhance tourism in Tripura:
i. The funds will be utilised to repair and develop two roads that link two tourism spots – Chabimura and Tirthamuk – at Amarpur sub-division in Gomati district.
ii. Chabimura is known for its rock carvings. Tirthamukh is the confluence of Raima and Sarma rivers. It is considered a sacred spot.
iii. The projects were approved at a meeting of the North East Special Infrastructure Development Scheme held in New Delhi recently.
Some National Parks in Tripura:
♦ Clouded Leopard National Park
♦ Rajbari National Park
Union Minister of Agriculture and Farmers' Welfare Shri Radha Mohan Singh addresses National Conference of Fisheries Ministers of Coastal states
On 17th May 2018, Union Minister of Agriculture and Farmers' Welfare, Radha Mohan Singh addressed the National Conference of Fisheries Ministers of Coastal states, in New Delhi.
National Conference of Fisheries Ministers of Coastal states:
i. Radha Mohan Singh said that, during the last decade, India has attained first position with 14% average annual growth in the export of fish & fishery products.
ii. He added that, Fish production in India has also grown by 27% in 2014-18 compared to 2010-14.
iii. He said that, the government has decided to promote deep sea fishing and has launched a sub-component 'Assistance for Deep Sea Fishing' under the Blue Revolution.
iv. As per this scheme, self-help groups of traditional fishermen are given 50 per cent of the vessel cost i.e. the central assistance of Rs 40 lakh for vessel costing up to Rs 80 lakh.
v. In the first year, central funds of over Rs 300 crore have been released for the implementation of this scheme in Tamil Nadu, Andhra Pradesh and Gujarat.
Some important dams in India:
♦ Indira Sagar Dam – Narmada River
♦ Warna Dam – Varna River
♦ Bhatsa Dam – Bhatsa and chorna River