INDIAN AFFAIRS
CSTT adopts AYUSH word for scientific and technical purposes
Commission for Scientific and Technical Terminology (CSTT) has adopted the acronym "AYUSH" as a word, both in the English and Hindi languages, for scientific and technical purposes.
More information on CSTT adopting the acronym AYUSH:
i.CSTT took this decision based on a proposal of the Ministry of AYUSH.
ii."AYUSH" is an acronym for five traditional systems of medicine — Ayurveda, Yoga and Naturopathy, Unani, Siddha and Homoeopathy.
iii.Following adoption by CSTT, the word "AYUSH" will now refer to traditional and non-conventional systems of healthcare and healing, which includes Ayurveda, Yoga, Naturopathy, Unani, Siddha, Homeopathy etc.
Quick Facts about CSTT:
♦ Formed in – 1960
♦ Located in – New Delhi
♦ Main Objective – to evolve and define scientific and technical terms in Hindi and all Indian languages
Nitish flags off Beej Vahan Vikas Vahan Rath for every district
On May 19, 2018, Bihar Chief Minister Nitish Kumar flagged off the 'Krishi Mahabhiyan-cum-Beej Vikas Vahan Rath' to create awareness among farmers about government schemes for them during Kharif season.
More information about 'Krishi Mahabhiyan-cum-Beej Vikas Vahan Rath':
i. Mr. Nitish Kumar flagged off two Raths for each district at a function in Patna on the occasion of 'Kharif Mahabhiyan-cum-Mahotsav 2018'.
ii. Of the two raths, one is 'Kharif Mahabhiyan-cum-Mahotsav Rath' that would travel to blocks, gram panchayats and villages to tell the farmers about the schemes being run during kharif season.
iii. The other Rath is 'Beej (Seed)Vahan Vikas Rath' which would have Kharif seeds and pesticides for the treatment of kharif crop.
Quick Facts about Bihar:
♦ Capital – Patna
♦ Current Governor – Satya Pal Malik
♦ Current Chief Minister – Nitish Kumar
♦ Important National Park – Valmiki National Park
India's Next Generation Defence Aircraft To Be Build In Tamil Nadu
On 20th May, The proposal for India's Next –Gen Defence aircraft has been announced by TheAeronautical Development Agency (ADA) . They announced that India's fifth generation aircraft could even replace the Light Combat Aircraft (LCA) Tejas.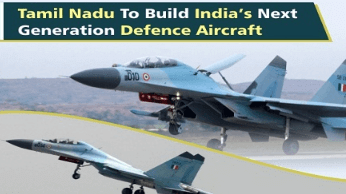 Objective:
To propel the Government of India's mission of 'Make in India' campaign forward.
Key Points:
i. The next gen aircraft is called Advanced Medium Combat Aircraft (AMCA)is for the first time being built by inviting private players .
ii. The is also the firsttime that any defence project is being built outside Bangaluru. It will be built in Sulur, Coimbatore district, Tamil Nadu.
iii. The private players will be required to manufacture, assemble and equip two fighter aircraft, develop design, manufacture and transport them to the Flight Test Facility.
The Aeronautical Development Agency (ADA):
♦ Headquarters – Bangaluru.
Tripura reserves 10% police posts for women
On 20th May, The Tripura Government announced that 10% of all police force will be reserved for women in a meeting chaired by the Chief Minister of Tripura Mr. Biplab Kumar Deb.
Objective:
This was done to encourage women to participate and deal more efficiently with crimes related to them.
Key Points:
i. This decision was taken with close observation to Supreme Court's decision with the Nirbhaya gang rape case of 2012 and will be subjected to increase in future if necessary.
ii. In the state at present out of 26,000 police personnel there are 1,200 women.
iii. Seven all-women police stations across the state, including two in Agartala has been set up
iv. Apart from this a PRAYAAS committeein every police station consisting of former policemen, veterans and politicians has been formed to deal with policing.
Tripura:
♦ Chief Minister – Biplab Kumar Deb
♦ Capital – Agartala.
Government earns Rs 1,400 crore as revenue from e-tourist visa
On 20th May, Government of India's e-Visa scheme has fetched Rs. 1400 crore as revenue .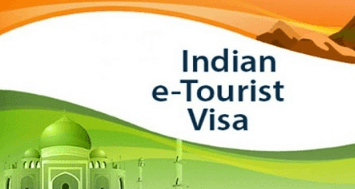 Key points about the e-Visa Scheme:
i. This scheme was launched in 2014.
ii. In 2017 , 19 lakh tourists have availed this facility and 25 lakh more touristsare expected to join in on 2018.
iii. This scheme is under the Ministry of Home Affairs and has improved the efficiency and transparency of various services being provided to foreign nationals.
iv. This scheme can be used for medical services , business purposes also apart from tourism.
v. Under the e-visa scheme, an applicant, when an online application is submitted, receives an e-mail authorising him or her to travel to India after it has been approved.
The tourist can travel with a print-out of this authorization.
vii. This has 4slabs zero, $25, $50, $75 for fixed repisotory and depends on nationality
vii. So far this scheme covers 163 nations worldwide.
Quick fact about Home ministry
♦ Union Minister of Home Affairs – Raj Nath Singh.
Uttarakhand CM launches tree plantation drive for river rejuvenation
On 19th May 2018, Uttarakhand Chief Minister Trivendra Singh Rawat launched the first phase of a massive tree plantation initiative along Rispana River, Uttarakhand, by initiating pit-digging work for the campaign.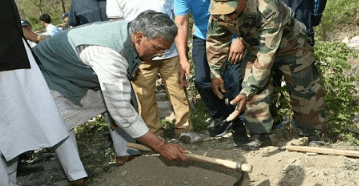 Uttarakhand CM launches tree plantation drive for river rejuvenation:
i. Trivendra Singh Rawat said that, Mission Rispana to Rishiparna is not a government programme, it is a social initiative. Each individual has to contribute to it.
ii. Under the Rishiparna rejuvenation mission, a goal of digging nearly 2.5 lakh pits from Landhaur Shikhar Fall to Motharwala-Daudwala area by the end of June 2018 has been fixed.
iii. Over 40 government and non-government organisations, and more than 8,000 volunteers, school students and people participated in the pit-digging event.
Some wildlife sanctuaries in Uttarakhand:
♦ Askot Musk Deer Sanctuary
♦ Binsar Wildlife Sanctuary
♦ Govind Pashu Vihar National Park and Sanctuary