INDIAN AFFAIRS
Prakash Javadekar launches Samagra Shiksha scheme for school education
On May 25,2018, The Union Minister of Human Resources and Development Mr. Prakash Javedekar launched the " Samagra Shiksha "scheme .This scheme is targeted towards providing education from pre-school till class 12.
i. This scheme will consist of the three components considered earlier for school education . They are : Sarva Shiksha Abhiyan (SSA),Rashtriya Madhyamik Shiksha Abhiyan (RMSA) and Teacher Traning .
ii. The budget has been enhanced for school education from Rs. 28000 crore from 2017-18 to Rs. 34000 crore from 2018-19. And it would be further increased to Rs. 41000 crore in 2019-2020
Visit of Prime Minister of the Netherlands, Mark Rutte to India (May 24-25, 2018)
On May 25,2018, Visit of Prime Minister of Netherlands to India concluded. Following are the agreements signed by the two countries.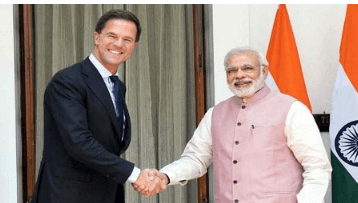 i. The PM of Netherlands Mark Rutte launches 'Clean Air India ' initiative in New Delhi on May 25, 2018.
ii. Netherlands signed 51 agreements covering government and private sectors. It also joined the International Solar Alliance.
iii. Mumbai Headquartered e-logistics company Cogoport to establish world's first digital freight passage with Netherlands as the gateway.This announcement was made on the 'Smart and Sustainable port led development' in Mumbai.
iv. PM of Netherlands inaugurated Indo-Dutch Ganga Forum in New Delhi.Session on "Innovative Financing Models for Indo-Dutch PPP Projects"were introduced.
v. An Indo-Dutch Startup Initiative has been launched called : '#StartUpLink'
Shri Ravi Shankar Prasad inaugurated cloud enabled Data Centre at Bhubaneshwar
On May 25,2018 , The Union Minister for Electronics & IT and Law & Justice Shri. Ravi Shankar Prasad has inaugurated cloud enabled Data Centre at Bhubaneswar, Odisha.
i. Objective: This will provide 24*7 online services for e-Governance applications and its departments .
ii. The Data centre and cloud services are being offered by National Informatics Centre (NIC).
iii. This would provide on-demand access to Information and Communication Technology (ICT )
13th Inter-State Council Standing Committee under the chairmanship of Union Home Minister Shri Rajnath Singh
On 25th May 2018, the Standing Committee of the Inter-State Council (ISC) headed by the Union Home Minister Rajnath Singh held a meeting in New Delhi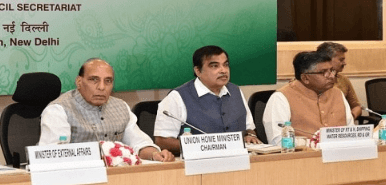 Meeting of Standing Committee of the Inter-State Council (ISC):
i. Discussions were conducted on all 273 recommendations of the Punchhi Commission.
ii. This was the 13th meeting of the Standing Committee of the ISC. The meeting focused on volume VI & VII of the Punchhi Commission's Report. They had 88 recommendations in total.
iii. The recommendations in Volume VI of the Punchhi Commission report are related to: Environment, Natural Resources and Infrastructure.
iv. The recommendations in Volume VII are related to: Socio-economic Development, Public Policy and Good Governance.
v. The recommendations finalized in the meeting of the Standing Committee will be placed before the Inter-State Council for decision.
Tag lines of some banks:
♦ Syndicate Bank – Faithful. Friendly
♦ UCO Bank – Honors Your Trust
♦ Union Bank of India – Good people to bank with
PM Modi lays foundation stone of several developmental projects in Jharkhand
On 25 May 2018, Prime Minister Narendra Modi laid the foundation stone of several projects of the Government of India and Government of Jharkhand, at an event in Sindri, Jharkhand.
Developmental projects in Jharkhand:
i.The projects are listed below:
1.Revival of Sindri Fertilizer Project of Hindustan Urvarak and Rasayan Ltd.
2.Ranchi City Gas Distribution Project by GAIL
3.All India Institute of Medical Sciences (AIIMS), Deoghar
4.Development of Deoghar Airport
5.Patratu Super Thermal Power Project
ii. He witnessed the Exchange of MoUs for Jan Aushadhi Kendras. He paid homage to Bhagwan Birsa Munda.
iii. The total cost of the projects, for which foundation stones were laid is Rs. 27,000 crore.
Some Wildlife sanctuaries in Jharkhand:
♦ Hazaribag Wildlife Sanctuary
♦ Gautam Budha Wildlife Sanctuary
♦ Dalma Wildlife Sanctuary
Union Minister Smt Harsimrat Kaur Badal inaugurates Incubation Centre and Food Testing Laboratory at NIFTEM
On 25th May 2018, Union Minister of Food Processing Industries Harsimrat Kaur Badal inaugurated an Incubation centre and Food Testing Laboratory at NIFTEM in Sonipat, Haryana.
Incubation Centre and Food Testing Laboratory at NIFTEM:
i. The facilities that were inaugurated at NIFTEM are as follows:
1.Pilot Plant for Ready-to-Eat and Traditional Food
2.Pilot Plant for Milk and Dairy Product
3.Pilot Plant for Fruits and Vegetable processing
4.Pilot Plant for Meat and Poultry Processing
5.NIFTEM Centre for Food Research and Analysis
ii. Harsimrat Kaur Badal said that the Ministry of Food Processing Industries will collaborate with various international laboratories so that the food products approved by laboratories at NIFTEM receive worldwide acceptability.
About National Institute of Food Entrepreneurship and Management (NIFTEM):
♦ Vice Chancellor – Dr. Chindi Vasudevappa
♦ Location – Sonepat, Haryana
Ministry of Culture organized Rashtriya Sanskriti Mahotsav 2018 in Tehri, Uttarakhand from 25th to 27th May, 2018
On May 25,2018, Ministry of Culture organized the 9th edition of Rashtriya Sanskriti Mahotsav 2018 in Tehri, Uttarakhand from 25th to 27th May,2018. Uttarakhand's Tehri Lake Festivalwill be a part of the event. IT consists of water sports organized by the Uttarakhand tourism each year. This initiative is under the 'Ek Bharat Shreshtha Bharat' .
Objective of the 3 day event:
To present and promote rich cultural diversity and inter-linkages amongst different states to strengthen National participation.
Salient features about the Mahotsav:
i. It aims to preserve , popularize and promote the cultural heritage and diversity of all Indian states .
ii. The cultures of other states would be displayed through a food festival.
iii. This year the partner state for the festival of Uttarakhand is Karnataka. Special emphasis is given to the performances of the partner state.
iv. Performances of arts, folk dances, music, cuisines would be showcased from different states. Special local Tehri folk artists would join as well.
v. The North Zone Cultural Centre (NZCC) , Patialahas been given the responsibility to carry the execution of the festival.
About RSM:
♦ So far 8 RSM's have been organized with : 2 in Delhi, 2 in Karnataka, 1 each in Varanasi, Gujrat , MP and North Eastern State Capitals.
Roll out of e-Way Bill system for intra-State movement of goods in the Maharashtra, Manipur and Union Territories (without legislature)
On 25th May 2018, the e-Way Bill system for intra-State movement of goods was implemented for Maharashtra, Manipur and Union Territories (without legislature).
Roll out of e-Way Bill system for intra-State movement of goods:
i.On 25th May 2018, the e-Way Bill system for intra-State movement of goods was implemented for:
Maharashtra, Manipur, Andaman & Nicobar Islands, Chandigarh, Dadra & Nagar Haveli Daman & Diu and Lakshadweep
ii. The e-Way Bill system for inter-State movement of goods was launched on 1st April 2018.
iii. By 25th May 2018, 27 States / Union Territories will have implemented the e-Way Bill system for intra-State movement of goods.
Some important temples in India:
♦ Kedarnath Temple – Uttarakhand
♦ Siddhivinayak Temple – Maharashtra
♦ Somnath Temple – Gujarat