Indian Affairs
Rajnath Singh chairs second meeting of Island Development Agency
On November 8, 2017, Union Home Minister Rajnath Singh chaired the second meeting of Island Development Agency (IDA) in New Delhi.The meeting was attended byGovernor of Andaman & Nicobar Islands, Admiral D.K. Joshi, who is also the Vice Chairman of IDA.
i. Other members of the IDA, Cabinet Secretary, P. K. Sinha, CEO of NITI Aayog, Amitabh Kant, Union Home Secretary, Rajiv Gauba, Union Environment, Forest & Climate Change Secretary, C. K. Mishra and representatives of Ministries of Tourism, Power, Defence, Health, Telecommunications and Civil Aviation also attended this meeting.
ii. The IDA was set up on June 1, 2017 following Prime Minister Narendra Modi'sreview meeting for the holistic development of islands…
Varanasi tops the List of Country's Most Polluted City
According to Central Pollution Control Board (CPCB) data, Varanasi's Air Quality Index (AQI) at 4pm on 10th November 2017 was at 491 at Ardhali Bazar monitoring station, making it the most polluted city of India.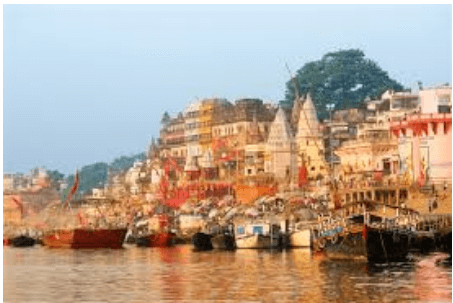 Varanasi – India's most polluted city:
i. The Air Quality Index (AQI) of Varanasi was at 491, just nine short of where the AQI scale ends at 500. This indicates a public health emergency.
ii. This air quality could affect even healthy people and seriously impact people with existing diseases. The concentration of PM2.5, the prominent pollutant, wasmore than eight times the safe limit of 60 micrograms per cubic metre of air.
iii. Earlier, on 9th November 2017, Varanasi's AQI was 358, which placed it in the "very poor" category.
About Central Pollution Control Board (CPCB):
♦ An organisation under the Ministry of Environment, Forest and Climate Change
♦ Chairman – S.P. Singh Parihar
♦ Member Secretary – A.B. Akolkar
Odisha, West Bengal to hold joint coastal security exercise
In a bid to tighten the existing coastal security mechanism, Odisha and its neighbouring state West Bengal will soon organize a joint security exercise named as 'Sagar Kavach'along the 630 km long coastline.
More Information about 'Sagar Kavach':
i.' Sagar Kavach' will be a real-time security exercise, conducted with an aim to check the efficacy of the security parameters and preparedness of various security forces viz. Indian Navy, Marine police force, Indian Coast Guard (ICG), Forest Department, Fisheries and district administration.
ii. During the course of this two-day exercise, a simulated terror attack named 'red force' will be organised at a random place along the coast of Odisha or West Bengal. Effectiveness of response of security forces to this simulated threat will be assessed.
iii. Personnel from the Indian Navy, Coast Guard at Paradip and Haldia, 18 marine police stations in Odisha and 12 police stations of West Bengal will participate in this drill.
iv. Besides, teams of Customs and port officials, fisheries department officials will also take part in this exercise.
Quick Facts about Odisha and West Bengal
| | | |
| --- | --- | --- |
| | Odisha | West Bengal |
| Capital | Bhubaneswar | Kolkata |
| Current Chief Minister | Naveen Patnaik | Mamata Banerjee |
| Current Governor | S C Jamir | Keshari Nath Tripathi |
| Important National Parks | Bhitarkanika National Park, Simlipal National Park | Buxa National Park, Sundarbans National Park |
Indo-Bangla defense cooperation: Army training capsule in Patna
As a part of the ongoing Indo-Bangladesh defense cooperation, an army training capsule on counter-insurgency operations will be conducted in Patna's Danapur Cantonment from November 13, 2017 to December 10, 2017.
i. This training capsule will be first of its kind being organised for the Bangladesh Army at Danapur Cantonment.
ii. Five officers and 25 other ranks of the Bangladesh Army will attend this training. Experienced Indian Army training team will provide them skill based training on handling counter-insurgency / counter-terrorism operations in hostile environment.
iii. Colonel D.D. Swain will be heading the Indian Army training team.
iv .State-of-the art weapons and equipment for close-quarter battle, explosives detectors, surveillance and tracking equipments and communication equipment will be fielded during this training event..
Quick Facts about Bangladesh:
♦ Capital – Dhaka
♦ Currency – Taka
♦ Current Prime Minister – Sheikh Hasina
♦ Legislature – Jatiya Sangsad
India will be hosting its first Military Literature Festival in Chandigarh
Punjab State Government has announced that the first Military Literature Festivalwould be held in Chandigarh from 7th – 9th December, 2017.
More Information about first Military Literature Festival in Chandigarh:
i. The event is being organised to pay tribute to the armed forces and spread awareness about Military Literature among masses.
ii. It will be jointly promoted by the Punjab government and Chandigarh Administration.
iii. On November 10, 2017, Punjab's Local Bodies and Tourism and Culture Minister, Navjot Singh Sidhu, unveiled Military Literature Festival's logo.
Gurugram to have North India's biggest butterfly park
On November 11, 2017, Haryana State Forests Minister Rao Narbir Singh, laid the foundation stone for a Butterfly Conservatory Park in Gurugram.
More Information about Butterfly Park in Gurugram:
i. Haryana State Forest Department is setting up this butterfly park to conserve the species of butterflies that are near extinction on account of urbanisation.
ii. This conservatory park will be developed on 15 acres in Sector 52 of Gurugram in association with a non-governmental organisation named Uthaan.
iii. Work of developing this park will take about one year time. On completion, it will be North India's biggest butterfly park.
iv. The park will be home to an information-cum-demo centre, cluster plots having host plant species, office-cum-record room, 'nakshatra' garden, glow worm conservation area, and a souvenir shop.
India's first cartoon network theme park to come up in Surat
Turner International India, the parent entity of Cartoon Network brand has announced that it has entered into a brand partnership with a Gujarat-based private firm to set up India's first cartoon network theme amusement park in Surat.
i. Turner International India has entered into a brand partnership with Rajgreen (Gujarat based real estate, entertainment and hospitality group) for the launch of a 61000 square meter property Amaazia, in Surat.
ii. The amusement park will be set up at an estimated cost of Rs. 450 crore and is expected to be launched in the first quarter of 2019.
iii. Amaazia will have -a theme park, branded by Cartoon Network, a water park, a family recreational hub and a service apartment and retail shopping area.
iv. This project will be Cartoon Network's first brand association for an amusement park in India.
v. It already has two such partnerships in Asia. One is Cartoon Network Amazon Water Park in Pattaya, Thailand and an entire Cartoon Network Zone in IMG Worlds of Adventure in Dubai.
Quick Facts about Cartoon Network:
♦ Launched in – 1992
♦ Owned by – Turner Broadcasting System
♦ Operational Headquarters – New York, US
Third edition of Russian film fest opens in Delhi
After the great success of the first two editions, the third edition of the Russian film festival titled'Russian Film Days' is now open for cinema lovers in NewDelhi until Sunday 12th Nov 2017.
i. The fest opened here on Friday 10thof Nov 2017, in the presence of Russian actress Kseniya Ryabinkina, who worked with legendary actor Raj Kapoor in Mera Naam Joker, actress Hema Malini, who is also the head of Indo-Russian Friendship committee, actor-producer-director Randhir Kapoor and Russian Ambassador to India Nikolay Kudashev and the Minister of Culture of the Russian Federation Vlamidir Medinkiy. They were present there to promote the film Fest in India.
ii. The Russian Film Days commences in Delhi from the 10th to 12th November, travels to Mumbai from 13th to 15th, and concludes at IFFI Goa from 21st to 28th of November.
iii. The festival will screen movies across genres like Comedy, thriller, drama, Sci-Fi, etc.