Indian Affairs
Financial assistance of Rs 2,302.05 cr for projects under Coastal Berth Scheme
Union Ministry of Shipping has announced to provide financial assistance worth Rs 2302 crore for projects under the Coastal Berth Scheme of the flagship Sagarmala Programme.
i. Projects under Coastal Berth Scheme will be executed in total eight states.With 12 projects, Maharashtra is the state having highest number of projects under this scheme.
ii. 10 projects will be executed in Andhra Pradesh & Goa, 6 projects in Karnataka, 3 projects in Kerala and Tamil Nadu, 2 projects in Gujarat and 1 in West Bengal…
Indian Railways launches main arch on world's highest bridge on Chenab
Indian Railways has launched the main arch of the world's highest bridge on the river Chenab in Jammu and Kashmir's Reasi district which will provide direct connectivity to the Kashmir valley.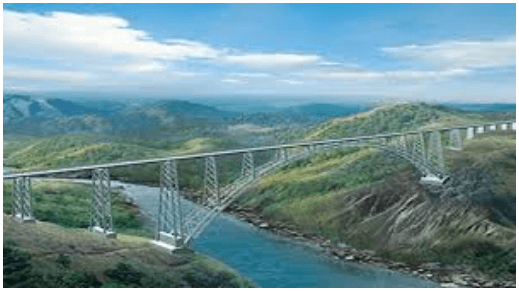 Main arch on world's highest bridge on Chenab:
i. The bridge will stand 359 metres above the bed of the River Chenab and will be 30 metres higher than the Eiffel Tower in Paris.
ii. The bridge forms link in the 111-km distance between Katra and Banihal which is part of the Udhampur-Srinagar-Baramulla section of the Kashmir Railway project.
iii. The 1.3-km-long bridge is being constructed at a cost of Rs. 1,250 crore. The the bridge would be completed by May 2019. The bridge could withstand winds up to 260 kmph and its lifespan will be 120 years.
About Chenab River:
♦ Major river of India and Pakistan
♦ Forms in the upper Himalayas and flows through the Jammu region into the plains of the Punjab, Pakistan
Railways to indroduce Aadhaar-based biometric attendance system for rail employees
On 3rd November 2017, the Railway Board issued a letter stating that, it will install Aadhaar-based biometric attendance system in all its zones and divisions by 31stJanuary 2018.
Aadhaar-based biometric attendance system for rail employees:
i. As per the order, the biometric attendance system would be first implemented in the offices of all divisions, zones, Metro Rail Kolkata, railways workshop, factories and production units by 30th November 2017.
ii. In the second phase, it will be implemented in all the offices of Railways, including public undertakings, attached and subordinate offices by 31st January 2018. Currently, the system is in practice in the railway board and few zonal headquarters.
iii. It will be monitored by the divisional railway manager's office. CCTV cameras will be provided with the biometric machine.
About Railway Board:
♦ Headquarters – New Delhi
♦ Services – Passenger railways, freight services, bus transportation, travel agency services, parking lot operations and other related services
Hyderabad's signature cuisinea to get India Post stamp
On November 3, 2017, Department of Post issued stamps with photos of three Hyderabadi dishes – Biryani, Baghare Baingan and Seviyan.
i. Biryani dish is believed to be of Persian origin. In South India, several Persian and Turkish dishes were introduced by Qutub Shahis and Biryani was one such dish. However, the famous Hyderabadi Biryani does have a lot of local spices.
ii. Bagare baingan (Brinjal recipe) has long been a signature dish of royal kitchens of Hyderabad. This dish is believed to have indigenous origin as brinjal is a native Indian plant.
iii. Seviyan is a dessert/sweet dish which is a part of Id-ul-Fitr celebrations. This dish too was introduced into Deccan by the Qutub Shahis.
iv. Postage stamps on these dishes is part of Department of Post's initiative to issue stamps on 24 different Indian dishes, including the famous Tirupati laddu.
v. Exclusive postage stamps have also been issued to honor Andhra dishes — idlidosa and pongal.
Three-Day International Conference FIPSPHYSIOCON 2017 inaugurated in University of Delhi
"FIPSPHYSIOCON 2017", Conference on Human Physiology – VII Congress of Federation of Indian Physiological Societies (FIPS) along with XXIX Annual Conference of the Physiological Society of India (PSI) was inaugurated at Vallabhbhai Patel Chest Institute (VPCI), University of Delhi on November 5, 2017.
More Information about "FIPSPHYSIOCON 2017":
i. This event was organised by Defence Institute of Physiology and Allied Science (DIPAS) of Defence Research and Development Organisation (DRDO).
ii. The conference was held with an objective to update the scientific community about most latest advances in human Physiology in extreme environments, Sport Physiology, Yoga, Neuroscience, and translational research. 16 sessions and 118 lectures were conducted on these subjects.
iii. Theme of "FIPSPHYSIOCON 2017" was "Integrating Physiological and Biomedical Science Approaches to Improve Performance, Health and Safety".
iv. Around 300 delegates from India, USA, UK, Kyrgyz Republic and Malaysia attended this conference.
Nobel Memorial Wall inaugurated at Delhi's Rajiv Chowk Metro station
On November 1, 2017, Embassy of Sweden and the Delhi Metro Rail Corporation (DMRC) Ltd jointly inaugurated the Nobel Memorial Wall at the Rajiv Chowk Metro station of the Delhi Metro network. The wall will be on display till November 7, 2017.
More information about Nobel Memorial Wall:
i. The wall exhibits paintings of Indian Nobel Laureates – Rabindranath Tagore, CV Raman, Hargobind Khorana, Mother Teresa, Subrahmanyan Chandrasekhar, Amartya Sen, Venkatraman Ramakrishnan and Kailash Satyarthi.
ii. These painting have been made by the students from top Fine Art Colleges in Delhi. The paintings were selected through competition conducted by the Embassy of Sweden.
iii. The jury of the competition included Kaveree Bamzai , the Editor of India Today Group, Artist Naresh Kapuria and Josa Karre, the Head of Economic section at the Embassy of Sweden.
iv. Objective of exhibiting this wall is to spread awareness about all the Nobel Laureates from India and their contribution to the society.
India, Bangladesh joint military combat exercise "Sampriti -7" begins in Meghalaya
On November 6, 2017, 'SAMPRITI 2017', the seventh edition of Indo-Bangladesh joint military training exercise begun in Meghalaya.
More Information about 'SAMPRITI 2017':
i. 'SAMPRITI 2017' will be held from 6th – 18th November, 2017. Firstly, Command Post Exercise (CPX) will be conducted from 6th – 11th November, 2017 in Umroi, Meghalaya followed by Field Training Exercise (FTX) at India's Jungle Warfare School at Vairengte in Mizoram.
ii. 20 officers each from both the sides will participate in CPX, whereas one infantry company from both the armies will take part in FTX.
ii. Exercise 'SAMPRITI' is held alternately in India and Bangladesh every year.
iii. Objective of this exercise is to enhance interoperability between army personnel of India and Bangladesh while carrying out joint counter-insurgency or counter-terrorism operations.
iv. Previous edition of 'SAMPRITI' was held at Tangail in Dhaka, Bangladesh in 2016