Indian Affairs
Radha Mohan Singh inaugurates three-day Organic World Congress – 2017 in Greater Noida
On 9th November 2017, Union Agriculture and Farmers' Welfare Minister, Radha Mohan Singh inaugurated the three-day Organic World Congress – 2017 at India Expo Centre in Greater Noida.
Organic World Congress – 2017:
i. 1,400 representatives from 110 countries, and 2000 delegates from India participated in the Organic World Congress – 2017. The goal is to move from organic India to the organic world.
ii. The Organic World Congress (OWC) is organized once every three years in a different country. The International Federation of Organic Farming Movements (IFOAM) and Organic Farming Association of India (OFAI) are organizing the event.
iii. One of the highlights of the event is the exhibition of carefully preserved diverse indigenous seed varieties over generations. 55 seeds group from 15 Indian states showcase 4,000 varieties of seeds in the event.
About Organic World Congress – 2017:
♦ Dates – 9 – 11 November 2017
♦ Venue – Indian Expo Centre and Mart, Greater Noida
First ever Nordic-Baltic youth film festival in India
The Nordic-Baltic embassies are set to host the first ever youth film festival of the European nations at India Habitat Centre in New Delhi from 13 – 18 November 2017.
Nordic-Baltic youth film festival 2017:
i. The Nordic-Baltic youth film festival is organized by Nordic-Baltic embassies in collaboration with the India Habitat Centre.
ii. The Nordic-Baltic countries are Denmark, Estonia, Finland, Iceland, Latvia, Lithuania, Norway and Sweden. They are tied together geographically and historically through trade, culture and many other value systems.
iii. The festival would offer a diverse mix of some of the most celebrated and Oscar nominated movies from the Nordic-Baltic region. Movies would range from action movies to family films to documentaries.
About Nordic-Baltic youth film festival 2017:
♦ Dates – 13 – 18 November 2017
♦ Venue – India Habitat Centre, New Delhi
PM Modi flagged off Bandhan Express & Inaugurates two bridges
'Bandhan Express' a passenger train between Kolkata and Bangladesh's southwestern industrial city of Khulna was inaugurated on November 9, 2017.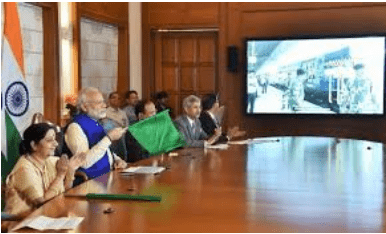 More Details about 'Bandhan Express':
i. 'Bandhan Express' was jointly flagged off (through video conferencing) by Indian Prime Minister Narendra Modi, West Bengal Chief Minister Mamta Banerjee and Bangladesh Prime Minister Sheikh Hasina.
ii. It is a fully air-conditioned passenger train and will run every Thursday from both Kolkata and Khulna.
iii. 'Bandhan Express' will cover 172 kms distance between Kolkata and Khulna in four hours. It will have two stoppages, one at Petrapole (on the India side) and other at Benapole (in Bangladesh).
iv. It is the second Indo-Bangla train service after the Maitree Express, which runs between Dhaka and Kolkata.
v. The three leaders also inaugurated two bridges over the rivers Meghna and Titas in Bangladesh to provide an end-to-end immigration facility to ease Dhaka-Kolkata Maitree train services.
Delhi govt signs twin city agreement with Seoul
On November 8, 2017, Delhi Government signed a twin city agreement with the Seoul (South Korea) Metropolitan Government with an objective to strengthen cooperation between two cities in the fields of smart city, e-governance, climate change and transportation.
i. This agreement, referred to as 'Establishment of Friendship City Relationship' was signed between Park Won Soon, Mayor of Seoul (South Korea) Metropolitan Government and Delhi and Chief Minister Arvind Kejriwal.
ii. It also envisages cooperation in the areas of environment, education, solid waste management, waste water management, public health, culture & tourism, and youth exchange.
iii. The twin city agreement between Delhi and Seoul will come into effect after being approved by Union Government.
iv. It is to be noted that Arvind Kejriwal and Park Won Soon, both received Ramon Magsaysay Award in year 2006.