INDIAN AFFAIRS
Dairy Processing & Infrastructure Development Fund with an outlay of Rs 10881 crore was launched by Agriculture Minister
On September 14, 2018, Minister of Agriculture and Farmers' Welfare Shri Radha Mohan Singh launched Dairy Processing & Infrastructure Development Fund (DIDF) with an outlay of Rs 10881 crore.
i. This was done in the inauguration of Dairy Processing & Infrastructure Development Fund (DIDF) in New Delhi.
Objective:
To help double the income of dairy farmers.
Key Points:
i. The DIDF was started by the Department of Animal Husbandry, Dairying and Fisheries (DADF) as per the announcement of Union Budget 2017-18.
ii. This is a part of the National Action Plan (Vision-2024) which requires Rs 51,077 crore for operationalization.
iii. Out of the Rs 10881 crore, the first installment of Rs 440 crore was being given to the National Dairy Development Board (NDDB).
About the Scheme:
i. Employment: 95,00,000 farmers in about 50,000 villages will be benefitted with direct and indirect employment.
Creation of:
Milk processing capacity of 126 lakh litre per day,
Milk drying capacity of 210 MT per day,
Milk chilling capacity of 140 lakh litre per day.
ii. Milk cooperatives will be provided financial assistance of Rs 8004 crore in the form of a loan at 6.5% interest for 10 years.
iii. Also a provision of interest subsidy on loans has been made.
Achievements:
Till now, 15 sub-projects with total approved outlay of Rs 1148.61 crore pertaining to States namely, Karnataka (Rs. 776.39 crore – 5 sub-projects), Punjab (Rs.318.01 crores – 4 sub-projects) and Haryana (Rs. 54.21 crore – 6 sub-projects) have been sanctioned so far.
Other News/Announcements:
i. Implementation of the World Bank-funded National Dairy Plan Phase-I scheme is underway by the NDDB.
ii. This is being carries out through the state government's cooperative milk organizations/milk federations in 18 states.
iii. Also, implementation of the National Programme for Dairy Development (NPDD) is being done by the state's cooperative/milk federations.
iv. Assistance of Rs 560.46 crore in 2014-18 was given under this scheme to increase the number of milk producers and increase processing and refrigeration capacity.
v. To increase production, of more female animals 10 semen centers have been identified under the Rashtriya Gokul Mission.
vi. 20 Embryo Transfer Technology (ETT) centers are being set up for the production of high genetic merit bovine bulls.
vii. INDUSCHIP has been developed for genomic selection of indigenous breeds and 6000 dairy animals have been genetically evaluated using INDUSCHIP.
About Rashtriya Gokul Mission:
i. It is a focussed project under National Programme for Bovine Breeding and Dairy Development, with an outlay of Rs 500 crore during the 12th Five Year Plan.
ii. 20 Gokul Grams are also being established under this scheme.
iii. Launch Year: December 2014.
About National Dairy Plan:
i. National Dairy Plan Phase I (NDP I) is a Central Sector Scheme for a period of 2011-12 to 2018-19. NDP I will be implemented with a total investment of about Rs.2242 crore comprising
ii. Rs.1584 crore as International Development Association (IDA) credit,
iii. Rs.176 crore as Government of India share,
iv. Rs.282 crore as share of End Implementing Agencies (EIAs) and
v. Rs.200 crore by National Dairy Development Board and its subsidiaries for providing technical and implementation support to the project.
DEPwD organized 'National Conference of District Disability Rehabilitation Centres' for Divyangans
On September 14, 2018, the Department of Empowerment of Persons with Disabilities (Divyangjan), Ministry of Social Justice & Empowerment organized a 1-day 'National Conference of District Disability Rehabilitation Centres' at Dr. Ambedkar International Centre, New Delhi.
i. Shri Thaawarchand Gehlot, the Minister of Social Justice & Empowerment will be the chief guest.
ii.The aim of the conference was to let DDRCs play a crucial and central role for the wellbeing of Divyangjan .
About District Disability Rehabilitation Centre (DDRC):
i. It would provide:
Comprehensive services to persons with disabilities,
Creation of infrastructure and capacity building at the district level for awareness, rehabilitation and training of rehabilitation professionals.
Therapeutic services such as Physiotherapy, Occupational Therapy and Speech Therapy etc. to divyangjans through rehabilitation professionals.
ii. 310 districts have been identified and 263 DDRCs have been set up.
iii. Cost norms of the Scheme has been revised and enhanced to 2.5 times w.e.f. 01/04/2018.
Government prohibits manufacture, sale or distribution of 328 Fixed Dose Combinations drugs for human use
On 7th September 2018, Ministry of Health and Family Welfare prohibited the manufacture, sale or distribution of 328 Fixed Dose Combinations (FDCs) for human use with immediate effect.
Key Points:
i. It has also restricted the manufacture, sale or distribution of 6 other FDCs subject to certain conditions.
ii. The prohibition has been made with reference to section 26A of the Drugs and Cosmetics Act, 1940.
iii. FDCs are two or more drugs combined in a fixed ratio and made into a single dosage form.
Background:
i. On 10th March 2016, Central Government prohibited the manufacture, sale and distribution of 344 FDCs for human use, and further prohibited 5 more FDCs.
ii.Affected manufacturers appealed in several High Courts and the Supreme Court.
iii. Following, Supreme Court's judgment given on 15th December 2017, Drugs Technical Advisory Board constituted under section 5 of the Drugs and Cosmetics Act, 1940, submitted a report on these drugs.
iv. Central Government has prohibited these 328 FDCs now, considering the recommendations of Drugs Technical Advisory Board and an Expert Committee it had appointed.
First Tribal Circuit Project under Swadesh Darshan Scheme inaugurated by Tourism minister in Chhattisgarh
On September 14, 2018, Union Minister of State for Tourism K J Alphons inaugurated the country's first tribal tourism circuit in Dhamtari district of Chhattisgarh.
i. This is the second project under the Swadesh Darshan Scheme being inaugurated in the country.
ii. The central government had allocated Rs. 99.21 Crores to develop this project to highlight tribal culture to the domestic and foreign tourists.
Objective:
To showcase the state's rich and diverse tribal culture and traditions to the tourists.
Key Points:
i. The project wil be developed under the Swadesh Darshan scheme.
ii. It will be developed by Chhattisgarh Tourism Board.
iii. The key components for development under the project are:
Ethnic Tourist Village,
Ethnic Tourist Development,
Destination Development and Wayside amenities.
iv. It covers 13 sites in Chhattisgarh including Jashpur, Kunkuri, Mainpat, Kamleshpur, Maheshpur, Kurdar, Sarodadadar, Gangrel, Kondagaon, Nathiya Nawagaon, Jagdalpur, Chitrakoot and Tirthgarh.
Other News:
Under the tribal circuit theme of the scheme the Ministry has sanctioned 4 projects to Nagaland, Telangana and Chhattisgarh for Rs. 381.37 Crores.
About Swadesh Darshan:
Swadesh Darshan scheme is one of the flagship schemes of the Ministry of tourism, for development of thematic circuits in the country in a planned and prioritised manner. The scheme was launched in 2014 -15 and as on date the Ministry has sanctioned 74 projects worth Rs. 5997.47 Crore to 31 States and UTs.
Chhattisgarh:
♦ Chief Minister: Raman Singh.
♦ Governor: Anandiben Patel.
♦ National Parks: Indravati National Park, Kanger Ghati National Park, Sitanadi National Park.
e-Rythu : digital platform for Andhra farmers launched by Andhra Pradesh & Mastercard
On September 14, 2018, the government of Andhra Pradesh entered into a MOU with Mastercard and launched a mobile platform, e-Rythu (e-farmer in Telugu) enabling small-scale farmers to market their produce at reasonable prices.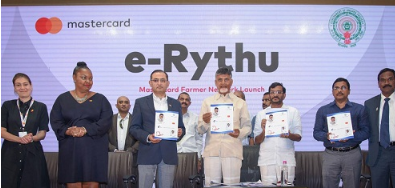 Objective:
Aims to digitize agriculture marketplaces, payments, workflows, and secure way to buy, sell and receive payments for agri productes.
Key Points:
i. The platform has been developed by Mastercard Labs for financial inclusion.
ii. The platform also creates a digital transaction history, which allows farmers to receive formal credit from banks and other financial institutions.
iii.Telegu will be the medium of communication.
iv. The government aims to integrate the e-Rythu with existing platforms such as-e-NAM (National Agricultural Market).
Andhra Pradesh:
♦ Chief Minister: N Chandrababu Naidu.
♦ Governor: E.S.L Narasimha.
♦ Capital: Amravati.
♦ National Parks: Sri Venkateswara National Park, Rajiv Gandhi National Park, Papikonda National Park.
Tamil Nadu & Centre sign MoU on implementing Ayushman-Bharat with state run CMCHIS
On September 14, 2018, the Tamil Nadu government signed an MOU with the centre to implement Ayushman Bharat along with state's Chief Minister's Comprehensive Health Insurance Scheme (CMCHIS).
i. This association would benefit about 77 lakh poor and vulnerable families in Tamil Nadu.
ii. Additionally, the insurance benefit for all those covered under the state scheme will be increased to Rs 5 lakh as per the National Health Protection Scheme.
iii. It would also include all 8 high-end procedures upto Rs 25 lakh covered under state-run insurance scheme.
About Chief Minister's Comprehensive Health Insurance Scheme (CMCHIS):
The Tamil Nadu's health insurance scheme covers 1.57 crore families and provides coverage of Rs 1 lakh per year for 1,027 procedures, and Rs 2 lakh per year for 154 specified medical procedures.
i. It also has a corpus for treatment of eight high-end procedures.
About Ayushman Bharat – National Health Protection Mission (AB-NHPM):
Ayushman Bharat – National Health Protection Mission is a scheme that was announced by the Union Minister for Finance and Corporate Affairs, Shri Arun Jaitely while presenting the General Budget 2018-19 that will cover over 10 crore poor and vulnerable families (approximately 50 crore beneficiaries) providing coverage upto 5 lakh rupees per family per year for secondary and tertiary care hospitalization. Under this scheme , Rs 1200 crore has been allotted for establishing 1.5 lakh Health and Wellness Centres . 24 new Government Medical Colleges and Hospitals and at least 1 Medical College for every 3 Parliamentary Constituencies and at least 1 Government Medical Collegie in each State of the country.
Bihar cabinet approved scheme to give Rs 1 lakh interim relief among other proposals
On September 14, 2018, Bihar government approved a scheme for providing interim relief of Rs. 1 lakh to those affected by mob violence besides speedy trial of such cases.
i. The scheme provides for an interim relief of Rs one lakh to victims of mob violence within a month of the incident.
ii. to hear such cases at fast track courts to ensure its completion within 6 months was given.
Other News:
i. It also approved a loan agreement with the BRICS New Development Bank for USD 350 million for the purpose of building village roads.
ii. The money would be borrowed under a Multi-Tranche Financial Facility and a loan of USD 45 million would be taken for Tranche.
iii. It also approved:
Rs 122.71 crorefor construction of a building for Aryabhatt Knowledge University in Patna.
Rs 241.42 crore towards payment of salaries, arrears and post-retirement benefits to teaching and non-teaching staff of 28 colleges.
Rs 14.98 crorepayment to UNICEF for its Social Mobilization Network scheme for 100% vaccination of children.
Rs 4.54 crorepayment to UNDP for Electronic Vaccine Intelligence Network
UNESCO Heritage site in Bihar:
♦ Nalanda University, Bodh Gaya.
National Parks in Bihar:
♦ Valmiki National Park, Rajgir Wildlife Sanctuary, Gautam Buddha Wildlife Sanctuary.
Nuakhai : Festival of harvest was celebrated in western Odisha
On September 14, 2018, the festival of Harvest Nuakhai was celebrated in western Odisha.
i. According to the custom:
After harvest of new paddy of this season, rice was processed and offered to Goddess Samaleswari in Sambalpur.
After this offering people of Western Odisha arranged get together of family and friends Nuakhai Vetghatas a festival.
Odisha:
♦ Chief Minister: Naveen Patnaik
♦ Governor: Prof. Ganeshi Lal.
♦ Lakes : Chilika Lake, Kanjia Lake, Anshupa Lake, Balimela Reservoir.
♦ Dams: Rengali Dam, Kala dam, Pitamahal Dam, Kansbahal Dam, Tikhali Dam, Deras Dam, Salia Dam, Ghodahada Dam, Kuanria Dam.
Siddhi: an app that brings farmers, dealers together developed by DestaGlobal
On September 14, 2018, Sidhhi app has brought over 40,000 farmers and buyers under one roof for developing agri market on the go.
i. It was developed by Mumbai-based agri start up e-commerce company DestaGlobal and was launched in July 1, 2018.
ii. The app is available in English and Marathi.
iii.The offers and services provided by the app:
Selling and buying of raw materials like seed, machinery etc,
Materials offered to farmers at a discounted rate,
Awards loyalty points after each buy by farmers,
Farming related tips and information are provided that can be 'liked' and shared by the farmers,
Interconnected farming community that shares progressive farming techniques.
Maharashtra:
♦ Capital: Mumbai.
♦ Chief Minister: Devendra Fadnavis.
♦ Governor: C. Vidyasagar Rao.
♦ National Parks: Tadoba Andheri Tiger Reserve, Chandoli National Park, Sanjay Gandhi National Park, Navegaon National Park.