Indicators
originial link:https://www.google.com/url?q=https://edurev.in/studytube/Indicators-Acids--Bases-and-Salts/4d57be96-e19d-4e4e-aabc-c24aec581311_t&sa=D&source=hangouts&ust=1611309801987000&usg=AFQjCNHsqr8TYBSSvdrhWGS5jtBNkVsmTw
The substances that show different colours in different mediums or the substances that are used to distinguish between an acid and base are called indicators.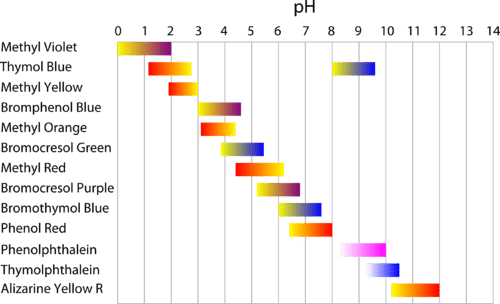 Colours of Different Indicators on pH scale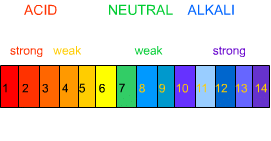 pH value shown by different coloursTypes of Indicators
1. Natural Indicators: The indicators obtained from plants are called natural indicators.
(a) Litmus
Litmus is a natural indicator which is extracted from "Lichens", a plant belonging to thallophyta group. It is purple in colour. The pH range for litmus is 4.5 - 8.3 at room temperature.
There are 2 types of litmus solution:
(i) Red Litmus: It is obtained by acidifying purple litmus extract
(ii) Blue Litmus: It is obtained by making purple litmus extract alkaline
In the laboratory litmus is available in the form of litmus paper; Red litmus and blue litmus paper.

Red and Blue Litmus Paper
(b) Turmeric
It is yellow in colour and turns red in the base and remains yellow in acids.
2. Synthetic Indicators: These indicators are manufactured in laboratories.
(a) Methyl Orange
It is orange in colour and turns red in acids and yellow in the base.

(b) Phenolphthalein
It is colourless and remains colourless in acids and turns pink in the base.
3. Olfactory Indicators: These indicators change their smell when dipped in acid and base.
(a) Onion Extracts
(b) Vanilla Extracts
Table: Indicator Change in acidic medium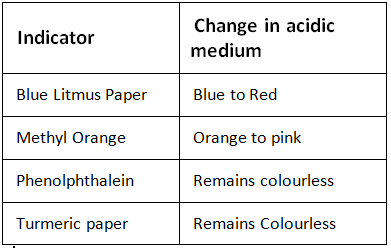 Table: Indicator change in basic medium