Indus Valley Civilization (also known as Harappan Civilization) was the first major civilization in South Asia, which spread across a vast area of land in present-day India and Pakistan (around 12 lakh sq.km).
The time period of mature Indus Valley Civilization is estimated between BC. 2700- BC. 1900 i.e. for 800 years. But early Indus Valley Civilization had existed even before BC.2700.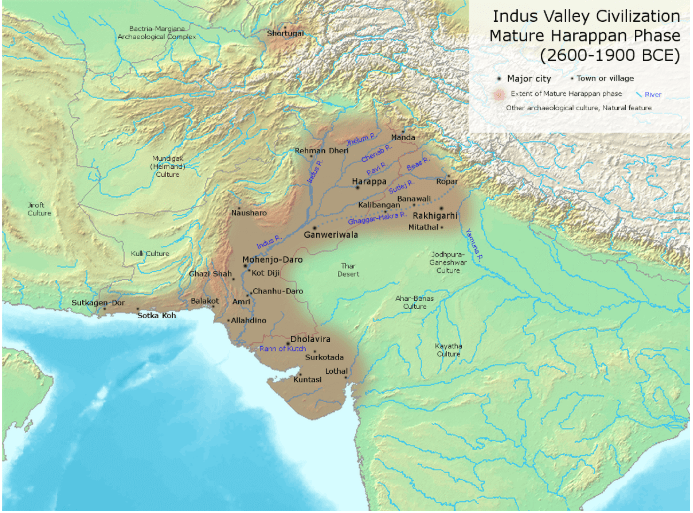 SALIENT FEATURES OF INDUS VALLEY CIVILIZATION
The Harappan Civilisation was mainly concentrated in Punjab, Rajasthan and Gujarat.
Two most important Harappan crops were Wheat and Barley.
Three most common features of all Indus Valley sites are use of baked bricks and pottery, elaborate drainage system and occurrence of marsh or jungle animals.
At Lothal, a brick dockyard connected to the Gulf of Cambay by a channel has been discovered.
Terracotta figures and seals help us most to understand the religious and social life of the Indus Valley.Miniature Votive Images or Toy Models from Harappa, c. 2500 BCE - The Indus River Valley Civilization created figurines from terracotta, as well as bronze and steatite
From the scattered skeletal remains of the Harappans found at different sites, the most appropriate conclusion to be drawn would be that there was some kind of military assault.
One of the most plausible reasons, which made the Harappans move away from their urban settlements, was hydrological changes.
The largest number of Harappan sites in post independence India have been discovered in Gujarat.
The mature Harappan civilisation appears to have lasted for around five centuries.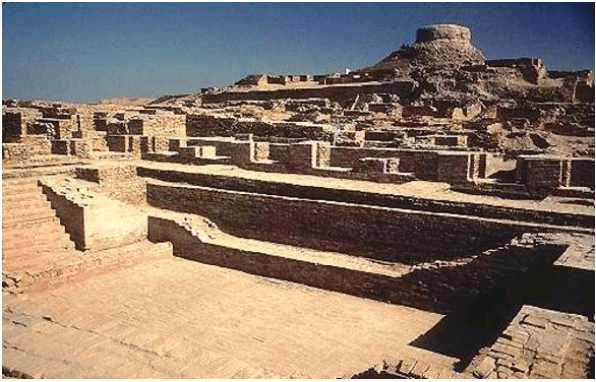 The Great Bath at Mohenjodaro, a city in the Indus River Valley Civilization
Try yourself:

Which of the following crops were important crops of harappa civilization?
Likely purpose of the
Great Bath in the citadel at Mohenjodaro
community bathing, Swimming exercises and water sports, and some elaborate ritual of vital importance, including a corporate social life. Almost all
Harappan towns had large Granaries
because taxes were paid in kind and therefore granaries acted as a sort of public treasuries, surplus produce of the countryside was stored in the towns, food-grains were stored for the purpose of trade.
The use of lime and costly burnt bricks, instead of sundried bricks, by the Indus Valley people for construction purposes is a proof of a moist climate.
The Harappan towns and cities were divided into Large rectangular blocks.
From the following sites excavated recently three stages of Harappan occupation (pre-Harappan, Harappan, post-Harappan) been noticed—Rojaidi, Desalpur, Surkotda.
Traces of sugar-cane has not been found in the Indus civilisation.
On the basis of available evidence, the Harappan civilisation contributed two important things to mankind which were growing wheat and cotton.
The metal most widely used by the Indus Valley people was Bronze.
The common household utensils of the Harappan people were made of well-baked painted pottery.
The tools and implements used by Indus Valley people were needles, razors, sickles, plough and grinding stones for flouring wheat, pestles and uerns.

Try yourself:

Which was the most used metal alloy in Harappan civilisation?

Harappan people had a common Burial system, which is proved by the earth burials with the head of the dead normally laid towards the north, and the burial of commonly used items with the dead. The following features of modern Hinduism is derived from the Harappan cults are Shakti worship, Worship of Siva as Pashupati, Worship of Siva-linga in the form of conical and cylindrical stones. The features of the religious life of the Indus Civilisation are Pipal and acacia trees were regarded as celestial plant, the tree of life figures with great frequency on the seal, the people had faith in amulets and charms, which shows that they were afraid of demons.
The cereal not known to have been grown by the Harappan people was Pulses.
The site that played the role of Harappan trading station was Lothal.
Rows of distinctive fire altars with the provision of ritual bathing have been found at Kalibangan.
From a large number of seals discovered from almost all the Harappan sites, it appears that they were used for ritualistic, religious and commercial purposes.Indus civilization - seals

Try yourself:

Which of the following religion was followed by people at Harappan civilisation?

An animal engraved on most of the Harappan seals is the humped bull or unicorn.
The Indian script which appears to be the closest to the Harappan script is Dravidian.
In the Harappan buildings mostly burnt bricks were used, not stones, because stone was not readily available.
The most important item of import for the Harappans was Metals and Precious stones.

Try yourself:

Which of the following place of Harappan Civilisation was a trade station?
Proofs of maritime activities of the Indus Valley people are the discovery of a dockyard at Lothal, the discovery of a large number of articles which were not produced or found in the country, and Commercial links of the Harappans with the West Asian countries.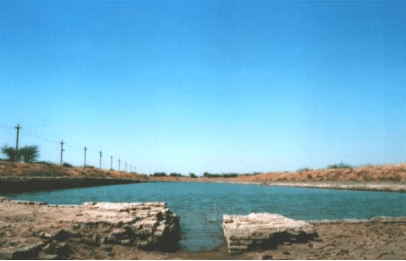 The docks and canal in the ancient city of Lothal, located in modern India: Archaeological evidence suggests that the Indus River Valley Civilization constructed boats and may have participated in an extensive maritime trade network.
Copper, used most widely by the Harappans, was obtained from Baluchistan and Khetri mines.
The most important industry of the Harappans at Lothal and Chanhudaro was bead-making.
Features of internal trade of the Harappans:
(a) Trade was multifaceted
(b) It was operated on regional as well as inter-regional level
(c) It had a guild system coupled with nomadic trade.
Characteristic feature of the Harappan pottery:
(a) Well-fired red ware
(b) Painted black designs
(c) Vegetal and geometric patterns
Similarities between Harappan culture and the other ancient civilisations of Sumer, Mesopotamia and Egypt are Organised city life, Potter's wheel and Domestication of animals. The distinctive features of Harappan Culture are Rectangular town planning, Absence of canal irrigation, and the great Granaries of Mohenjodaro and Harappa.
The Harappan people conducted brisk trade with Afghanistan, Mesopotamia, and Bahrain.
Indication of close links between the Indus Valley and other contemporary West Asian civilisation:
(a) Indus Valley seals have been found from Sumer, Elam and Mesopotamia
(b) Trade between the Indus Valley and Sumer was carried on by land through Baluchistan and partly by sea
(c) Literary and archaeological evidence of brisk trade between Harappan and Mesopotamian towns.
Indus people were different from the Rigvedic Aryans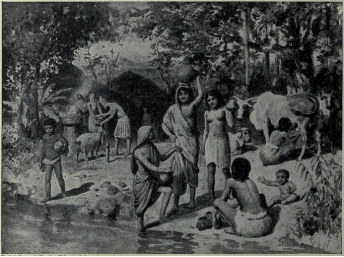 Aryans in India- An early 20th-century depiction of Aryan people settling in agricultural villages in India.(a) The ethnic type of the Aryans was different from the four ethnic types (Australoids, Mediterranean, Mongolian and Alpine) found at Mohenjodaro
(b) Whereas the Aryans lived a pastoral and agricultural life, the Indus people lived a highly organised city life
(c) The Vedic Aryans probably knew of iron and defensive armour which were totally absent in Harappan Culture.
The Harappan site located near the Iranian border is Suktagendor.
Ornaments of the Harappan people were made of Gold and Silver, Ivory and bone, and Copper and precious stones.
The greatest defect of the drainage system of the Indus Valley was that drains were located near the wells.
Weapons used by the Harappan people Arrows, Daggers & spears and mace-heads and missiles. The Religious beliefs of the Harappan people continue till this day worship of Pashupati, Peepal and Serpent worship.

Try yourself:

People during Indus valley civilization used to pray to Pashupati. Which Hindi God was called 'Pashupati'?




INDUS VALLEY SITES AND SPECIALTIES
MOHENJODARO
The most dramatic characteristic of the city is a commanding citadel.
There lay in the citadel a 'College', a multipillar 'Assembly Hall' and the so-called 'Great Bath'.
Most of Mohenjodaro houses are built of kilnfired brick.
The major streets are 33 feet wide and run north-south intersecting subordinate ones, running east-west, at right angles.
The evidence of Indian ships (figured on a seal) and a piece of woven cloth has been discovered from here.
There is a large granary consisting of a podium of square blocks of burnt-bricks with a wooden superstructure.
Parallel rows of two-roomed cottages were found. These cottages were perhaps used by the workmen or poor section of the society.
It is important to remember that Mohenjodaro shows nine levels of occupation towering over 300 feet above the present flood plain.
Excavation reveals that the city was flooded more than seven times.
HARAPPA
The most remarkable and the largest building at Harappa is the Great Granary measuring 169 ft x 35 ft.
Between the granary and the citadel, have also been found a series of circular platforms, probably for the pounding of grain.
At a lower level below the granary, platforms and the citadel, were crowded single—celled dwellings which have suggested slave habitats.
Two sandstone statuettes are found here in which human anatomy is depicted. The cemetery H culture is also found here.
KALIBANGAN
Kalibangan is situated on the ancient Sarasvati, now called Ghaggar in Rajasthan.
There is evidence of mud-brick fortification.
Pre-Harappan phase here shows that the fields were ploughed unlike the Harappan period.
One of the platforms within the citadel had fire altars which contained ash.
Another platform has a klinburnt brick lined pit containing bones. These suggest the practice of the cult of sacrifice.
The existence of wheel conveyance is proved by a cart-wheel having a single hub.
CHANHUDARO, BANWALI AND SURKOTADA
Chanhudaro is situated eighty miles south of Mohenjodaro.
The city was twice destroyed by inundations. Here more extensive but indirect evidence of super imposition of barbarian life is seen. There was no citadel.
Banwali is situated on the dried-up Sarasvati. Like those of Kalibangan, Amri, Kot Diji and Harappa, Banwali also saw two cultural phases: Pre-Harappan and Harappan.
Here we find large quantity of barely, sesamum and mustard.
Surkotada is situated 270 km north-west of Ahmedabad in Gujarat.
Here we find remains of a horse, a citadel and a lower town, both of which were fortified.
Traces of rice cultivation have been found at Lothal and Rangpur.
Traces of a horse have been found at Surkotada.
A Yogi of the Harappan seals wearing a horned cap and surrounded by animals has been identified with Pashupati Shiva.The "Shiva Pashupati" seal: This seal was excavated in Mohenjodaro and depicts a seated, surrounded by animals.

Try yourself:

Citadel is found in which of these places of Indus Valley civilisation?

Discovery of granaries at the Harappan sites does indicate:
(a) Agricultural efficiency
(b) Agricultural surplus
(c) Knowledge of storage techniques
Harappan settlements and the banks of rivers on which they were located:
(a) Lothal—Bhogava
(b) Kalibangan—Ghaggar
(c) Rupar—Sutlej
(d) Harappa—Ravi
(e) Mohenjodaro—Indus
Religious belief of the Harappan people:
(a) Belief in evil spirits and life hereafter
(b) Cults of fire and fertility
(c) Adoration of trees and animals
Unique contributions of the Harappan Civilisation:
(a) Uniformity of weights and measures
(b) Decimal system of measurement
(c) First Known municipal system
KOT DIJI
It is situated on the left bank of Indus river about 50 km east of Mohenjodaro.
Excavated between 1955-57.
Wheel made painted pottery, traces of a defensive wall and well-aligned streets, knowledge of metallurgy, artistic toys etc.
Five figurines of the Mother Goddess were also discovered.
AMRI
It is situated south of Mohenjodaro.
Knowledge of metal working, use of wheeled pottery with animal figures painted on it, construction of rectangular houses, etc.
BALAKOT
Situated near the middle of the Khurkera plain on the south-eastern side of the Las Bela Valley and Somani Bay, about 98 km north-west of Karachi.
There is a wide east-west lane almost bisecting the area at right angles with two smaller lanes.
Mud bricks were the standard building material although a few drains were lined with kiln-burnt bricks also.
There is some evidence for the thin plastering of floors but it was not common.
DESALPUR
Situated near Gunthali in Nakhatrana taluka of Bhuj district (Gujarat) on the Bahadar river.
It was a fortified township built of dressed stones with mud filling inside.
The houses were constructed just against fortification wall. In the centre was found a building having massive walls.
ROPAR
Situated on the bank of Sutlej, some 25 km east of Bara.
The excavations have yielded five fold sequences of cultures—Harappan, PGW, NBP, Kushana-Gupta and Medieval.
Discovery of pottery related to the Kalibangan-I.
The evidence of burying a dog below the human burial is very interesting.
One example of rectangular mudbrick chamber was noticed.
DHOLAVIRA
It is a modest village in the Bhachau taluka of district Kutch in Gujarat.
It is the latest and one of the two largest Harappan settlements in India, the other being Rakhigarhi in Haryana.
The mounds of Dholavira were first explored by Dr J.J. Joshi.
The other Harappan towns were divided into two parts—'Citadel' and 'the Lower Town', but Dholavira was divided into three principal divisions, two of which were strongly protected by rectangular fortifications. No other site has such elaborate structure.
In 1990-91 a team of archaeologists led by Dr R.S. Bisht of the ASI conducted extensive excavations.

Try yourself:

During which years Indus Valley civilisation flourished?