Q.1. In the scheme given below, the total number of intramolecular aldol condensation products formed from 'Y' is

Ans. 1
Solution.


The number of intra molecular aldol condensation products (α, β –unsaturated carbonyl compound formed from Y is 1.

Q.2. Amongst the following, the total number of compounds soluble in aqueous NaOH is

Ans. 4
Solution. All carboxylic acids and phenols are soluble in aqueous NaOH. Four compounds are soluble in aqueous NaOH.

Q.3. The total number of carboxylic acid groups in the product P is

Ans. 2
Solution.


No. of –COOH group is '2'

Q.4. Consider all possible isomeric ketones, including stereoisomers of MW = 100. All these isomers are independently reacted with NaBH4 (NOTE: stereoisomers are also reacted separately). The total number of ketones that give a racemic product(s) is/are
Ans. 5
Solution. General molecular formula for ketones is CnH2nO
∴ CnH2nO = 100 or 12n + 2n + 16 = 100, n = 6
Possible isomeric ketones with 6 carbon atoms are



Note that only isomer III has a chiral carbon so on reduction with NaBH4 it will give diastereomeric alcohols, while all other five isomers will give racemic mixture.

Q.5. Among the following, the number of reaction (s) that produce(s) benzaldehyde is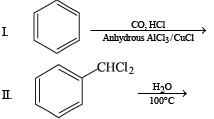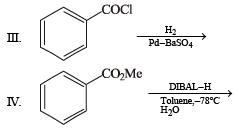 Ans. 4
Solution.