INTERFACING STANDARDS
Serial I/O is used to interface various devices or for connecting various equipment to the system. Common understanding is necessary among various manufacturers such that a standard notation is followed for interfacing these components. These standards may be provided by IEEE or by any standard professional organization. The serial I/O standards must specify clearly voltage levels, speed of data transfer, length of cables etc. In serial I/O data can be transmitted as either current or voltage 20 mA or 60 mA current loops are used if data is transmitted using current. Current flow takes place when the system is at logic 1. The current flow is stopped when the system is at logic 0. In the current loop method the signals are relatively noise-free and they are best suited for long distance transmission.
RS-232 is developed long before which is used for communication between terminals and modems. Using RS-232C data can be transmitted as voltage. The data terminals equipment and data communication equipment are used to communicate using RS-232C cable. RS-232C is not compatible with TTL logic and cannot be used for long distance transmission.
RS-232C Serial Data Standard
OVERVIEW:
Modems were developed so that terminals could use phone lines to communicate with distant computers. As we stated earlier, modems and other devices used to send serial data are often referred to as data communication equipment or DCE. The terminals or computers that are sending or receiving the data are referred to as data terminal equipment or DTE. In response to the need for signal and handshake standards between DTE and DCE, the Electronic Industries Association (EIA) developed EIA standard RS-232C. This standard describes the function of 25 signal and handshake pins for serial-data transfer. It also describes the voltage levels, impedance levels, rise and fall times, maximum bit rate, and maximum capacitance for these signal lines. RS-232C specifies 25 signal pins, and it specifies that the DTE connector should be a male and the DCE connector should be a female. A specific connector is not given, but the most commonly used connectors are the DB-25P male shown in Figure 14-7a. For systems where many of the 25 pins are not needed, a 9-pin DIN connector such as the DE-9P male connector shown in Figure 14-7b is used.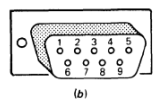 FIGURE : Connectors often used for RS-232C connections, (a) DB-25P 25-pin male, (b) DE-9P 9-pin male DIN connector.
The voltage levels for all RS-232C signals are as follows. A logic high, or mark, is a voltage between -3V and -15 V under load (-25 V no load). A logic low or space is a voltage between +3 V and +15 V under load (+ 25 V no load). Voltages such as ±12 V are commonly used.
RS-232C to TTL INTERFACING:
Obviously a USART such as the 8251A is not directly compatible with RS-232C signal levels. The standard way to interface between RS-232C and TTL levels is with MCI488 quad TTL-to-RS-232C drivers and MCI489 quad RS-232C-to-TTL receivers shown in Figure 14-8.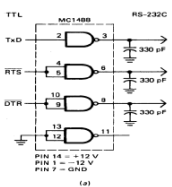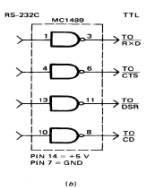 FIGURE TTL to RS-232C to I I L signal conversion, (a) MCI488 used to convert TTL to RS-232C. (6) MC1489 used to convert RS-232C to TTL.
The MCI488s require + and - supplies, but the MCI489s require only+ 5 V. Note the capacitor to ground on the outputs of the MCI488 drivers is to reduce cross talk between adjacent wires, the rise and fall times for RS-232C signals are limited to 30 V/µs.
RS-232C SIGNAL DEFINITIONS
PIN
NUMBERS FOR 9 PINS
PIN
NUMBERS FOR 25 PINS
COMMON
NAME
RS-232C
NAME
DESCRIPTION
SIGNAL DIRECTION ON DCE
3
2
7
8
1
2
3
4
5
TXD
RXD
RTS
CTS
AA
BA
BB
CA
CB
PROTECTIVE GROUND TRANSMITTED DATA RECEIVED DATA REQUEST TO SEND CLEAR TO SEND
IN
OUT
IN
OUT
6
5
1
6
7
8 9
10
DSR
GND
CD
cc
AB
CF
DATA SET READY
SIGNAL GROUND (COMMON RETURN) RECEIVED LINE SIGNAL DETECTOR (RESERVED FOR DATA SET TESTING) (RESERVED FOR DATA SET TESTING)

OUT


OUT

11
12
13
14
15
SCF
SCB
SBA
DB
UNASSIGNED
SECONDARY RECEIVED LINE SIGNAL DETECTOR SECONDARY CLEAR TO SEND SECONDARY TRANSMITTED DATA
TRANSMISSION SIGNAL ELEMENT TIMING (DCE SOURCE)
OUT
OUT
IN
OUT
4
16
17
18
19
20
DTR
SBB
DD
SCA
CD
SECONDARY RECEIVED DATA
RECEIVER SIGNAL ELEMENT TIMING (DCE SOURCE) UNASSIGNED
SECONDARY REQUEST TO SEND DATA TERMINAL READY
OUT
OUT
IN
IN
9
21
22
23
24
25
CG
CE
CH/CI
DA
SIGNAL QUALITY DETECTOR RING INDICATOR
DATA SIGNAL RATE SELECTOR (DTE/DCE SOURCE) TRANSMIT SIGNAL ELEMENT TIMING (DTE SOURCE) UNASSIGNED
OUT
OUT
IN/OUT
IN
FIGURE RS-232C pin names and signal directions.
Figure shows the signal names, signal direction, and a brief description for each of the 25 pins denned for RS-232C. For most applications only a few of these pins are used.
Note that the signal direction is specified with respect to the DGE, this convention is part of the standard. Note that there is both a chassis ground (pin 1) and a signal ground (pin 7). To prevent large ac -induced ground currents in the signal ground, these two should be connected together only at the power supply in the terminal or the computer.
The TxD, RxD, and handshake signals shown with common names in Figure 14-9 are the ones most often used for simple systems. These signals control what is called the primary or forward communications channel of the modem. Some modems allow communication over a secondary or backward channel, which operates in the reverse direction from the forward channel and at a much lower baud rate. Pins 12, 13, 14, 16, and 19 are the data and handshake lines for this backward channel. Pins 15, 17, 21, and 24 are used for synchronous data communication.