INTERNAL SECURITY/LAW AND ORDER
6.1. COMPREHENSIVE INTEGRATED BORDER MANAGEMENT SYSTEM (CIBMS)
The government has given its nod to the 'Comprehensive Integrated Border Management System' (CIBMS) for 24x7x365 surveillance of the border(western border with Pakistan) through technology.
Objective of CIBMS
To avoid further terror attacks like Pathankot, infiltration and smuggling.
Details of CIBMS
 It is a five-layer elaborate plan to completely stop infiltration on the 2,900-km western border with Pakistan. Five layers include
 CCTV cameras.
 Thermal image and night-vision devices.
 Battlefield surveillance radar.
 Underground monitoring sensors.
 Laser barriers.
 The integrated set-up will ensure that if one device doesn't work, another will alert the control room in case of a transgression.
 Laser barriers will cover 130 unfenced sections including riverine and mountain terrain from Jammu & Kashmir to Gujarat - often used by the infiltrators.
 The entire border will be covered with high tech systems in two years.
6.2. ANTI-TERROR CYBER-PUSH
Union government will come up with a "National Social Media Policy" to counter the cyber-threat.
Focus of the policy: on countering social media propaganda following communal incidents.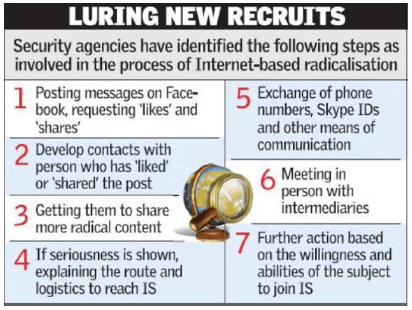 Reasons for policy
 Radicalization of Youth: increasing number of young people are being radicalised by the Islamic State (IS) through online videos and social media groups.
 Communal violence: social media platform is being used to create social/communal violence.
 Morphed images are being circulated in social media.
 48 Indians have been arrested in the past 2 years for IS links and 25 have travelled to Syria to fight alongside IS.
6.3. ORGANIZED CRIME: TRANS-NATIONAL HUMAN TRAFFICKING
The world over, human trafficking is labelled as the third most lucrative illicit trade, after drugs and arms. The United Nations (UN) has designated July 30 as World Day against Trafficking in Persons.
Human trafficking over Indo-Bangladesh border
West Bengal shares approximately 2,220 km of land and 259 km of riverine border with Bangladesh, most of which is unfenced, making cross-border trafficking in persons, drugs, and FICN seamless.
 West Bengal also acts as a transit point for human trafficking.
 West Bengal is the hub of internal and cross-border human trafficking in India.
Defining trafficking
 The 2003 UN Protocol to Prevent, Suppress and Punish Trafficking in Persons, supplementing the UN Convention against Transnational Organised Crime, defines trafficking in persons. It includes sex trafficking and forced labour. India is signatory of convention.
 Article 23 of the Indian Constitution prohibits human trafficking; it does not define the term.
 The Criminal Law (Amendment) Act of 2013, which substituted Section 370 of the Indian Penal Code deals with trafficking of persons for exploitation. However, this does not include forced labour. Nor does the Immoral Traffic (Prevention) Act of 1956 (as amended in 1986).
Issues with present law
 The critical issue concerning cross-national victims is that while perpetrator or trafficker (Indian or foreign) may receive modest punishment, trafficked persons are victimised twice.
 If victim and trafficker are arrested in India, they are both charged under Foreigners Act, 1946.
 According to the Act, if an offender is a foreigner, he/she should be punished under this Act and deported. As a result, the trafficked person is treated as a criminal for his/her unlawful presence in India.
 While the perpetrator, if a foreigner, is deported following completion of the sentence, the victim is transferred to a shelter home in India and is required, as per court orders, to remain there till the court hearing, since he/she is the witness in the case.
 Not comprehensive law
 Indian laws do not target traffickers and their associates or penalise them adequately.
 The penal clauses are not used adequately to bring the clients to justice.
 Lack of awareness of provision:
 The trafficker can be charged under Section 366B of the IPC which states that importation of a female below the age of 21 years is a punishable offence.
 However, this provision is rarely implemented due to unawareness of police.
 Delay in the verification of the addresses of victims
 May take as long as two or three years.
 The reasons for this include delay in confirmation by the Bangladesh government
 Incorrect, incomplete, or vague address given by the trafficked persons at shelter home.

Way forward
 Seamless coordination among various law enforcement agencies and NGOs from both side of the border.
 Community mobilization and sensitization of the BSF on the issue of cross-border trafficking
 Transit homes run by NGOs in collaboration with BSF along the border can be set up.
 Once the trafficker and victim are apprehended by the BSF, victim can be sent to a transit home rather than police station till her antecedents are verified by Bangladesh government.
 The question of human trafficking needs to be addressed from a social and economic angle. Offering allurements to the poor in the name of employment is a common trap.
 The victims of trafficking, especially children, need safe social and economic rehabilitation.
 Human trafficking results in and fuels all forms of slavery such as sexual exploitation, forced labour, other forms of labour exploitation, forced marriages, and the abuse of children in armed conflicts.

6.4. INDIA OPTS NOT TO JOIN GLOBAL TERROR DATABASE
 The government has decided not to join a U.S. maintained global terror database in the face of objections from the intelligence agencies.
 The proposal has been stuck since it was initially proposed by the U.S. in 2012.
 Indian security agencies are apprehensive of giving unhindered access to the U.S. on sensitive data related to terrorists.

The Homeland Security Presidential Directive (HSPD-6)
 The HSPD-6 is an agreement for exchange of terrorist screening information between the Terrorist Screening Centre (TSC) of the U.S. and a selected Indian security agency.
 The TSC has the database of 11,000 terror suspects. The database includes name of the terror suspect, nationality, date of birth, photos, finger prints (if any), and passport number.
 The U.S. has already finalised such agreements with 30 countries.

6.5. WORLD MILITARY EXPENDITURE
Following are the major findings of the Stockholm International Peace Research Institute (SIPRI) report on world military expenditure in 2015.
 India is the sixth largest military spender in 2015 having spent $51.3 billion.
 India remains the biggest buyer of arms in the world. The main supplier of arms to India in 2009-13 was Russia, accounting for 75 per cent of all imports.
 World military expenditure rose by 1 per cent in 2015.
 The U.S. remained by far the world's largest spender followed by China, Saudi Arabia, Russia and U.K.
6.6. INDIA'S FIRST MARITIME SUMMIT
Maritime India Summit 2016 (MIS 2016) is a maiden flagship initiative of Ministry of Shipping, Government of India.
Objective
To attract potential investors to the vast opportunities of the Maritime Sector .
Key facts
 Delegates from around forty countries participated.
 South Korea was the partner country for the event.
 India and South Korea also signed a memorandum of understanding for cooperation and mutual assistance in the port sector.
 The Union government released a national perspective plan for the Sagarmala Project at the summit, setting sight on boosting India's merchandise exports $110 billion by 2025, and creating 40 lakh direct jobs and indirect employment for 60 lakh people.  Investment commitments of over $13 Billion in 140 projects were made during the summit.
Significance of Summit
 It is estimated that investment opportunity of close to Rs.1.14 lakh in inland waterways development and Rs. 3 lakh crore in port-led development under the flagship Sagarmala project exists in India.
 Government also highlighted its initiative for investors in maritime sector.
 It has allowed 100 per cent FDI in ports.
 10-year tax holiday has been extended to enterprises engaged in developing, maintaining, and operating ports, inland waterways, and inland ports.
 The ambitious Sagarmala programme intends to promote port-led development. It will involve more than 150 projects related to
o Modernisation of existing ports,
o Setting up 5-6 new ports,
o Port connectivity through heavy haul rail corridor,
o Inland waterways,
o Freight-friendly expressways,
o Coastal Special Economic Zones and industrial clusters.
Importance of maritime sector
 Economic dimension
 India has 7500 km of long coastline.
 India's marine export-import trade has been growing at a rate of 4.5 per cent y-o-y (5-year volume CAGR) and accounts for 95 per cent of total EXIM trade volume for India.
 The development of a robust maritime sector is pivotal to economic development in countries with long coastal boundaries.
 Apart from having a multiplier effect on the economy, the maritime sector itself has the potential to significantly contribute to GDP.
 The biggest benefit from robust shipping sector will be massive cost-saving: cost for coastal shipping is Rs. 0.15-0.2 per tonne/km compared to 1.5 for railways and 2.5 for road.
 Strategic dimension
 The Indian Navy played a pivotal role in containing piracy on the high seas and is positioning itself as the "net security provider" in the broader Indian Ocean region with capacity building, joint exercises and increased multilateral exchanges.
 India has developed strong relation with Indian Ocean littorals to check the expansion of Chinese in Indian Ocean region.
 India has begun to collaborate with neighbouring Bangladesh and Myanmar in building waterways and port infrastructure.
Conclusion
 The maritime sector has a vital role to play in India's growth story.
 India has for long been slow, and ad hoc, in developing infrastructure to reap the economic opportunity its seaboards naturally provide.
 A three-pronged plan consisting of a workable policy, fiscal incentives and infrastructure would ensure development of India's coastal shipping sector and strong growth.
 The new emphasis in maritime sector is two-sided — securing energy and trade routes to sustain economic growth and keeping a check on increasing forays by other countries into India's backyard.
6.7. NOMADIC ELEPHANT- 2016
 The 11th Indo-Mongolia joint training Exercise, Nomadic Elephant 2016 commenced at Mongolia.  It seeks to promote military associations between India and Mongolia. The first joint exercise was held in 2004 and since then it is annually held.
 The aim of this exercise is to develop synergy and inter-operability between the two armies to fight in Counter Insurgency and Counter Terrorism environment under the United Nation mandate.
6.8. EXERCISE SHATRUJEET
Mathura-based Strike 1 corps conducted a major exercise 'Shatrujeet' in the deserts of Rajasthan.
Objective
To evaluate the capability of Army to strike deep into enemy territory in an integrated air-land battle environment.
 The operation-oriented exercise is focusing on "validating integrated battle theatre fighting concept" incorporating new-age technologies, weapon platforms and systems as well as long range precision targeting vectors.
 The focus of the exercise is to achieve joint and seamless coordination among all the forces in a nuclear biological chemical warfare scenario.
6.9. NAVAL DETACHMENT SET UP AT LAKSHADWEEP
To enhance surveillance of crucial shipping lanes, the Navy established a new naval detachment at Androth islands of Lakshadweep.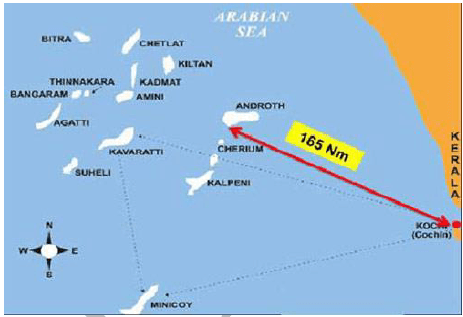  Lakshadweep and Minicoy Islands occupy a strategic location in the Arabian Sea. A number of shipping lanes pass close to these islands.
 Setting up of a Naval Detachment at Androth Island will enhance the Navy's reach and surveillance, and contribute significantly to strengthen maritime security and stability.
 A number of infrastructure facilities at naval units located on Kavaratti, Minicoy, Agatti and Androth islands are also being progressively upgraded.